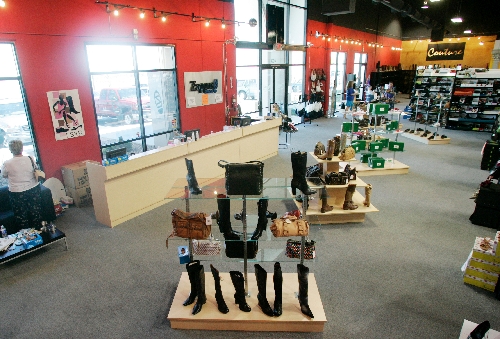 Economic development is all the rage these days in Nevada.
The state's reliance on tourism and construction bought it the nation's highest jobless rate. Averting similar disasters later will require diversification into new industries. The topic is so hot that Lt. Gov. Brian Krolicki just launched a task force of nearly 30 people to form recommendations on bringing in new businesses. The Nevada Development Authority just rolled out another campaign in its ongoing effort to filch disillusioned companies from California, and the city of Henderson's economic-development experts are busy trying to convince as many as 60 companies to move to Southern Nevada.
So now is as good a time as any to ask what relocating and expanding businesses want. What kind of message will draw them in for a closer look, and how should those wants and needs shape development officials' marketing efforts?
Up to now, the state's most visible marketing campaigns have focused almost exclusively on Nevada's relatively low taxes and lack of red tape. But diversification officials from around the country say that single-note song might need some fine-tuning.
Sure, taxes matter, and tax-centric messages can prove effective.
Consider the Golden State meltdown that ensued in 2009, when the Nevada Development Authority unleashed a tax- and bureaucracy-focused campaign that compared California legislators to chimpanzees and highlighted Nevada's lack of income taxes and its cheaper worker's compensation insurance. California legislators bit back, though, as the Los Angeles Times noted, California businesses might indeed be ripe for the picking.
"In a tough economy when companies are looking to slash costs, some industry leaders fear poachers will be more successful this time around," the paper wrote.
And in 2008, the authority's April 15 "tax bear" campaign reminded California business owners that they'd be free of state income taxes in the Silver State. The campaign threatened the state enough that California lawmakers evaluated the ads in a hearing of that state's legislative Revenue and Taxation Committee to show how tax policy is encouraging poaching from other states.
What's more, a recent survey from Chief Executive magazine handed Nevada the No. 5 position among the best states for business, thanks in part to the Silver State's tax and regulation regime. The magazine quoted several California company leaders who said they are disenchanted with doing business in California.
"California has a good living environment but is unfavorable to business and the state taxes are not survivable," said Bill Dormandy, chief executive officer of San Francisco medical-device maker ITC. "Nevada and Virginia are encouraging business to move to their states with lower tax rates and less regulatory demands."
But while taxes often land in the mix of factors that induce companies to relocate or expand, they rarely top any list of key issues pushing companies into action. Take a fall 2009 survey by diversification-industry magazine Area Development: A state's corporate tax rate came in at No. 5, after labor costs, highway accessibility and power expenses. A similar study from Site Selection magazine ranked taxes No. 3.
Even Chief Executive's list factored in the quality of an area's work force and its living environment. Nevada placed near the top partly because of its cheap housing and its bumper crop of affordable labor. When real estate costs peaked from 2005 to 2007, the Nevada Development Authority reported losing several deals involving major manufacturers, as lower taxes couldn't offset pricey land.
Businesses tend to consider taxes when other, more important factors are equal, said Geraldine Gambale, editor of Area Development.
"Companies first have to go where their primary needs can be met, and those needs would involve labor, access to transportation and energy costs," Gambale said. "They're going to look mostly at areas that have the type of labor they need."
Once a company narrows its options to two or three markets, executives will then compare tax climates and incentives, Gambale said.
Plus, every business carries different wants and needs, said Jack Kyser, founding economist of the Kyser Center for Economic Research at the Los Angeles County Economic Development Corp.
Businesses in competitive sectors, where every little expense matters, are more likely to rank tax rates highly in any move, whereas companies peddling unique niche goods or services would tend to gauge the entire business-cost package, including utility pricing, Kyser said.
Many businesses also place a premium on high-quality colleges and universities for work force training, and they're especially interested in whether universities help generate startup activity, Kyser said. Basic services, including primary schools and police and fire departments, matter a lot, too.
And those educated high-tech workers Nevada's diversification officials covet? They care as much about world-class museums, quality performing arts and recreational opportunities as they do about taxes, Kyser said.
For a look at just how diverse companies' needs can be, talk to Bob Cooper, Henderson's economic development manager.
Relocators — executives looking to move their headquarters — have different priorities than expanding businesses, which are merely opening a branch office to supplement existing headquarters.
Relocators tend to be smaller companies led by owner-presidents, and they're usually pretty ticked off.
"They're frustrated, they're kind of angry, and they want to quit where they are and move to greener pastures," Cooper said. "Typically, they're coming from California, which is a poster child for over-aggressive, over-regulated environments. When they look at us, taxes are often the stimulus for saying they've had enough and they can't take it anymore."
Quality-of-life issues, including commutes, housing prices, health care and education also weigh heavily for smaller, family-owned businesses considering relocation, Cooper said.
Expanders, on the other hand, are some of the happiest people Cooper meets. For them, opening a branch isn't about lower taxes; it's about finding markets to maintain and grow their customer base. They might have burgeoning client pools in Phoenix, Las Vegas and Albuquerque, and it doesn't make sense to serve those patrons out of a Denver headquarters, for example. Convince them first that they can fill a void here, and layer the overall lower cost of doing business on top of that, and they just might come.
You can break down companies' demands further, by operation type, Cooper said.
For companies in the retail sector, the driving forces are transportation and income levels.
Office users look almost exclusively at the availability and cost of labor. They also ask about the depth of a market's software and computer-programming talent and evaluate the existing local customer base. Office operations need extensive telecommunications networks that will keep them online in an emergency or after an equipment failure, and they want to know how easy it'll be to fly customers in and out.
Manufacturers want most to be near the raw material they use to make their products. Then they'll look at the labor market and transportation networks.
Distributors place the biggest emphasis on the cost of land, with logistics and transportation a close second.
"I've had conversations get cut off in the first 30 seconds after a distributor will say, 'We need 40 to 60 acres that's rail-served.' I tell them we don't have that, and they tell us goodbye," Cooper said. "Our taxes don't even come up in the conversation. We don't get a chance to talk about it."
It's possible no economic-development officials will tout Nevada's taxes after 2011, when the state Legislature meets to plug what some lawmakers predict will be a $3 billion difference between spending plans and revenue. Legislators haven't yet called publicly for corporate income taxes, but observers say every solution is on the table, and lawmakers talk regularly about broadening Nevada's tax base. If some sort of income tax materializes, Nevada's business-development advocates will lose their main talking point.
So what does that all mean to how Nevada markets itself to relocating and expanding companies?
In short, counsel the experts, the Silver State needs to diversify its diversification message.
"The way I look at it, there are two Nevadas — the Reno area, and Las Vegas," Kyser said. "There's a certain image of Las Vegas that might be off-putting to young professionals."
To overcome that reputation, Kyser said, marketing campaigns should point not just to taxes, but to amenities such as the $245 million Smith Center for the Performing Arts under construction downtown, or to the Center for Entrepreneurship at the University of Nevada, Las Vegas, which researches and promotes new businesses in Southern Nevada.
Added Gambale: "A state should talk about all their assets, and not just focus on one factor, because the decision to move is never based on one factor. It's not incorrect to tout the tax advantages, but that's not the whole picture."
Contact reporter Jennifer Robison at jrobison @reviewjournal.com or 702-380-4512.
WHAT COMPANIES REALLY WANT (ACCORDING TO EXPERTS)
1. Labor costs
2. Highway accessibility
3. Tax exemptions
4. Energy availability and costs
5. Corporate tax rate
6. Availability of skilled labor
7. Occupancy or construction costs
8. State and local incentives
9. Advanced ICT services
10. Inbound/outbound shipping costs
SOURCE: Area Development
1. Transportation infrastructure
2. Existing work force skills
3. State and local tax scheme
4. Utility infrastructure
5. Land and building prices and supply
6. Ease of permitting and regulatory procedures
7. Flexibility of incentives programs
8. Access to higher education resources
9. Availability of incentives
10. State economic development strategy
SOURCE: Site Selection