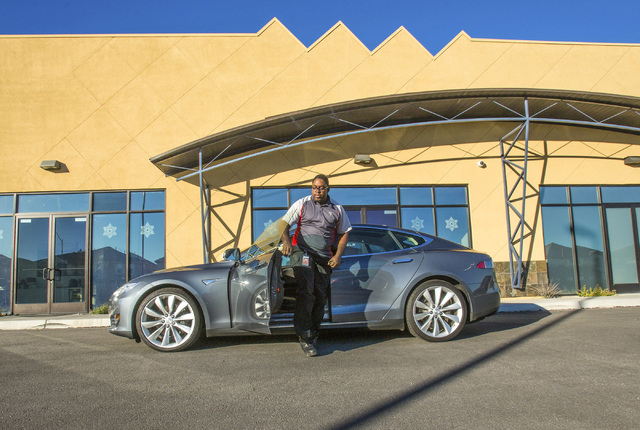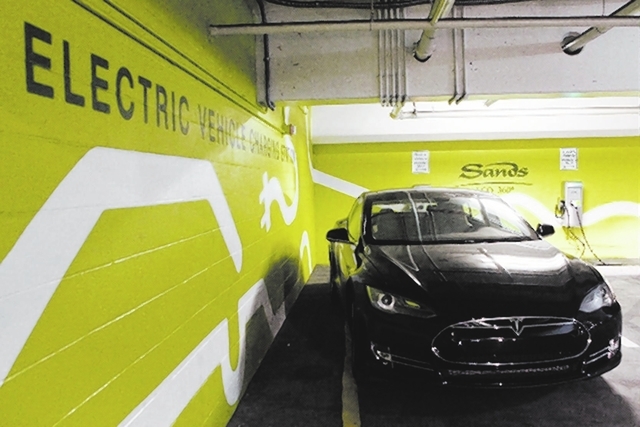 Nevada is on a short list of states trying to lure a giant, $5 billion Tesla Motors battery plant, the electric car manufacturer said Wednesday.
The "gigafactory" would put up to 6,500 people to work in a 10 million-square-foot facility, Tesla said in a federal regulatory filing. Besides Nevada, the company also is looking for land for the plant in Arizona, New Mexico and Texas.
Construction should start this year. Tesla expects the plant to open in 2017 and reach full production capacity by 2020, when it will supply batteries for as many as 500,000 electric vehicles.
The company, based in Palo Alto, Calif., and Nevada economic development officials wouldn't specify what spots are up for consideration.
But at 500 to 1,000 acres, Tesla is looking for a big piece of property. Options could include the 107,000-acre Tahoe Reno Industrial Park in Storey County, about 9 miles east of Reno. It's already home to distribution centers for Wal-Mart, eBay and Toys R Us.
For perspective, Henderson is taking bids through May 19 on a total of 358 industrial acres near Interstate 15. Starting price for the biggest piece, 167 acres, is more than $16 million.
A potential Southern Nevada location is Mountain View Industrial Park in Apex, northwest of Las Vegas Motor Speedway.
The park has about 1,800 acres of flat land available, according to Lisa Cole, vice president of Land Development Associates, a firm that handles real estate there and in surrounding APEX Industrial Park.
"It's definitely a large project," Cole said about Tesla. "I imagine that would include several different buildings."
Tesla's federal paperwork said its megabuilding could be one or two levels but says little else. It will invest $2 billion of its own, and partners would cover other expenses. Tesla didn't say which partners. Its current battery supplier is Japan-based Panasonic Corp.
"As we at Tesla reach for our goal of producing a mass market electric car in approximately three years, we have an opportunity to leverage our projected demand for lithium ion batteries to reduce their cost faster than previously thought possible," the company said in its blog.
A Tesla spokesman declined further comment via email.
Steve Hill, director of the Governor's Office of Economic Development, called Tesla "an exceptional company" in an emailed statement. His office has worked with regional economic development partnerships and local governments to showcase Nevada's workforce, quality of life and schools as assets.
Hill wouldn't say more, citing confidential business dealings.
Tesla would be the biggest industrial building in the Las Vegas Valley if the company located here, according to Dan Doherty, senior vice president of the Colliers International industrial division. Right now, Doherty said, T.J. Maxx's distribution center owns that distinction. It soon will occupy about 1 million square feet on more than 100 acres.
Competition for Tesla will be stiff, Doherty said. Having a lower cost of living and no income tax are draws, but a low-tax environment also means Nevada sometimes has fewer incentives to offer.
"There's not a whole lot of giveaways," Doherty said. "We can't abate state income tax because we don't have state income tax."
Tesla on Wednesday also announced plans to sell $1.6 billion in bonds to help finance the battery plant and a lower cost vehicle. Starting price for the existing Tesla Model S sedan is about $70,000.
Tesla shares have posted dramatic gains in the past year, from a 52-week low of $33.80 to $265. On Wednesday, they gained $5, or 2.02 percent, to close at $253, then tacked on $8.60, or 3.40 percent, in after-hours trading.
Contact reporter Adam Kealoha Causey at acausey@reviewjournal.com or 702-383-0361. Follow on Twitter @akcausey.