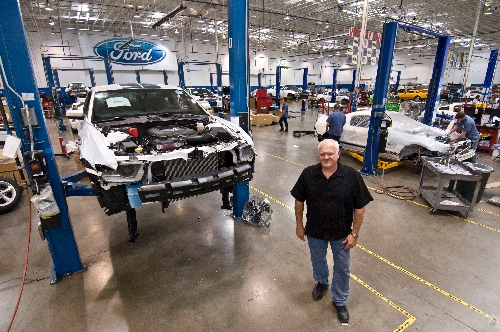 Nevada brought home poor grades in a number of areas that are considered key to economic success in manufacturing and logistics — with the state's approach to taxes showing up as a potential problem — in a new report from Indiana's Ball State University.
The 2011 Manufacturing and Logistics National Report gave Nevada an "F" in manufacturing and a "D" in logistics, human capital and global reach. The state got a "D+" in diversification.
What stood out in the nationwide survey was a feeling that Nevada's declining property tax revenue is going to hurt chances of recruiting more manufacturing, said Michael Hicks, director of the Center for Business and Economic Research at Ball State.
That Nevada joined Alaska, Hawaii and New Mexico as states getting an "F" in manufacturing was no surprise, given the state's traditional lack of a manufacturing base, Hicks said.
The problem for Nevada is its tax climate, which received a "C" grade, Hicks said.
"Given what happened in the housing market, the expectation that you can maintain taxes at the current level is optimistic," he said. "There's going to be a time in the next few years where you face some very difficult choices. It means a really tough environment for schools."
State and local tax rates — along with the quality of local public goods — are among the biggest concerns for relocating companies that can land virtually anywhere, Hicks said. Companies will likely stay away from states with an unstable tax base, he said.
The tax climate is measured with data on corporate taxes, income and sales taxes, and property and unemployment insurance taxes. They all play a role in assessing potential relocation, he said.
The manufacturing report card did not surprise Somer Hollingsworth, president and chief executive of the Nevada Development Association. However, he felt Nevada was cheated in some areas.
"If we got a 'C' in tax climate, then Ball State doesn't know what they're doing," Hollingsworth said. "We always rank at the top of the country. We've got a pretty good reputation around the country as a place you can do well in manufacturing."
The Ball State report does not capture business-friendly incentives such as property tax abatements because they're "too invisible" to measure, Hicks said. Unlike California, Nevada doesn't have a problem with its pension obligations, but unemployment insurance and sales taxes are both high compared with the rest of the nation, he said.
Nevada is not much of a manufacturing state, but it's growing rapidly, Hollingsworth said.
Amonix opened a solar-panel manufacturing plant in North Las Vegas; Quebec-based Foliot Furniture opened a 310,000-square-foot production building and 6,000-square-foot showroom in the airport submarket; and Hydr-O-Dynamic Corp. set up a plastic molding injection facility on Harmon Avenue.
"I wish we had more manufacturing," Hollingsworth said. "The guys we have, they like it. We're in our infancy."
Hollingsworth also differed with the Ball State report on human capital. Nevada has an employee base of skilled and qualified workers who can be trained for other jobs. Amonix received $4,000 per employee for training, he said.
Hicks said the 2011 Manufacturing and Logistics National Report doesn't measure available labor, but the quality of that labor in terms of high school and college degrees.
"By those measures, Nevada doesn't do well. That can be offset by a bigger pool of workers," Hicks said.
One positive for Las Vegas is housing affordability.
"Same thing with Detroit. Right now it looks like a lot of people are considering Detroit because they can buy a house for nothing. If you fill up their tank with gas, they'll give you the keys to the front door," Hicks said.
Contact reporter Hubble Smith at hsmith@reviewjournal.com or 702-383-0491.
Nevada report card
Manufacturing — F
Logistics — D
Human capital — D
Benefit costs — B
Global reach — D
Productivity and innovation — B
Tax climate — C
Diversification — D+
Venture capital — C
Source: Center for Business and Economic Research, Ball State University