Nevada safety agency reduces SpeedVegas' fine over deadly crash
September 12, 2017 - 8:36 am
Updated September 12, 2017 - 3:21 pm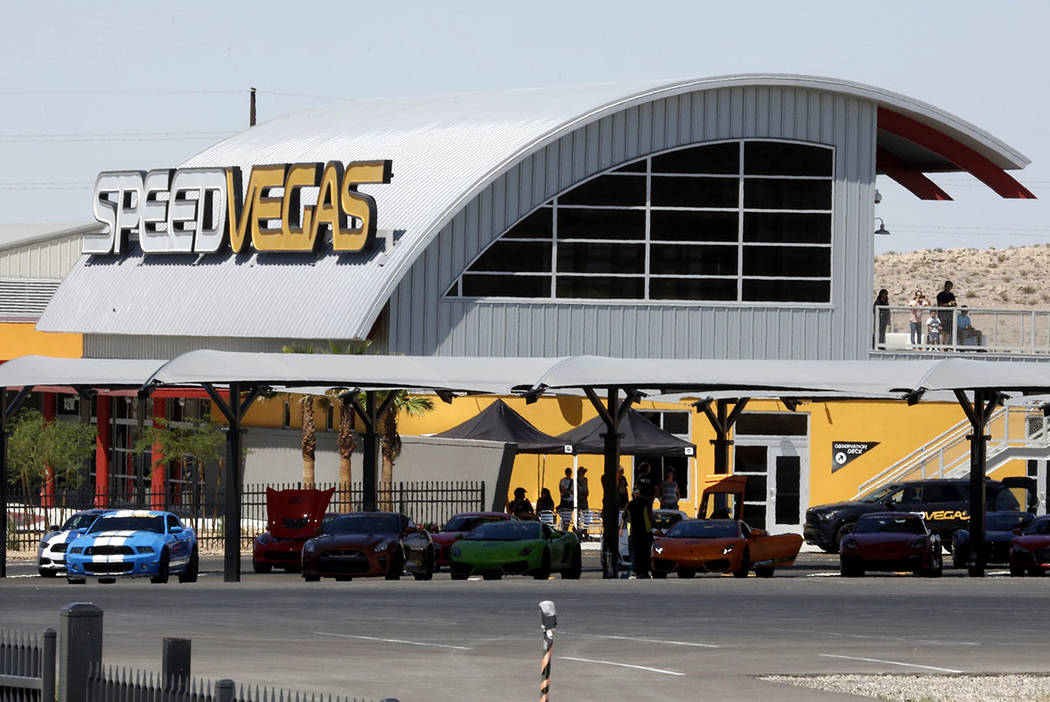 The Nevada Occupational Safety and Health Administration has rescinded a portion of one of its three citations against SpeedVegas and reduced the fine the driving experience company must pay from $16,000 to $12,000.
Jess Lankford, Nevada OSHA's chief administrative officer, said after several days of negotiations between his office and company executives a portion of one citation was removed from SpeedVegas' record while two others and a portion of a third were affirmed.
A spokeswoman for SpeedVegas said no one was available Tuesday to comment on the citations or fines.
Companies cited by OSHA are given the opportunity to challenge or appeal proposed citations and penalties.
February crash
The citations stem from a Feb. 12 crash of a Lamborghini Aventador that killed Canadian tourist Craig Sherwood and track driving instructor Gil Ben-Kely, which was investigated as an industrial accident.
While the company's critics placed blame on the track's design with a sharp S-curve near a concrete barrier at the end of a long straightaway, SpeedVegas maintained the track was safe and reopened 12 days after the accident.
Because OSHA can only measure standards based on local statutes and codes, the track's design was not considered an issue.
The company was, however, cited on two serious violations with proposed fines of $7,000 and $4,000, two "other-than-serious" violations and three regulatory notices, each including proposed fines of $1,000.
The citation struck down was one of the serious violations involving the company's training and education of employees, carrying the $4,000 fine.
Lack of training
The initial citation said the company did not provide proper instruction to employees on the use of portable fire extinguishers. SpeedVegas officials convinced OSHA that it had an instruction program in place prior to the accident.
Now that the case has been resolved, Lankford said documents would be archived for historical background about operations at the facility for future reference. The archive will be retained for at least five years to make determinations about potential repeat violations in the future.
A civil lawsuit was filed by Ben-Kely's estate against SpeedVegas in June and earlier this month a rare petition for involuntary bankruptcy was filed in U.S. Bankruptcy Court in Delaware against the company by six entities.
SpeedVegas has not indicated how it would respond to the bankruptcy filing, but has until mid-September to determine if it would fight the petition or voluntarily enter bankruptcy.
Three-car promotion
For SpeedVegas, operations have become normal over the summer.
This week, the company announced a special Mexican Independence Day promotion enabling customers to drive three different red, white and green cars — the colors of the Mexican flag — on Friday, Saturday and Sunday for $885.
Customers can drive five laps each in a red Ferrari 458 Italia, a white Porsche 911 GT3 and a green Lamborghini Gallardo in the promotion.
Contact Richard N. Velotta at rvelotta@reviewjournal.com or 702-477-3893. Follow @RickVelotta on Twitter.
RELATED
OSHA reduces fines for employers in about half of contested citations
Creditors' petition could force SpeedVegas into bankruptcy
Regulations scrutinized after SpeedVegas deaths
SpeedVegas, other US racetracks have seen fatal crashes
SpeedVegas attorneys defend track safety