Nevada seeing boom in small-business hiring
January 20, 2016 - 5:07 pm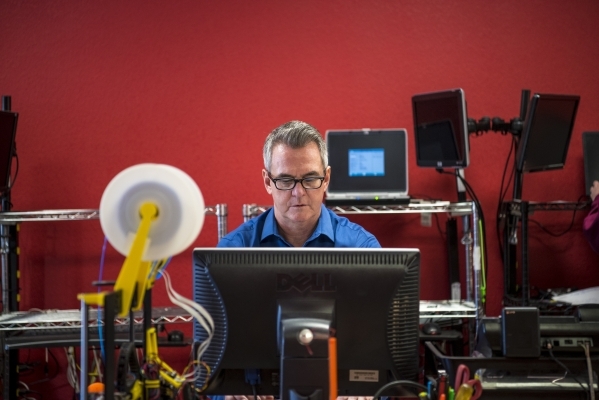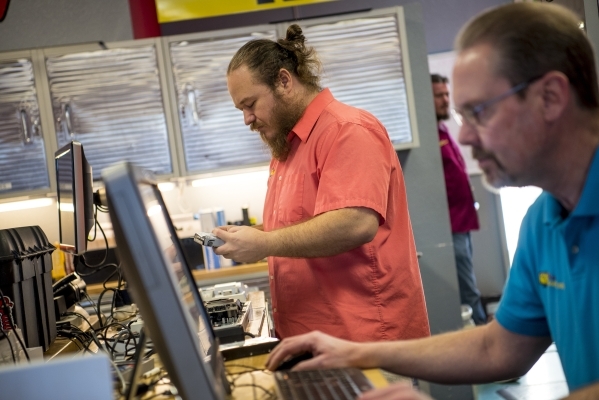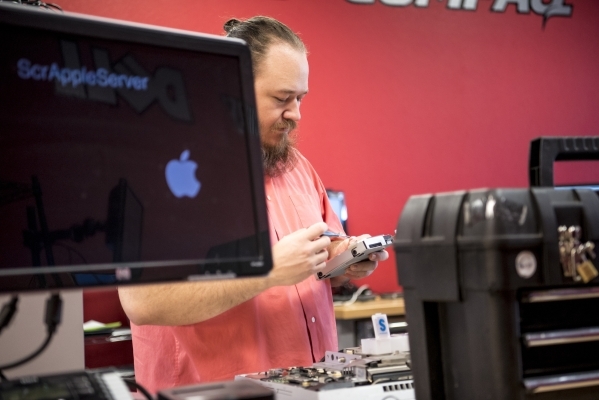 Simple Computer Repair doesn't just troubleshoot problems with personal electronics.
The Henderson business is also helping patch Nevada's economy.
Since its 2008 founding, Simple Computer Repair has grown from two employees to 22, including seven hires in the last two years. The growth has come in part from a new express-repair satellite store on East Horizon Ridge Parkway to go with an existing location on Green Valley Parkway. But company founder Jim Brock said the expansion also traces to healthy demand for fixes, plus a quick-serve electronics accessories segment that makes picking up new earbuds or a phone case as easy as stopping into a 7-Eleven for a cup of coffee.
"The recession has not affected us," Brock said. "People just want their computers and phones repaired. They're familiar with their computers, and their documents and pictures are on them. They say, 'Keep me with what I know, and I will pay for it.'"
Brock's business is part of a statewide surge in small-business hiring.
Nevada companies with fewer than 100 employees added 12,000 jobs year over year in the second quarter of 2015, the latest period with available numbers, according to the state Department of Employment, Training and Rehabilitation. At mid-year, small businesses employed 581,000 Nevadans, just 4,000 jobs below their 2007 employment highs.
Tracking small-business hiring is important because smaller companies make up 98 percent of Nevada's employer base, said Bill Anderson, chief economist for the employment department. Their jobs compose more than 43 percent of Nevada's total jobs base of nearly 1.34 million.
"Small business plays a major role in the overall economy," Anderson said.
It's unlikely that small-business job growth has slowed since the second quarter, "given the continued recovery in the economy as a whole," Anderson said.
If job creation stays at its current rate, Nevada's small-business sector should reach peak employment in mid- to late 2016, he said.
At 2.1 percent year to year, small-business job growth may not outpace overall job formation, which has hovered at around 3 percent for much of the last year. Still, smaller companies are considerably closer to pre-recession employment levels than businesses overall. Businesses with fewer than 100 people lost 75,000 positions statewide in the recession and have regained 71,000 jobs, or 96 percent of what they shed.
Among all businesses, 175,000 jobs disappeared, while 140,000 have returned, for an 80 percent bounceback.
The broader comeback has been slower because it includes big construction companies, Anderson said. Nevada's construction sector slashed more than 100,000 jobs in the downturn and has brought back roughly 25,000 positions.
Managers of small companies said they're poised to keep closing the gap.
At Imagine Communications in Henderson, a hiring freeze may soon thaw.
The marketing, public relations and advertising firm had 12 employees at the recession's beginning, and made "a lot of shared sacrifices" to avoid layoffs, said managing partner Brian Rouff. Imagine's team survived the downturn intact, but executives didn't even consider growing until recently.
"There wasn't enough of an influx of new business to hire anyone to augment our staff, and when you're in the middle of a crash, you just don't have the confidence," Rouff said. "In a recession, businesses circle the wagons. Marketing is one of the first things they stop."
The economy is different today, though.
"We're seeing more startups and expansions," Rouff said. "Also, businesses deferred a number of marketing and promoting decisions for quite some time. We're getting a lot of inquiries about website upgrades. People weren't ready before to allocate those resources. Now they are."
That means confidence is up at Imagine, and with some "nice prospective business in the hopper," Rouff said the firm may look at mid-year hiring in account management and media relations.
Small-business owners do have a "wary eye" on the stock market's recent losses and the potential for a global economic slowdown, Rouff said. But today's economy feels more sustainable, and that could keep optimism healthy.
"It's exciting. It's not the overcooked type of activity that caused the crash in the first place," Rouff said. "It's more this steady kind of energy that's out there."
Brock feels it, too.
He said he plans to add three more repair technicians in 2016. He's also eyeing additional support staff for his franchise operation, which could add to the stores it has on Fort Apache Road and in Phoenix, Detroit and Toledo, Ohio.
"I'm excited about the future, as we all become more involved in and evolve with technology," Brock said. "For us, we have to worry not about what's going to happen in the economy, but what electronics we're using two, three or four years from now, and how we will repair them. It's pretty exciting."
Contact Jennifer Robison at jrobison@reviewjournal.com. Find @_JRobison on Twitter.