Nevada senator concerned over cell connection in Las Vegas area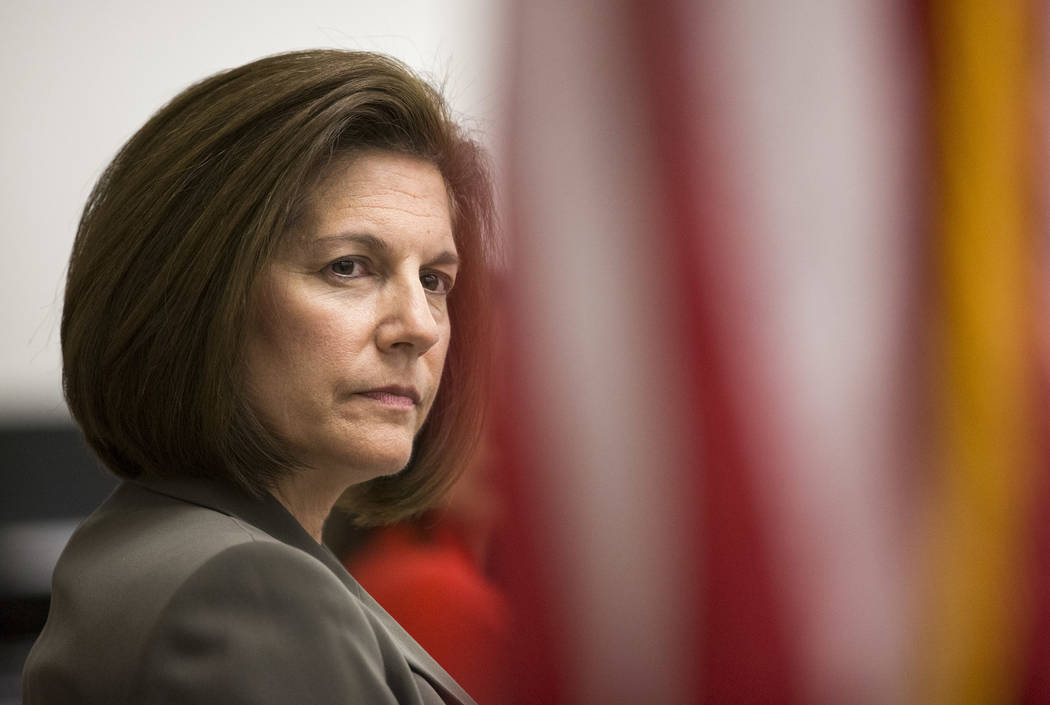 A U.S senator from Nevada raised questions in the nation's capital Thursday about how to improve cellphone and other wireless connections in the Las Vegas area.
But experts say Las Vegas may not have it as bad as other places.
In response to Catherine Cortez Masto, a Democrat, during a Senate committee hearing, the head of the Federal Communications Commission said his agency advocates for more cell towers, possibly retargeting government grants to encourage more building.
Federal, state and local governments should revisit any restrictions on the books for building cell sites, Chairman Ajit Pai said.
An agency commissioner, Jessica Rosenworcel, said she wants updated maps from the FCC on dead zones and problem areas.
In her questions, Cortez Masto cited an article from the Review-Journal on problem spots in the valley for calls.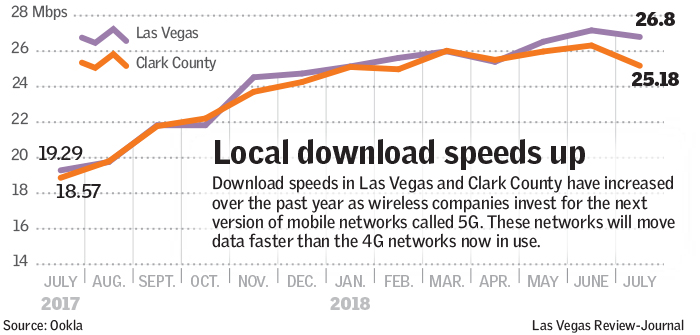 The four major cellphone companies have been investing in their local wireless technology as the industry nears the next version of mobile networks, called 5G, in which networks will become faster, move more data and connect to more devices at once.
AT&T has invested more than $200 million in Las Vegas and a total of $475 million in the state between 2015 and 2017, according to company statements.
In 2017, the company added more than 350 upgrades to the Las Vegas area and a total of 400 wireless network upgrades in the state, including new cell sites.
From 2015-2017, Verizon invested $215 million into its wireless network in Nevada. That sum included installations of several distributed antenna systems on the Strip and increasing capacity near other popular destinations.
Sprint's improvements have included a new site at the Las Vegas Motor Speedway and upgraded in-building systems at Treasure Island, Circus Circus, Paris and other hotel-casinos to improve speeds.
T-Mobile has upgraded 12 casinos and added cell sites in the downtown core among other improvement activity.
Clark County spokesman Dan Kulin said the county is aware of problem areas for wireless communications and has an ordinance and process planned to ease applications for small cell equipment on street light poles and other existing structures.
State broadband development manager Jojo Myers Campos said more businesses, hospitals, houses and people moving to the valley will continue to strain wireless connectivity, adding to the immediacy of working with the top wireless companies.
But compared to other places, Las Vegas' wireless problems aren't so bad, said Brent Legg of Connected Nation, a nonprofit that ran a program to close broadband gaps in Nevada until funding dried up in June 2017.
Las Vegas is geographically well-suited for cell coverage because it's flat and elevated at the edges, Legg said.
"Every city has its weak signal areas, and the carriers are incentivized by their own business models to build density and capacity within their networks in urban areas — particularly in cities like Las Vegas," he said.
Local governments can help by easing permitting for new cell sites, Legg said.
Christopher Wener, owner of locally based wireless communications site developer Spectrum Services, said Southern Nevada is much easier to work in compared to Southern California, home to more governments with their own rules.
Building there can cost more and take longer, Wener said.
Las Vegas has better connectivity than places such as San Francisco, Los Angeles and Seattle, he said. He put the valley on par with places such as Phoenix, Salt Lake City and Denver.
But terrain variations in places such as Seven Hills and Anthem can stifle wireless signals, he said.
Major resorts on the Strip, with their digital signs and attractions, such as the New York-New York roller coaster, can block cell signals to and from pedestrians.
Contact Wade Tyler Millward at 702-383-4602 or wmillward@reviewjournal.com. Follow @wademillward on Twitter.