Nevada taxable sales rise 3 percent; Clark County up 6 percent
February 26, 2013 - 4:30 pm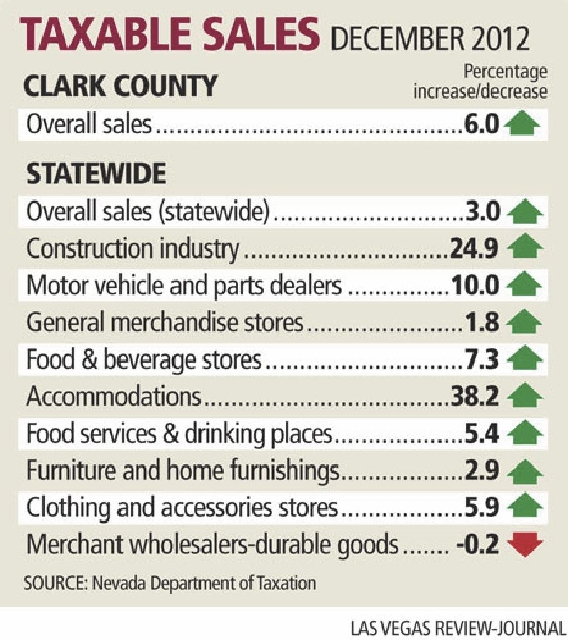 Fiscal cliff? What fiscal cliff?
As a showdown over federal spending and taxing gripped the nation in December, consumers in Nevada and Clark County shrugged their shoulders and went on shopping.
Nevada's taxable sales came in at $4.34 billion in December, up 3 percent compared with $4.22 billion in December 2011, the state Taxation Department reported Tuesday. Clark County's sales jumped to $3.17 billion, up 6 percent from $2.99 billion a year earlier. Spending on meals out, cars, clothes and other consumer goods drove the gains.
"We're still coming out of a severe downturn, and recession fatigue has set in," Brian Gordon, a principal in local research firm Applied Analysis, said of why shoppers were undeterred. "Consumers were looking to spend more than they had been just because they held off for so long."
Gordon added that "perception issues" surrounding budget debates in Washington "have yet to materialize in actual consumer spending."
That could change in January, though, when sales reflect smaller take-home pay after the end of a Social Security payroll tax holiday. Workers' share of the tax reverted to 6.2 percent of wages, after two years at 4.2 percent. For a worker averaging $50,000, that's a $1,000 drop in annual after-tax income.
"As consumers feel it in their paychecks, we may start to see some softening in overall spending," Gordon said.
Some of Clark County's largest sales categories saw big gains. Spending inside bars and restaurants, which made up 21 percent of all purchases in December, posted a 6.7 percent increase to $666 million. Clothing retailers, which ranked No. 2 for sales at 12.3 percent of the total, saw a 7 percent jump, to $390 million. General merchandise stores, including department stores, boosted sales by 1.9 percent, to $381.6 million, while dealers of cars and car parts improved sales 9.4 percent, to $269.1 million. Other categories with robust sales increases included electronics and merchant wholesalers of durable goods, such as office equipment and appliances.
The county's beleaguered construction also surged in December, thanks in part to ongoing work on hotel renovations and at the Linq, a $550 million, 300,000-square-foot retail development that Caesars Entertainment is building next to the Flamingo. Plus, new-home permits rose modestly through 2012's end. Countywide construction spending totaled $52.1 million in December, up nearly 10 percent compared with $47.4 million in December 2011.
But sales in the building sector were less than a third of their December peak of $160.3 million, reached in 2007. What's more, construction-related sales made up just 1.6 percent of all county sales in December, down from 4.6 percent in December 2007.
The numbers show just how devastating the recession has been for the construction sector, Gordon said. In addition to a shrinking sales base, local employment in construction has plummeted from a 2006 peak of 112,000 to less than 35,000 today.
"The sector continues to struggle, but it's responding to new market realities that exist," he said. "The demand for construction-related labor or materials is well off of its peak, but it appears to be treading water in the current environment."
Gross revenue collections from sales and use taxes totaled $336.5 million in December, a 3.6 percent improvement over December 2011. The revenue helps fund social services including prisons and schools.
In the first six months of fiscal 2013, the general fund portion of sales and use taxes was 2 percent, or $9.3 million, below forecasts of the Economic Forum, a nonpartisan group that estimates revenue for state budgets.
Contact reporter Jennifer Robison at jrobison@
reviewjournal.com or 702-380-4512. Follow @J_Robison1 on Twitter.