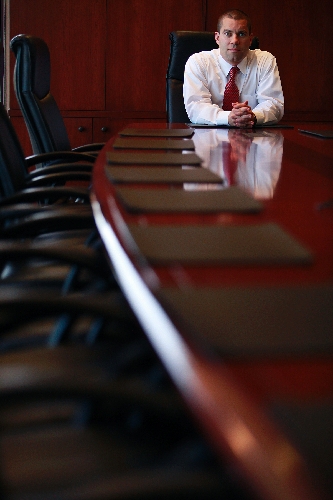 Winning a court case is tough enough.
Throw in a few stray mortar rounds, and it's all the tougher. Just ask local attorney Jason Gerber, who worked as an Army defense attorney for four years in California and Iraq.
Gerber left Iraq in 2006 and moved to Clark County, where his wife, Tammy, was attending the University of Nevada, Las Vegas. He took a job as a business-litigation attorney with the Las Vegas law firm of Marquis and Aurbach, and quickly worked his way up to partner. And though he's left the combat zone, Gerber still faces challenges: holding down his job as a Marquis Aurbach Coffing director while adjusting to the December adoption of three foster siblings ages 10 to 14.
Question: When you started law school, in what area of law did you expect to practice?
Answer: I had no idea. I knew I wanted to be a trial lawyer. I like being on my feet, and I've always felt comfortable with public speaking. And it seemed like a competitive outlet. I've considered myself an athlete my entire life. I wanted a job that was going to be similar to playing a game.
Question: How did you end up joining the military right out of law school?
Answer: Sept. 11 (2001) happened during my final year of school, and I was looking for job. I have an older brother who's a West Point grad and in the Army. I decided, "This is what I need to do right now."
Question: What's the qualification process like?
Answer: They interview for jobs on (college) campuses like any other company interviewing law students. You have to be licensed with your state bar, and they send you through a 3½-month program, with a month of military training and a couple of months of education at the Army JAG (judge advocate general) law school in Charlottesville, Va. Then they assign you to a unit.
Question: Did you go through boot camp?
Answer: Part of the training is boot-camplike. They familiarize you with the military lifestyle and history, and there's a physical training aspect to it. You have to get in shape like everyone else. I qualified with a handgun and an M16 while I was in the basic course, and you do drills as if you're in a squad. You learn how to march, and you learn military formalities. You're indoctrinated like everyone else. No one yells at you, because they'd have few lawyers going through it if they did, but it is real military training. When I was deployed, I had a sidearm. If need be, I was trained to use it.
Question: Did you enjoy being in the military?
Answer: I loved it. Being in the Army was absolutely awesome. It was a great job. There's just no (expletive). You're there to do a job and get it done. None of the politics or personal agendas get in the way. Everyone is just focused on working really hard and doing a good job. You get a very real sense of working for something bigger than you. I don't think anyone is more deserving of the protections afforded by the Constitution than those kids who are willing to lay down their lives for it. It's a very special responsibility.
Question: Did you handle any interesting cases?
Answer: The biggest case I handled involved defending a young enlistee who, soon after getting to Iraq, executed an Iraqi with no justification. I and his civilian attorney tried the case before a military panel. He was charged with murder. Our goal was to get him convicted of manslaughter, and we got that.
Question: How?
Answer: He was a lower-ranked enlisted guy, and his staff sergeant trained his guys, unbeknownst to anyone, to execute the oldest male in every house. The officer had seen a lot of action. He'd go into a house, find illegal weapons and arrest the guy, and two or three days later the guy would be back on the street again. He decided to take it upon himself to make sure that wouldn't happen, and he convinced the guys beneath him to participate.
My client was a tremendous soldier, but he was impressionable. He had grown up without his dad, and this male authority figure had sway over him. They were in Sadr City in 2004, which was a very dangerous place to be. They had been attacked previously that night. I really think the panel members saw our guy as a good, young soldier who had been given a bad leader, though that didn't mean he wasn't going to be responsible for his actions.
Question: What do you say to people who wonder how you could defend such actions?
Answer: Nobody ever gives me flak over defending guys involved in combat-related stuff. I had a couple of rape cases, and more child-porn cases than I would have liked. Those are the ones where people ask how I could defend someone. My response is, you defend their rights, you don't defend their actions. I don't lose any sleep over anyone I've defended. I think they all got the sentences they deserved.
Question: Any other unusual combat experiences?
Answer: At one point, I had the unofficial record for having most courts-martial shelled. You knew when a mortar round came over the wire and landed. It had a very distinct sound. I had five courts-martial in row shelled over the course of a couple of months.
Question: What kind of legal work are you doing today?
Answer: Mostly business and construction litigation. I had a trial last year where my clients had purchased a couple of businesses, and the seller had cooked the books a bit to make the businesses look more valuable than they were. My clients ended up losing a lot of money. We won that case. My construction work is across the board — problems that construction companies or developers have with subcontractors, quality issues or mechanics' liens.
Question: What are the biggest differences in your life and practice today? Is it less stressful?
Answer: It's a different kind of stress. When you defend somebody in a criminal case, you feel like their lives are on your shoulders. Here, the issues are always significant, but it's about money. It's not less important because it's about money, but it's a different set of concerns. Here, it's a much easier lifestyle. I don't have those long periods away from my wife like I did when I was in the military. Those were very difficult times. I don't know if everyone values waking up next to their wife every morning, but we (military) definitely don't forget it.
There's also a different expectation from a business standpoint. In the military, I never worried about the costs of defending someone, because the Army paid and clients got me for free. Here, you can't represent clients well without considering their bottom line. You have to think about how much you can get for them, and how much it will take for you to get it.
Question: Which job do you like better?
Answer: It depends on the day. I miss a lot of things about the Army. It really was a cool job. I miss the camaraderie. We all had the same personality — aggressive, Type A people are drawn to it. I also love the environment at Marquis Aurbach Coffing. Most of my best friends in Las Vegas work here. It's just a fun place to work, and that's hard to find in a law firm. So I do have camaraderie now. The Army was more adventurous. I miss that, but I also have quite a bit more responsibility now than I did when I joined the Army.
Question: You and your wife adopted three foster children in December. What was it like suddenly having a big family?
Answer: It was crazy. We had to buy a new house because the one we had wasn't big enough. We bought a humongous dump of a house out of foreclosure. Neither of us knew how to hammer a nail, but we spent a year remodeling the house so it would be livable. It took a year to be licensed as foster parents.
When we were done, we got misinformation that someone else had adopted our kids. We were devastated. But two weeks before Thanksgiving, a friend of my wife's told her the kids were still at St. Jude's. We called their social worker. They came to be with us for Thanksgiving and moved in for good just before Christmas.
Question: How's your work-life balance now?
Answer: Crazy! But at Marquis Aurbach Coffing, everybody knew this big life change was coming, and understood how that would impact how I worked. I do have some flexibility if I have to pick someone up from practice or school, and I can work from home if I have to. I can make up hours on weekends.
It takes a lot of planning. My wife and I have daily meetings about who needs to go where, and when, and who can drive them or pick them up. It has added complexity to our life, but it has been a lot of fun. They all play sports, so I help coach their sports teams. And our house is much louder. It's a zoo. After I came home from Iraq, my wife used to say, "I never could have done it." And I would say, "You don't have a choice once you're there." Adopting is like that. Once you're in, you're in.
Question: How has having a family changed your outlook?
Answer: I understand my father much better. I understand why he worked as hard as he did (as an electrical engineer). It's a new level of responsibility, and it has made me more aware of how I spend my time. There's more of an effort to be efficient to make sure I can be home every day for dinner.
Question: What are your career goals?
Answer: I don't ever want to work anywhere else. I just want to win cases and continue to develop creative ways to help my clients. Once you learn this job, the next step is to become creative in how you handle cases. Anyone can file a complaint; it's how you set your client up to be successful that's important. You spend 30 years developing those skills, so I have a long way to go.
Contact reporter Jennifer Robison at jrobison@reviewjournal.com or 702-380-4512.
VITAL STATISTICS
Name: Jason Gerber.
Position: Director, Marquis Aurbach Coffing.
Family: Wife, Tammy; three children; two dogs.
Education: Bachelor's degree from Miami University of Ohio, 1999; juris doctorate from Case Western Reserve University School of Law, 2002.
Work history: U.S. Army Judge Advocates General Corps, 2003-2006; Marquis Aurbach Coffing, 2006-present.
Hobbies: Do-it-yourself home improvements, coaching youth sports, golf, diligently and loyally suffering for the Cleveland Browns and Cleveland Indians.
Favorite book: "With Malice Toward None: A Life of Abraham Lincoln" by Stephen B. Oates
Hometown: Cleveland.
In Las Vegas since: 2006.
Quote: "Being in the Army was absolutely awesome. It was a great job … None of the politics or personal agendas get in the way. Everyone is just focused on working really hard and doing a good job."
Marquis Aurbach Coffing is at 10001 West Park Run Drive and can be reached at 382-0711.