Nevadan at Work: Auto industry experience pays off for accountant to car lots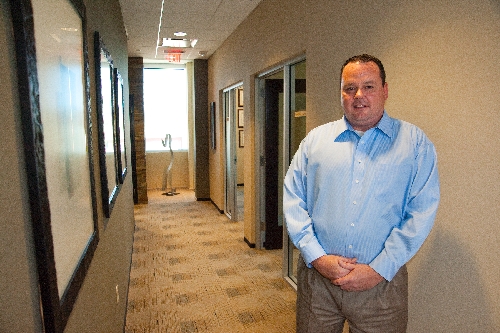 Growing up in the nation's automotive heartland, Bob Holder thought he might one day work as a factory representative for one of the Big Three automakers, traveling the country as a liaison between the manufacturer and its dealerships.
He worked six years at Lochmoor Chrysler-Plymouth dealership in Detroit before earning an associate's degree in automotive marketing from Northwood University.
During his sophomore year, he took an accounting class and discovered the career path he would ultimately follow.
"It just came so natural to me," said Holder, CPA and audit director for Johnson Jacobson Wilcox in Las Vegas. "I was acing the exams and everything made sense – debits and balances. I figured being a CPA would open more doors for me and I loved accounting, which is again highly unusual."
Holder transferred to University of Michigan, where he earned a master's degree in accounting in 1999.
Experience Holder gained in the automotive industry helps him crunch the numbers for dealership clients at Johnson Jacobson Wilcox. He builds spreadsheets from financial statements to evaluate whether a dealer should invest in expansion, which projects offer the biggest returns and what's the break-even point in sales to recoup the costs.
Holder has lived in Las Vegas with his wife, Dawn, and two children since 2001, though they went back to Michigan for a couple of years before returning in 2006.
Question: What's unique about the accounting business at Johnson Jacobson Wilcox?
Answer: One of the key things is we are very cutting-edge technology for the size of our firm compared to others in the country. We've been paperless since 2002. That's no big deal now, but we started in 2002. We have two scanning stations and a lot of our staff has scanners at their desk.
When we go into the field for an audit, we have dual monitors, a laptop and another monitor. It's more efficient. You can pull up two documents side by side. We have a wireless network in the field to share files. It's like we're in the office.
Another unique thing about our firm is that we have won the best accounting firm to work for by Accounting Today in the small firm category (fewer than 50 employees) for the past two years. We are extremely proud of this distinction.
Question: What's the corporate culture like at your firm?
Answer: We invest a lot in training and education. Our staff does 100-plus hours of continuing professional education each year. The Nevada Board of Accountancy requires 80 hours over two years. Another thing is we have a solid relationship with UNLV. We do classroom visits and classroom presentations. Our president, Gary Johnson, is an alumnus, so we do a lot of recruiting on campus. Last year we had 50 students at an office visit. It's something we worked on over the years.
Question: How did your firm come to specialize in auto dealerships?
Answer: Our firm was founded in 1995 and we have had auto dealer clients all of those years. One of our founders is Kirk Jacobson and he's been working with auto dealers for 20 years. So we have a history in our firm, not only myself, but other accountants who worked in dealerships, so we're real experienced. We're a member of the CPA Auto Dealer Consultants Association.
Question: Do you have an advantage in working with dealerships?
Answer: It's just learning the industry, getting in there and learning how they operate. They have their own lingo and their own way of doing business, like any industry. So that expertise helps us provide better service. We do a cost segmentation study allowing you to (categorize) buildings for taxes. Basically, you get to break it into tax lives. Certain fixtures get a different life. Rather than assigning a 39-year life to a building, the IRS allows you to take a shorter life to accelerate depreciation and get the tax benefit earlier.
Question: What brought you to Las Vegas in 2001?
Answer: Really, opportunity. We first came out to visit and just really fell in love with it. We decided to move out here in 2001. Just the climate, and it was booming at that time. It's just the excitement, a growing city and housing prices were low, which was phenomenal. It was an exciting town.
Question: What's the hardest part of your job?
Answer: Staying on top of new standards. There's been a lot of changes since (the) Enron (Corp. accounting scandal) that really impacted our business. It's continuous learning and staying on top of accounting and quality standards. That's what I need to focus on in order to be a better CPA. It's a time commitment. Our firm understands that and encourages it. We have budgeted hours each year for technical reading and technical education. It's ingrained in our culture.
Question: What do you seen for the new-car market in Vegas? Most manufacturers reported a huge increase in June sales. What are the factors that could drive sales up?
Answer: Access to credit has been good and affordable, which are important factors in keeping sales strong. Vehicle sales usually slow up during the summer months. However, I think we'll continue to see new-vehicle sales increase. Remember that last year at this time, Japan was still recovering from the tsunami. The dealers for Japanese manufacturers were all struggling to get new vehicle inventory on their lots. Even some of the larger stores in town had only a handful of units in stock.
Question: How do you improve financial performance for your auto dealer clients? Tax savings? Sales strategies?
Answer: Tax savings are where we can best help our dealer clients from a financial perspective. There are numerous tax strategies that are unique to auto dealers that reduce or defer income tax expense. The key is to help the dealer identify and tax advantage of these opportunities. At the store level, we look for ways to help them cut expenses. We have resources available to consult with industry experts throughout the country. For example, we have contacts that assist dealerships in negotiating their contracts for their dealership software). We do monitor the industry and share new or innovative ideas that we hear about. The dealers we work with are strong operators and are usually on top of the most recent trends. It is their livelihood.
Contact reporter Hubble Smith at hsmith@reviewjournal.com or 702-383-0491.
VITAL STATISTICS
Name: Bob Holder.
Age: 43
Position: Audit director, Johnson Jacobson Wilcox.
Family: Wife, Dawn; daughter, Racquel; son, Andre.
Education: Grosse Pointe South (Mich.) High School, 1986; Northwood University (Midland, Mich.), associate of arts in automotive marketing; University of Michigan, master of accounting, 1999.
Work Experience: Plante & Moran (Southfield, Mich.), staff accountant, 1999-2001; Johnson Jacobson Wilcox, Las Vegas, senior accountant, 2001-2003; Nino Salvaggio International Marketplace (Troy, Mich.), corporate controller, 2003-2005; Johnson Jacobson Wilcox, audit manager and director, 2006 to present.
Hobbies: Tennis, tae kwon do, camping.
Favorite book: "Primal Leadership" by Daniel Goleman.
Hometown: Grosse Pointe, Mich.
In Las Vegas since: 2006.
Quotable: "There's been a lot of changes since Enron that really impacted our business. It's continuous learning and staying on top of accounting and quality standards."
Johnson Jacobson Wilcox is at 9139 W. Russell Road. Phone number is 304-0404.