Nevadan at Work: Customer service representative's life experiences help him relate
December 14, 2013 - 5:01 pm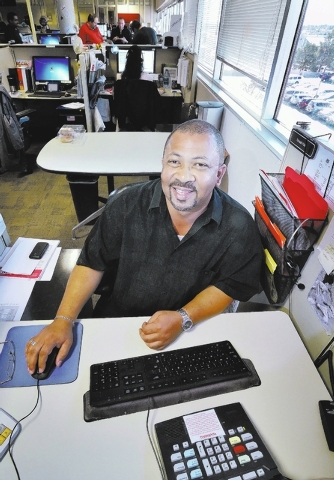 Helping others is central to Donald Kidd's life.
From his calling as a minister at One Body in Christ Christian Church to his job as a call center representative at NV Energy, lending a hand comes naturally to Kidd, who is quick to acknowledge the help he's had along the way.
In November, Kidd was honored by the Las Vegas Metro Chamber of Commerce for going above and beyond in his work to ensure that a homeless family received power at their new home.
As the mayor and TV news crews stood by at the dedication ceremony, someone discovered the power wasn't on.
A property manager on site, whom Kidd had worked with in the past, called and asked if there was anything he could do.
The family was on their way.
Kidd took the address, placed a service order, and power was switched on within minutes.
"When she told me about the family leaving the homeless shelter, that's when it got a little personal because I've been homeless in the past," Kidd said. "It threw me back. I remember the day, after being homeless for a while, that somebody actually shook my hand and said, "Hi, here's your keys."
Kidd looks back on the experience as an opportunity to pay it forward.
"I had to do what I could," he said. "Someone did the same for me back then. I figured, Lord, this is my turn. You put me in a position to be a blessing to somebody, just like somebody was a blessing to me back then."
Question: How did you get to where you are today?
Answer: I came to Nevada 30 years ago in the military, stationed at Nellis (Air Force Base). Life was great for a while. My career was going really well. All I remember is one day I was on my way out from my apartment to go to the mall to buy some clothes. A guy came up, to this day I don't know his name. He said, "Hey brother, how you doing? Can you tell me where to find this apartment?" I remember pointing and telling him, "Go up there, the go around the corner." He shook my hand and said thank you. He was someone who was under investigation and they saw me shake his hand, so my career was over. I went into a severe depression.
I left my apartment one day to go for a walk and I kept walking. And I walked and I walked and I walked. I slept on the streets and in the meantime became an alcoholic. During that time, I was just walking and sleeping where I could. I did anything I could to survive. One day I was in a ditch and I said, "OK, God, you win. I'm tired now. Whatever you want me to do, I'll do." I stood up and walked up out of the ditch. This guy pulled over and lo and behold, he used to work for Nevada Power. He took me to his home, gave me a change of clothes. He let me take a shower. I came out and he gave me something to eat and he took me to church. I said, "I don't want to go to church." He said then, "OK, well then I'm going to take you back to where you were." I said, "OK, when are we leaving (to church)?" He took me to church and I never left. I've been a minister now for 21 years.
Question: Did you know the Nevada Power worker before he picked you up?
Answer: No. He stayed in Las Vegas for a while. He was in a car wreck some years back, in a van coming back from the job site. It injured him for life. I've never spoken to him since about 1988 or '89. He helped me get my first apartment. I slept on his couch for maybe a couple of weeks or a month or so. He woke me up one morning as he was going to work and he took me to work with him. He introduced me to his boss and he gave me a job working at Best Products, which used to be on Craig Road and Donovan Way. I worked in a warehouse loading trucks. In the meantime, he talked to his landlord, he got me an apartment and I didn't have money to pay for it so he vouched for me and the apartment with a job. I used to live in that apartment with no furniture, no couches, chairs, no beds. He gave me some old blankets and he took me to the store and bought me things that people take for granted — some underwear, some socks and things. I had an old Bible I'd found. I used to read my Bible by the streetlight. When it got too dark and I couldn't read, I'd stop reading and I'd pray and go to sleep.
Question: Were you religious before that experience?
Answer: I grew up in church in Mobile, Ala. I went to Baptist Church every Sunday, but I wouldn't say I was religious. I knew of religion, I knew of God, but I had no relationship at all. My father went to prison when I was in the third grade. From the third to about the fifth grade, we would go to prison to visit him. As we got older, the visits stopped because the searches got more intense. A few years later, he came home. He was very violent. It was kind of like walking in the house and not knowing what the atmosphere was going to be like. We spent our lives trying to be normal. We spent a lot of time between home and the grandparents' homes, and living there and changing schools. I made up my mind that when I turned 18, I was going to leave forever.
Question: It seems that helping people is a theme in your life. Is that intentional?
Answer: It's all I know. I used to wonder why I had such an ugly life. But once I established my relationship with God and accepted my calling to the ministry and knowing I had to stand up in front of people, whether it be 10 or whether it be 1,500 and teach the word of God. There's a difference in giving someone directions when you've made the trip, so to speak. Doing this job, I listen to people. Don't get me wrong, it's not an easy job. It's almost like you just have to wrap yourself in humility and sit down and enjoy the ride, brace yourself to the ride.
At NV Energy, most people who call in are in a desperate situation. You've got an elderly person who makes $800 a month but their bill is $1,500. It's 120 degrees outside. They don't want to hear, "Well, you should have paid your bill." They want a solution. Sometimes there is no easy solution, but presentation is everything. Usually they know where they are, but they need some direction. "This is what I can do, this is what I need you to do."
The job itself, it's a much-needed job. A lot of companies are going through automation because it saves money, but there's nothing like a personal touch. I deal mainly with commercial accounts. There needs to be a person to speak to. Whether it be billing or getting things going, automated systems can't account for paperwork issues. I've always dealt with people, even in the military as a fire and rescue person.
Question: What are your proudest accomplishments?
Answer: This is going to sound strange, but I was at church one evening after work for a meeting. I was solicited in my car. I looked at her and said, "Excuse me?" She said it again. I asked "Do you know who you're talking to?" She said, "I'm talking to a man." I said, "You're talking to a minister. Do you not know any better? Have you allowed yourself to sink that low." She started crying. I made the atmosphere conducive for her to share her story. When she shared, I accepted her for who she was. I asked her real name, she told me. I asked her how and why she started doing this, and she told me. I said, "You don't need to be doing this anymore. You're better than this." By the time the other guys arrived for the meeting, I was standing in front of church in a full embrace with a prostitute who had just given her life to Christ. It's not uncommon for me to meet someone out, in a grocery store, and pray for them right there.
I love spending time with my children. One of my greatest accomplishments is my son. He just graduated from Arbor View High School and will be starting at UNLV. My daughter is 25. I have, from when I was married, what I call my daughters by love. One graduated with a degree in clinical child psychology. She moved to Chicago in June to pursue her master's program. The other is in Seattle in film school. She wants to make movies. Other than that, I like to write. I write poetry and I've written a manuscript for teaching called "Mr. Nobody." It chronicles the process of sanctification of who you know yourself to be to who God wants you to be.
Contact reporter Kristy Totten at ktotten@reviewjournal.com or 702-477-3809. Follow kristy_tea on Twitter.