Nevadan at Work: Top Rank chief brings open approach to work, office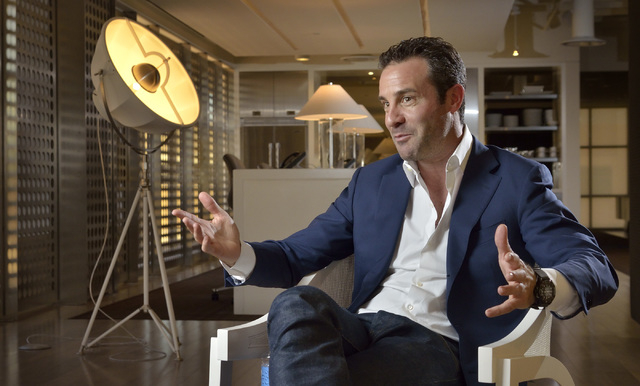 Todd duBoef doesn't believe in offices.
That's why his space at Top Rank, the Las Vegas-based boxing promotion company, is more like a lounge with comfy couches along with a slab on four legs that looks like a granite kitchen counter covered with papers.
DuBoef, Top Rank's 46-year-old president, doesn't care for walls either. So his company headquarters near McCarran International Airport has contemporary furniture and an open layout to encourage idea-sharing and collaborative work among social media staff members, producers and webmasters.
He heeded advice from one of his favorite books, "Tribal Leadership," to create the collaborative office mindset.
"It breaks down the barriers," duBoef said. "I like to do business at a couch. It brings your guard down. It brings their guard down."
DuBoef has come a long way in his 21 years at Top Rank, which was founded by its CEO Bob Arum, duBoef's stepfather. Top Rank has promoted more than 9,000 fights on more than 1,500 cards in 22 countries on six continents. Since 1986, Top Rank has promoted 432 bouts in Nevada, including 183 world championship matchups.
DuBoef recalls one of his first Top Rank memories, when he was working commercial real estate in New York City and Arum invited him to a meeting with boxing promoter Don King.
"I was sitting in a conference room and they (Arum and King) started going at it,' " duBoef said. "It was almost like theater. Afterward, I called my friends and told them, 'You won't believe what I just did.' "
DuBoef was a hockey star at Trinity College in Hartford, Conn., from which he graduated in 1990 after majoring in economics.
When he's not promoting boxing matches in the U.S. and around the world, deBoef might be road cycling in Summerlin or mountain biking in the Colorado Rockies during the summer, with some hot yoga thrown in, too. He plans to participate in the Leadville 50, a grueling mountain bike race in Colorado, where elevations are above 10,000 feet.
After college, duBoef worked in commercial real estate in lower Manhattan near Wall Street for three years before Arum hired him in 1993. As president of a boxing promotion company, duBoef is not threatened by the rise of mixed martial arts or that the Ultimate Fighting Championship also uses Las Vegas as its home base.
DuBoef is good friends with UFC's brass — Zuffa CEO Lorenzo Fertitta, President Dana White and Executive Vice President Lawrence Epstein. DuBoef noted that Epstein served as best man at his wedding.
"We grew up together," duBoef said of Epstein.
Question: Let's start with your comments at a recent UNLV stadium board meeting, where you among event promoters talking about the stadium proposal. You were very chatty and passionate. Why were you so stoked to talk about the stadium proposal?
Answer: I remember as a kid growing up in Las Vegas those nights of the big prize fights. We were the center of the universe. Then, we went to the Runnin' Rebels. I see that in my rearview mirror and it gives me a perspective that is very different. My comments were very passionate because my perspective of what happened in Las Vegas have not been the perspective of Las Vegas. I want big events to come to this city so we can become that entertainment epicenter.
Question: Let's start at the beginning. You were born in Las Vegas and grew up in Las Vegas, so why did you attend prep school on the East Coast in Massachusetts and Connecticut?
Answer: How do you take a Las Vegas kid at 13 and put him in a conservative East Coast environment? If you asked me then, I was an avid hockey player. I played here in Las Vegas, but then the Commercial Center rink closed. I said, "Let's try it (going to prep school on the East Coast)." I was open for it. I wasn't being sent by my parents because of something I did. I could come home anytime. The education was phenomenal. The one thing my father told me was that nobody could take your education away.
Question: Then, you went to Trinity College in Hartford, Conn. You were a hockey star then. What was your major and did you consider a career in hockey?
Answer: I was an economics major. But I was not big enough (to play in the NHL). I was 5-foot-10. They were looking for you to be 6 feet. At one point I wanted a career in hockey. But when I got to the East Coast I realized I could go only so far.
Question: What did you do after college?
Answer: I went to New York and worked in commercial real estate.
Question: What was your first impression of Bob Arum?
Answer: It was at a personal level as it related to my mother. He had a special place and a relationship with my mother and I valued that.
Question: When your mom married Bob Arum and you began working at Top Rank in 1993, was there any discontent among people who thought that you got the job because your mother married Arum?
Answer: Of course. They had nicknames for me. They called Bob "The Shiek," and I was, "The Shadow." But the pressure was not on me to get results. The pressure was on me to learn.
Question: What exactly were you trying to learn?
Answer: I was constantly looking at events and looking at where the city was and also understanding the implications of the distribution of the signal. You're live. There is no room for error. There is no cutting or editing. The only thing live on television is sports.
Question: When you started in 1993, why did Bob want to hire you?
Answer: I could relate to the fighters. And media. I had an appetite and fascination for the media. Always have.
Question: You seem fascinated with new media.
Answer: The delivery of content is changing so fast. It's exciting and tenuous to get information from content holder to consumer. That's uncharted waters … It's dynamic and evolving. We built out our production facilities because we want to capture content, create content and get it out on all platforms.
Question: What is the next frontier in new media for you?
Answer: It's always the cord between content holder and consumer.
Question: Is your economic model based on promoting individual fights or growing boxing?
Answer: Both. I feel I'm an evangelist for the sport. I'm an advocate for saying how robust the sport is.
Question: Any challenges?
Answer: Boxing struggles from not having a unified (organization) like the NBA or the NFL. There are a lot of sanctioning bodies and names.
Question: What about UFC and MMA? Have they cannibalized the boxing market?
Answer: They haven't. There's no cannabilization. The crossover is 5 to 7 percent. UFC runs well in the 16-to-30 demo. We run in the 18-to-49 demo, and 55-plus, and we're very diverse.