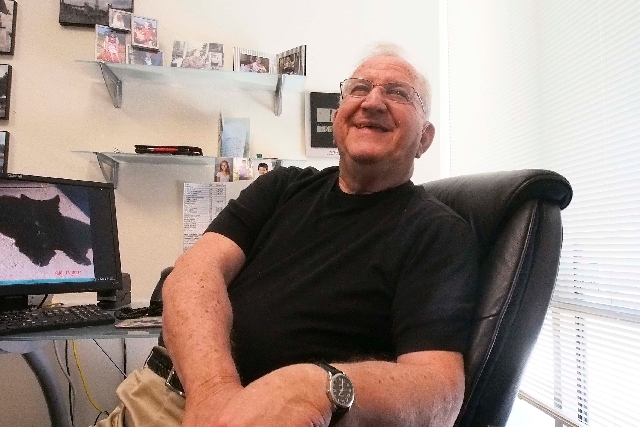 A trade show veteran who entered the business accidentally, Chuck Schwartz hasn't left his resulting success to happenstance.
When the SHOT Show (Shooting, Hunting, Outdoor Trade Show) was left without management earlier this year, Schwartz seized the opportunity, eventually earning his company a new client. Not resting on his laurels, he's got a new proposal in the pipeline and another brewing in the background, and he's starting to pursue another revenue stream: conferences.
Founded in 2000, Schwartz's company ConvExx manages large trade shows including SEMA (the Special Equipment Market Association) and Las Vegas Bikefest.
None of that was planned.
Originally in the auto parts business, Schwartz started out as a member of a trade association serving on a trade show committee. As fate would have it, he sat next to the show manager, Hub Erickson, who became his mentor.
Schwartz began organizing small events and doing pro bono work. He represented a company that made sports car steering wheels in Italy, and while exhibiting with the company at SEMA, he noticed a gap in the marketplace.
He started the Auto International show in 1981 to cater to international manu­facturers, thus launching his career in the trade show arena. Eventually SEMA approached him about running its show, and after discussions, the group bought Auto International and Schwartz started running a combination of the two.
Today, Schwartz worries about ever-changing aspects of the business, such as his biggest challenge, technology: "It changes too fast. It's hard to keep up."
He calls his 15 employees and other show management companies "data centric," and says there's a strong need to know as much about attendees as possible.
Question: How have you seen the industry change?
Answer: The trade show world realizes that when you do a show in Vegas, your Vegas show will be better than anywhere else in the country.
A show that moves around, when it's here, it's their biggest show. That's the biggest change I've seen in the industry on the trade show side. On the city side, the hotel inventory has been a big issue. There used to be something called the citywide event, where you used all the rooms.
No one can use all the rooms today. There's no event in the world that can use all the rooms. I don't think the Olympics, if they were here, could use all the rooms. We have more than enough and more coming.
Question: How would you describe the industry now?
Answer: The trade show industry has come back pretty strong from the recession. … I think most shows suffered a 20-to-30 percent loss in attendance, loss of sales. But I think most of them have come back.
I know the SEMA show has. This will be a record year. There's caution there though. There are some shows that haven't come back, but it's not because of the recession. It's because of other dynamics like the Internet. The way of doing business has changed. Now the manufacturers have started selling direct to consumers and now may take the approach that they don't need a trade show. That will continue to happen as technology changes.
Question: What challenges is the industry facing?
Answer: It's becoming costly to do a trade show, and we're working on ways to change that.
There are a lot of different players involved in a trade show. I'm like a general contractor. I sub out a lot to different people, and then they sub. All that costs a lot of money.
We're looking for ways to do things that cost less. Companies look so close at their costs and the big companies, their displays cost big bucks. We're trying to keep them from doing that because what happens is some big company will have a change in management and they'll come in and say, "We're spending $1 million on that show? Cut it out. I just saved our company $1 million." We don't want that to happen, so we try to mitigate that by doing things to keep their costs down.
Question: How big of a deal is the partner­ship with the SHOT show?
Answer: Huge. First of all, I'm an auto­motive guy and I have a reputation of being a car show guy.
I hate that reputation because I've done shows in scuba diving, tele­communications, security. I launched a big artificial flowers show we used to have here in Vegas, so I never liked having that automotive brand. It kept us from getting new clients.
I'm not a gun person but I'm a Second Amendment guy. … It's a complex show to produce mostly because of the security and imagery of guns. I like that challenge. It's really big for our company.
Question: What's next for ConvExx?
Answer: We had a series of prenatal shows that we were doing called Baby Time Expo. We launched them just before the recession. … That industry got killed during the recession. Women kept having babies but the mom-and-pop manufacturers who were making little things went away and we couldn't make a show out of it.
We're looking now at rekindling that event and bringing it back. We're also looking at some other areas. Conferences are really popular now. We think that's a revenue stream we'd like to get into.
It's less intense than trade shows, less revenue than trade shows, but if you're doing multiple cities then it can be very profitable.
Question: What's your favorite career memory?
Answer: I was producing a show for the American Federation of Aviculture in San Diego. We put up a big tent outside with 25,000 canaries on display for a competition.
But it got cold, down in the 40s. I got nervous that these poor birds were going to die, so I called a friend in the rental business and said I need 20 heaters right now, brought out to this hotel. The association had a rule that once we closed the tent you weren't allowed to go back in and look at your bird, because it was a contest.
My guy shows up with the heaters, and one of the owners comes out and wants to see his bird. I told him he couldn't, that he knew the rules.
Then he asked what the heaters were for. I told him, and he said "If you install those heaters those birds are going to die. Don't you remember the story of the coal miners going down with a canary in a little box? The canary died and they knew that gas was escaping. You're going to kill those canaries." I let him go see his canaries.
Contact reporter Laura Carroll at lcarroll@reviewjournal.com or 702-380-4588. Follow @lscvegas on Twitter.
VITAL STATISTICS
Name: Chuck Schwartz
Position: Chairman, ConvExx
Family: Susan, wife; four grown children: Harry, Pam, Mindi and Jeff; and three grandchildren: Savanna, Race and Jacob
Education: Three years at Ohio State University
Work history: Vice president at Western Big Wheel from 1956-68, president from 1968-73; president and owner of Target Auto Stores, 1973-76; founder and president of Epic Enterprises, 1977-2000; consultant to Advanced Patent Technology, 1981-82; founder and chairman of ConvExx, 2000–present
Hobbies: Auto racing, automotive and Lionel train collectibles
Favorite book: Exodus
Favorite movies: "Dr. Zhivago" and "Blazing Saddles"
Hometown: Columbus, Ohio
In Las Vegas since: Permanent since 1996, but he's been doing business here since 1968 with automotive retail locations.
Quotable: "The trade show world realizes that when you do a show in Vegas, your Vegas show will be better than anywhere else in the country."