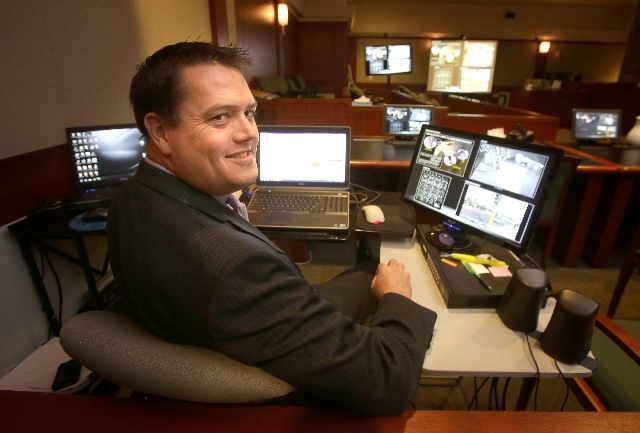 An hour or so after Las Vegas Sands Corp. attorneys started outlining their case in the massive Venetian construction trial a decade ago, a surprise adviser took a seat next to trial technician Brian Clark: company Chairman and CEO Sheldon Adelson.
Clark had already huddled with attorneys for more than a week to set up the sequence and rehearse the display of electronic evidence for the jury. The goal was to avoid delays or miscues in pulling up documents, photos, videos or specially created graphics that can disrupt an attorney's rhythm and make jurors fidgety.
Following that script, Clark had just posted a document when Adelson ordered him to pull it down. Clark refused, not wanting to blindside attorney Lee Roberts.
To drive home the point, Clark remembered, Adelson used his cane to whack him on the shin. Clark still didn't budge.
Moments later, Clark said, Adelson ordered him to highlight a different paragraph than the one Roberts wanted in another document, leading to another rap on the shin after another refusal.
"What do I do?" Clark remembered thinking. "My attorney is literally pointing at what I have highlighted in front of the jury, but I have the client who is one of the richest men on the planet telling me something else. I'm just sweating at this point. I'm only two hours into this, and I'm going to get fired."
Indeed, he said, Adelson demanded that the legal team drop Clark, overriding their objections about finding a replacement on such short notice. The attorneys sort of assented; they kept Clark on condition that he disappear if Adelson ever reappeared. He didn't.
As member of a small but growing cadre of trial technicians, Clark typically avoids any attention.
"I'd rather be invisible," he said. "If I had my choice, I would sit in the very back of the courtroom in business casual clothes."
Trial techs, largely unknown to people not familiar with trials and even some in the courtrooms, have increasingly become mandatory equipment, especially in large, complex business cases involving thousands of documents. For one first-of-its-kind trial earlier this year that lasted five months, the official records were the hard drives.
In that role, Clark figures he has worked more than 100 trials since then, racking up more court time than all but a handful of attorneys.
After a career that included a stint in minor league baseball, driving a forklift and trial grunt work, he stumbled into the tech side. For a trial in 2000, he taught himself a basic program and has kept doing it ever since.
"Even after all these years, you still see new things in the courtroom," he said. "There's no school for trial technicians. You can learn the program, but unless you have the trial experience and can adjust to all the different situations, it will be hard."
Sometimes, he added, "there is hazard pay."
Question: What's your objective going into a case?
Answer: My whole point is to make the attorneys relax. I tell them, you keep talking, I'll take care of the rest. What we are trying to do is keep the juries focused on the evidence because, unfortunately, these trials are really boring sometimes. You're teaching jurors who have probably never heard of certain subjects what you are talking about or may not have an interest in whatsoever. If you can't keep the attention of these 12 to 14 people in the jury box, then there is no point in sitting there.
By keeping the attorney comfortable in court, he can present his case and basically teach the jury what he wants them to know. And then it comes down to who can tell the better story.
Question: But you never see trial techs on TV or in movies.
Answer: That's the whole point; you don't want to see me. I've been called the guy behind the curtain, the dog-and-pony show. A televised trial might show a screen by a witness with a page on it. Nobody knows who's putting that up. What I basically do is put a visual presentation to their oral presentation, whether our case is bad or whether we have a slam dunk case.
Question: What's the critical factor for you in an effective presentation?
Answer: Making sure when that attorney asks for something, it happens. Five seconds of dead time in a trial seems like minutes, and the first person they look at is the guy behind the computer, whether it's my fault or not. And a lot of times it isn't because the attorneys or paralegals set the wrong numbers, get it backward, miss a dash or zero, something simple. A lot times I've had to fall on the sword so he didn't look bad in front of the jury. My whole point is to win the case and help the attorney put on his presentation, and not necessarily in that order because a lot of the cases we go into, we know we are going to lose.
Question: What's the day like in a big trial?
Answer: Some of these trials require 14-hour days. So you start at 6:30 in the morning and meet with the attorneys for two hours. Then go from nine to 10:30 and take a half-hour break, then 11 to noon, take a lunch break until 1 (p.m.), come back and take a break at 3 and quit at 5. At 6, you are at the attorneys office until 10-11-12 depending on what you are doing, whether its closing or an expert witness or something like that. When you have somebody like Sheldon Adelson or Steve Wynn on the stand, you make sure everyone is very well- prepped for the day and your attorney has everything they need and are comfortable. Sometimes, the trial part is the smallest part of the day.
Question: In one recent case where you knew a juror, the opposing attorney said it would OK to disqualify you because you didn't do much but click on exhibit numbers. Is that close to the mark?
Answer: In a way, that's a compliment. When I can make it look so easy that it seems like it is orally controlled by the attorney, that smooth and that fast, then I have done my job.
Question: What do you think of dramatized trials for entertainment?
Answer: I can't stand them. I think they are so fake. "Law & Order" and all that stuff is ridiculous. It has also caused problems in courtrooms today. Juries think trials in real life should be like "CSI," take a half hour and have the explosive DNA evidence. In real life, you can't do a trial by ambush. In real life, everybody in court already knows what is going to be said.
Question: Can you predict how juries will go?
Answer: I've seen 100-something juries, and you can't read a jury. You watch when they take notes. You watch reactions and everything else, but you don't know what they are going to go back there (in the jury deliberation room) and talk about.
Question: What is a digital trial supposed to accomplish?
Answer: The whole point of this was to speed it up. Eliminate binders of paper. By the time a witness can pull out a binder and look up a document, I already have it (on a screen) and we are four or five questions deep. The process speeds up but necessarily. But that doesn't mean shorter trials. If an attorney wants five more minutes, you can bet it will be a half hour. If it's supposed to be a week long trial, figure it will be 10 days.
Question: When will trials go paperless?
Answer: We could actually do it now. I could put a computer with a disk of all the admitted information in the jury room, and they could search it. We could technically do it now. But completely paperless? That is tough because you still have people who are still not technology savvy.
Contact reporter Tim O'Reiley at
toreiley@reviewjournal.com or 702-387-5290.
VITAL STATISTICS
Name: Brian Clark
Age: 40
Position: Trial and litigation support manager
Family: Kristy, wife; two children and two stepchildren, Brittany, 20, Jared, 20, Emily, 14, Molly, 13.
Education: Napa Valley College, two years ending in 1993.
Work history: 1993-1995, catcher with the Great Falls, Mont., Voyagers, then a rookie league affiliate of the Los Angeles Dodgers; 1995-2000, forklift driver with Nevada Beverage; 2000-2009, delivery man, videography and trial technician with Paulson Reporting & Litigation Services; 2011-present, manager with Lawyer Solutions Group.
Hobbies: Golf. "It's about the only sport I can still play without it hurting."
Favorite books: Anything by Tom Clancy.
Hometown: Fairfield, Calif.
In Las Vegas since: 1993
Quotable: "My whole point is to help win the case and help the attorney put on his presentation, not necessarily in that order because we go into a lot of cases knowing we are going to lose."
Lawyer Solutions Group is at 900 S. Fourth St., Suite 100. The company can be reached at 430-5003 or at lawyersolutionsgroup.com.