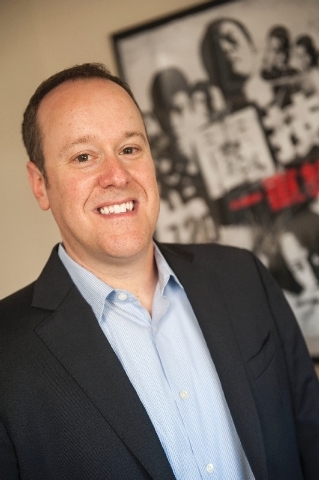 Andrew Simon was sitting ringside at a recent Muay Thai fight, soaking up a night's worth of standup combatants punching and kicking each other.
He looked like any other fight fan at The Joint arena in the Hard Rock Hotel in Las Vegas. Except Simon was not only a Muay Thai follower but also executive director of the TV network division that broadcasts a slew of combat sports fights and programming, including that Muay Thai event a month ago.
Ever since the AXS-TV Fights chief was 3 years old and his dad would wake him up to watch Muhammad Ali boxing matches, Simon has been hooked on the fight game.
So, when Mark Cuban, owner of the NBA Dallas Mavericks and AXS-TV, called Simon out of the blue eight years ago and eventually offered him a job to run his TV network fight programming, Simon was happy to oblige. AXS-TV is available to 40 million viewers in the United States.
"Mark is passionate about MMA and we discuss all major signings to the network," said Simon, 43, a Henderson resident who has been AXS-TV Fights executive director since 2007.
Cuban said Simon was the right man for the job.
"He is smart, understands broadcasting and loves MMA and all combat sports," Cuban wrote in an email to the Review-Journal.
Simon oversees TV production of fights staged by Las Vegas-based organizations such as Lion Fight Promotions, which puts on Muay Thai events, and Resurrection Fighting Alliance, a feeder league for fighters who aspire for the Ultimate Fighting Championship.
"I'd watch these fights for free," Simon quipped. "It's been an amazing ride I've had."
AXS-TV, which also offers entertainment content such as comedy and concerts, broadcasts MMA fight events and "Inside MMA," an ESPN SportsCenter-style show on mixed martial arts.
Inside MMA, which recently marked its 300th show, leads into AXS-TV's Friday night live fight events.
Scott Kent, president of Lion Fight Promotions, said Simon was the force behind the Friday night fight format.
"He understands the fight game very well and has been a great partner for us," Kent said. "He understands all the things that go into a production and identifying which promotions are going to be successful."
Simon's gig as TV fight guy is the latest stop in a diverse career. The Long Island native and 1992 Cornell University graduate came to Las Vegas 21 years ago and worked at Mirage Resorts before stints with insurance and finance companies. He was at Cox when Cuban came calling.
While employed at The Mirage after graduating Cornell, Simon began working on a campaign to legalize gambling in Florida and realized he was better at networking than standing in a casino. And that led to graduate school at UCLA and a career in diverse business dealings.
"I don't have a clear linear career path," Simon said.
But it was a path that eventually crossed with Cuban, who owned HDNet, the precursor to AXS-TV.
He called Simon for lunch at the Four Seasons in Las Vegas in 2005. They met for five to six hours, chatting about everything from sports to technology to dating.
Two years later Cuban offered him a job to run the fight content side of his TV network in 2007.
Cuban said Simon has effective networking skills that deliver attractive TV fights.
"He has developed relationships with everyone in the industry that has opened doors to enable us to broadcast more fights, and in particular more great fights than all other broadcasters combined," Cuban wrote.
Question: Why is AXS TV interested in MMA fight shows?
Answer: Mark (Cuban) and I love the sport and we made a commitment to MMA back in 2004 before it was the growth phenomenon that it is today. Over the past decade, we created Friday night as "Your Home for MMA — Inside MMA" followed by a LIVE fight show. Today, "Inside MMA" is the longest-running weekly MMA news show on television and we have broadcast more live MMA than any network in the world. Our network and viewership growth support our long-term investment in the sport.
Question: Does AXS lose or make money from broadcasting these fights?
Answer: The network is profitable
Question: What's it like working with Mark Cuban? How often do you talk with him? How interested is he in the fight game?
Answer: When I was working for Cox, I got a call out of the blue one day. The caller said something like, "Hey Andrew, it's Mark Cuban, do you want to go to lunch next week?" I relate this story, because that is how approachable and outgoing Mark is. For example, his email address is on the Jumbotron at Dallas Mavericks basketball games to get immediate feedback from fans on their experience. What other professional sports team owner does that? He sits courtside with fans versus being separated in an owner's box. That said, I have worked with a few billionaires in my career and Mark is by far the hardest-working guy I have ever been around. It doesn't matter what time of day or night it is. Mark responds within minutes to my emails and probably all those emails from Dallas Mavericks fans. He is a master of time management. For the record, he does emails only and does not believe in phone calls or meetings.
Question: Name any TV network sports program you think is well-produced and compelling.
Answer: "Inside the NBA" is masterful. Charles, Ernie, Kenny and their producers (and) graphic artists are so entertaining you don't realize how late at night it is until the show is over. "Monday Night Raw" from WWE also is an incredible production and they have the longest-running weekly episodic TV show in history. They must be doing something right.
Question: What's your take on FOX1 taking on ESPN, and other sports networks such as NBC expanding into programming like the Premier League and World Series of Fighting?
Answer: It is a great time to be involved in television sports. Sports is DVR proof which is what advertisers want. In today's world, you have to watch sports live as it is virtually impossible to avoid hearing the results. …
The issue is escalating rights fees for sports and should those fees be passed along to the consumer. FOX1/ESPN and the negotiations with carriers will be interesting to watch. As for NBC Sports, I question their commitment in the long-term to MMA.
Question: Why are you personally interested in watching MMA fight shows?
Answer: I have been a fan of combat sports entertainment — boxing, MMA, and pro-wrestling — since I was a child. I remember my dad waking me up when I was 3 or 4 years old to watch Muhammad Ali fights. I was hooked on boxing and later MMA. I was influenced by Tuesday Night Fights with Al Albert and Sean O'Grady. That show was a weekly boxing series that had all the great boxers of the time and I never missed a broadcast. I wanted to create a similar must-see weekly MMA series and find the best fighters in the world for AXS TV Fights. This is a dream job for me — I get to travel the world scouting promotions (and) fighters and sit cageside (and) ringside and watch fights.
Question: What will be the next big thing in TV sports?
Answer: I am sharing my billion-dollar idea with Mark next week. All kidding aside, sports (and) personalized medicine will play a huge role for the next generation of athletes.
Contact reporter Alan Snel at asnel@reviewjournal.com or 702-387-5273.