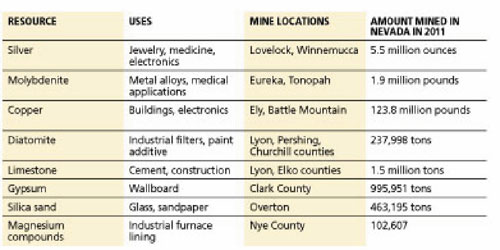 Gold.
It has forged human history since its Egyptian debut 5,600 years ago. It has launched wars, pulled populations across continents and captured the imagination. As a metaphor, it's an exemplar: Worth its weight in gold. A heart of gold. The Golden Age. The Golden Rule.
Most importantly for you, gold is a pillar of Nevada's economy. As MINExpo rolls into the Las Vegas Convention Center on Monday, gold is the ascendant global commodity. Its price moves toward $1,800 an ounce, up more than 500 percent since 2000. For countries boosting reserves to tweak currency values or investors buying to hedge against a devalued U.S. dollar, gold is more precious than ever.
And its impact on Nevada, where gold accounted for 90 percent of the gross proceeds of mined commodities in 2011, is equally compelling. Mining, and gold mining in particular, means well-paying jobs and revenue for Nevada's private and public sectors, from Las Vegas companies tapping into the business to stay afloat to governments that share industry taxes.
But gold mining's concentration in Northern Nevada means locals don't think much about it. Given gold's importance in global markets, it's time to brush up on the business.
WORLD'S THIRD LARGEST PRODUCER
Ask a Las Vegan to name Nevada's economic lifeblood and he'll say tourism. That's because the state's mining industry is out of sight, out of mind.
Fact is, Nevada dominates gold mining as much as it reigns hospitality. Las Vegas perfected "what happens here, stays here." Northern Nevada's gold industry invents mining techniques and produces metal destined for all corners of the globe.
To know just how important mining is to Nevada, consider that the state's gaming industry reaped $10.7 billion in gaming revenue in 2011. Mining brought in $9.6 billion – $8.8 billion of it gold and silver proceeds. A chunk of that money makes its way into local coffers in ways you probably don't think of – in schools, in social services, in health care assistance.
What's more, mining's been around these parts much longer. A century before Frank Sinatra did it his way and Elvis made "Viva Las Vegas" our town's first real catchphrase, Nevada's economy centered on mining and ranching. No one thought of Nevada as a place to get lucky at Megabucks; they imagined it as a place to make megabucks tapping into ore veins. Hundreds of mining bergs flowered across the desert and withered into ghost towns long before Hoover Dam's birth in the 1930s.
Nevada mining dates to the 1859 discovery of the Comstock Lode. You've heard about the boom towns: Virginia City surged to nearly 30,000 after the Comstock discovery, its fabled riches drawing the journalistic interest of Mark Twain. For a spell in the 1860s and '70s, Virginia City was the biggest town between Chicago and San Francisco. The state's motto, "Battle Born," harks back to Nevada's 1864 entry into the Union, partly as a source of silver and gold to finance the Union side of the Civil War. Because silver production outweighed gold in the state's earliest days, Nevada became the Silver State.
Those early booms have nothing on today's gold-mining explosion.
The Comstock Lode yielded about 8 million ounces of gold in 23 years. In 2011, Nevada produced 5.5 million ounces of gold, the equivalent of an empty Boeing 747 in weight and worth $8.7 billion at 2011's average price of $1,572 an ounce. That meant a daily average of $23.8 million in Nevada gold for national and international markets.
Gold mining's modern era dates to 1968, when Newmont Mining Corp. invented large-scale heap leaching west of Elko on the Carlin trend, a massive gold deposit 50 miles long and 5 miles wide that ranks as one of the world's best ore veins. Heap leaching, which uses cyanide to pull gold from rock, makes it profitable to extract trace metals from low-quality ore.
Mines everywhere now use that process, which helped drive global gold production from 47.5 million ounces in 1970 to nearly 91 million ounces in 2011.
London-based mining consultant CRU ranked the United States the world's third-largest gold producer in 2011, after China and Australia. U.S. mines produced more than 7 million ounces of gold in 2011, according to the U.S. Geological Survey. Around 75 percent of that came from Nevada. If the Silver State were a nation, it would be the world's fourth-largest gold producer, according to the Nevada Mining Association.
What's more, the world's two largest gold miners, Barrick Gold Corp. and Newmont, get big chunks of their output here. Half of the 7.7 million ounces Toronto-based Barrick produced in 2011 came from the United States, and 80 percent of that came from Nevada. Forty percent of Denver-based Newmont's 5.2 million ounces came from here.
"Nevada is primarily where it's happening," says John Mudge, Newmont's vice president of environmental and social responsibility, of U.S. gold output.
That lends Nevada national significance and an economic lifeline.
HIGH SALARIES AND MINERALS TAXES
Today, as during the Civil War, Nevada's gold has strategic national importance.
"Gold is used in electronics, space equipment and high-tech equipment, and generally, the United States doesn't want to be dependent on other countries for precious metals," Mudge says. "If our supply from other countries got cut off, what would we do?"
Plus, mining gives Nevada value for its dirt in the form of employment, income and revenue, he says. The average metal-ore mining salary in the state was $87,900 in 2011, compared with $43,100 for all industries, according to Las Vegas research firm Applied Analysis. Nearly 20 percent of Nevada's job growth since 2009 has come from mining, though the industry makes up less than 5 percent of the state's gross domestic product.
And mining paid $231.3 million in net proceeds of minerals taxes in 2011, with roughly 97 percent of that generated by gold and silver mines.
"Mining pays some of the highest wages and salaries anywhere in the state," says Jeremy Aguero, of Applied Analysis. "On a per-employee, tax-revenue basis, it generates as much as or more than the gaming industry. When we're looking for economic opportunity, the mining industry is making investments, hiring employees, developing resources and developing technology. It's doing everything we want an industry to do in Nevada. We don't have a deep well of bright spots right now in our economy, but I think mining is one."
But is this party too good to last? Mining is famous for booms and busts, and Southern Nevadans know what happens to dominant industries when the music stops.
Potential obstacles to mine development include a shortage of skilled labor, a long and sometimes unpredictable permitting process, rising costs of exploration and extraction, access to investment dollars, and public perception, according to an Applied Analysis report.
The Nevada Division of Minerals says the state had gold reserves of 81 million ounces in 2010, the latest year with available numbers. That's enough to last about 15 years at current production rates.
How long those reserves go depends partly on prices. High prices extend the life of mines as companies extract poorer-grade ores that don't pay off during low-price periods and save high-quality ore for tougher times.
Plus, companies get better at finding reserves. Barrick listed 6.3 million ounces in reserves at its Cortez mine near Elko in 2006. That number jumped to 14.5 million ounces by 2011. And Newmont is exploring at Long Canyon near Wells. Mudge says the project could be the beginning of a new geologic trend. The company estimates resources of 8 million ounces at the site.
"We've got many, many decades of reserves in process and planning for the future, and we continue to explore to replenish what we mine," he says.
Nevada Mining Association president Tim Crowley says companies constantly look for new reserves. Those mining the Carlin trend have averaged 10 to 12 years of reserves since the 1960s. Reserves have stayed between 75 million and 80 million ounces since the late 1990s, despite companies pulling 5 million to 8 million ounces a year out of the ground since then.
"Most people assume we know the extent of resources out there, and that 81 million ounces is the extent of gold reserves in the state. But it's not," Crowley says.
"What that represents is the ounces mining companies have identified and can prove. Companies are always looking for new resources. I would say every indication is that we're going to be going strong for decades."
Contact reporter Jennifer Robison at jrobison@reviewjournal.com or 702-380-4512. Follow @J_Robison1 on Twitter.
Mining in Nevada
More mining
Nevada is known worldwide for gold production, but the state is not a one-trick commodities pony.
Nevada is also the top U.S. producer of the mineral barite, used in oil and gas drilling, plastics, foam brake pads and barium "milkshakes" for X-rays. The state produced 697,946 tons of barite in 2011, according to the Nevada Division of Minerals.
Nevada leads the nation in lithium production as well, with one of the world's largest lithium deposits 60 miles north of Winnemucca. In 2011, Nevada produced 3.5 million pounds of lithium compounds, which are key components in batteries for hybrid and electric cars.
Gold production and price
1859-82 (Gold Rush)
Price per ounce: $442
Millions of ounces produced: 8
1998 (record year)
Price per ounce: $392
Millions of ounces produced: 8.865
2011
Price per ounce: $1,572
Millions of ounces produced: 5.536
Nevada gold
Nevada is home to nearly two dozen mines that combined to produce 5.5 million ounces of gold in 2011. All of the state's gold mines are in Northern Nevada.
Map