Nevada's solar industry on the rebound after major changes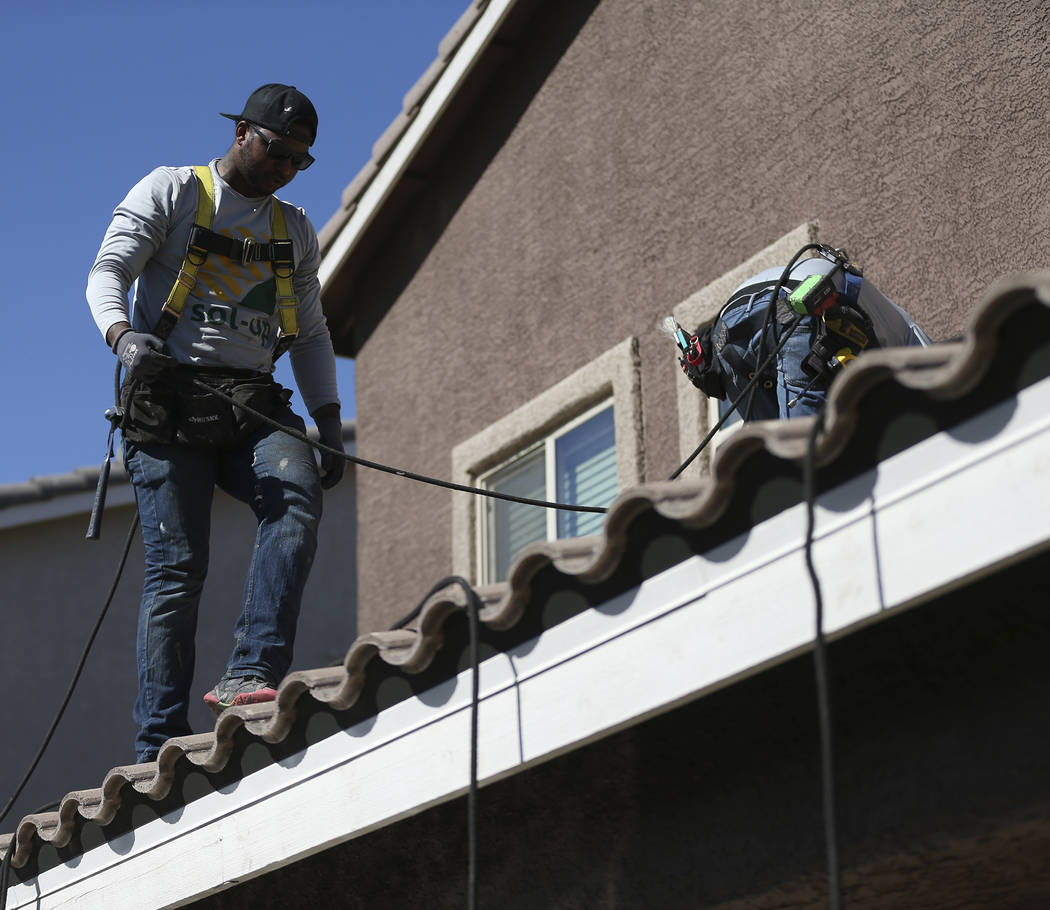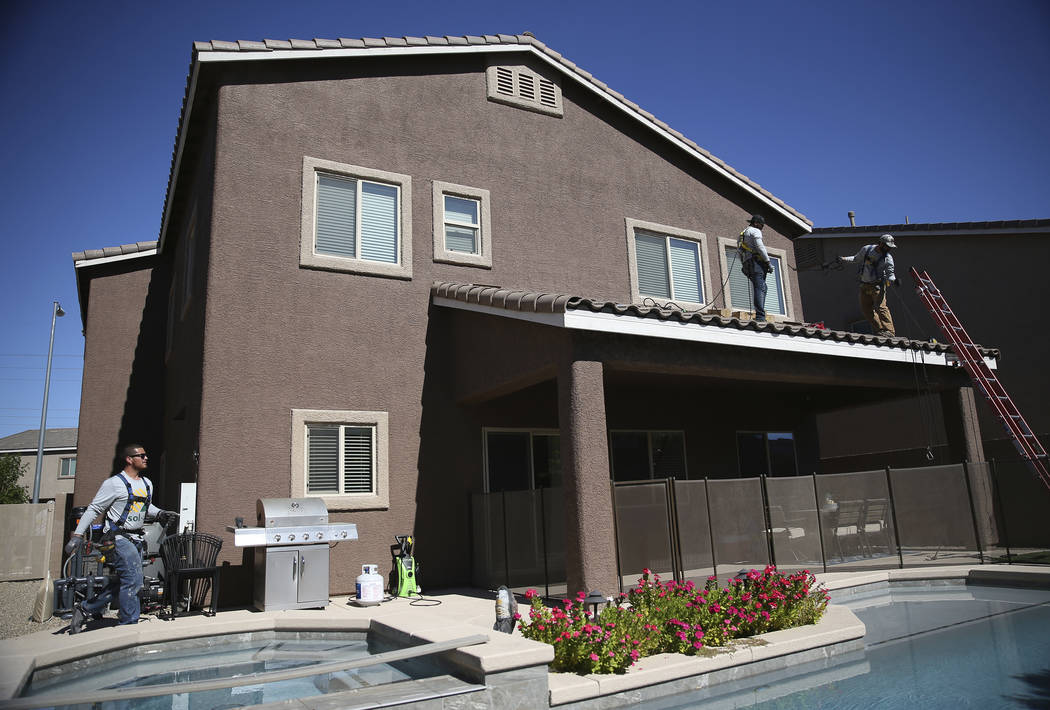 Frank Rieger started solar panel installation company Sol-Up USA in 2009, after moving from Germany to Las Vegas in what he called a midlife crisis.
He loves his job, and said Las Vegas is the near-perfect place to work in solar where sun shines 85 percent of the time on average, according to financial information website NerdWallet.
But state policies can make the solar industry "very frustrating," Rieger said.
In December 2015, the Nevada Public Utilities Commission voted in favor of a new tariff structure that reduced so-called "net metering" rates — the rates NV Energy pays to buy back excess energy generated by those with rooftop solar. It also increased the monthly service charge for those solar customers.
Following the decision, the state lost about 400 solar jobs, according to The Solar Foundation. It lost another 1,800 between 2016 and 2017.
The PUC ruling was considered a major step back for the industry, but data show Nevada's solar industry is on the rebound.
'A very tough time'
The Nevada Legislature has to have the right policies in place for clean energy to truly excel, said John Restrepo, principal of Las Vegas-based RCG Economics.
"We lost a little ground with rooftop solar policy issues, but we're back to moving forward," he said.
Gov. Brian Sandoval signed a bill that restored the state's net energy metering in 2017, but local workers in the solar industry like Rieger haven't forgotten the hundreds of solar jobs lost after the PUC decision.
"It caused all of these companies to go bankrupt and leave the state," Rieger said. "We made the decision to stay on this market. … I did everything to keep this group together, but obviously, it cost a lot of money and was a very tough time."
In 2017, Nevada fell from the No. 4 state for overall solar jobs to No. 10, according to The Solar Foundation.
The PUC ruling also had a "fairly substantial impact" on solar installations in Nevada, said Austin Perea, senior analyst for the Wood Mackenzie Power and Renewables team. He said Nevada's market dropped from seventh in solar installation in 2015 to 17th in 2017.
"There were still installations that were going on, but you're talking about a market that was one-fourth of the size it was in 2015 by 2017," Perea said.
Ramp up
But it's not all gray skies for Nevada's solar industry. Since the 2015 PUC decision, Nevada has picked up the pace with renewable energy projects, said Jeremy Aguero, principal analyst with Las Vegas-based Applied Analysis.
"We've probably seen more proposals relative to renewable energy in the last three years than the last 15," he said.
Rieger's company started recovering from the decision a little over a year ago. He said Sol-Up has added more than a dozen employees in the last few months and is making about three times as much revenue compared to last year.
And the industry is expected to continue to grow, according to Sean Gallagher, the vice president of state affairs for the national trade group Solar Energy Industries Association. He pointed to the abundance of solar projects being built across Nevada from companies like Switch and MGM Resorts International.
"Nevada's got one of the best solar resources in the country," he said, referencing the consistent sunshine. "Over the long run, this trend is going to continue upward as more businesses and residents go forward (installing solar). Customers like to have control over their bills."
Perea said installation rates have also seen a dramatic uptick in recent months. The state installed 11.7 megawatts worth of solar in the first quarter this year, a 166 percent increase from the same quarter in 2017, according to research from Wood Mackenzie.
"Quarter one and quarter two of this year is really when we saw this ramp up," Perea said. "In the first half [of] the year, we've seen 30 megawatts installed in Nevada on the residential side. That's more than all of 2017 combined."
Neighbors
Nevada is struggling to reach the top rankings in the solar industry, but it's surrounded by tough competition. California has led the nation in solar installations for the past three years, according to a 2018 report from Wood Mackenzie Power and Renewables. The state had about 86,414 solar jobs in 2017, according to The Solar Foundation, compared with Nevada's 6,564. Arizona and Colorado also came in ahead in 2017 with 8,381 and 6,789 jobs, respectively.
California is unlikely to relinquish the throne to Nevada any time soon; Perea said California's high electricity rates give residents more incentive to install solar panels, and its population size gives it the upper hand.
"If every household (in Nevada) went solar, it would be only a fraction of the number for California," he said.
But Nevada's business climate and natural geography set it apart, said Tom Polikalas, a state representative of the Southwest Energy Efficiency Project, a public-interest organization promoting greater energy efficiency.
"Nevada is much friendlier compared to California," Polikalas said. "We don't have coal reserves, oil refineries, gas refineries. We have solar, wind, all of this emerging stuff… that's where our advantage is."
While Nevada "will never catch up to California" in solar installation rates, Perea expects the state will climb its way back up the rankings.
"We see it going back to the ninth largest market in 2018 and 2019," he said. "They've taken a lot of right steps."
Contact Bailey Schulz at bschulz@reviewjournal.com or 702-383-0233. Follow @bailey_schulz on Twitter.
Economic impact
Austin Perea, senior analyst for the Wood Mackenzie Power and Renewables team, said some of the biggest benefits from a growing solar industry include job growth and savings for customers.
According to the Solar Energy Industries Association, Nevada had more than 6,500 solar jobs in the second quarter of 2018.
And building on clean energy assets like solar could lead to a better economy within the state, bringing in new businesses and jobs in energy and construction, said Jeremy Aguero, principal analyst with Las Vegas-based Applied Analysis.
"There's no doubt that there's a positive economic impact related to renewable energy in Nevada," he said.
About 88 percent of the energy Nevada consumes comes from outside the state, according to the U.S. Energy Information Administration, and this comes at a high price. Nevada's electric utilities import about $700 million worth of fossil fuels each year, according to the environmental advocacy group Natural Resources Defense Council.
"It's time we stop sending money to other states to buy their energy and invest more in home," said Kyle Roerink, communications director for Nevadans for a Clean Energy Future, the leading campaign for the ballot measure looking to raise the state's RPS. "We feel we can be in a much better position to measure up to other states and bolster our economy" with more clean energy.