Nevada's unemployment rate falls in December
January 27, 2015 - 2:03 pm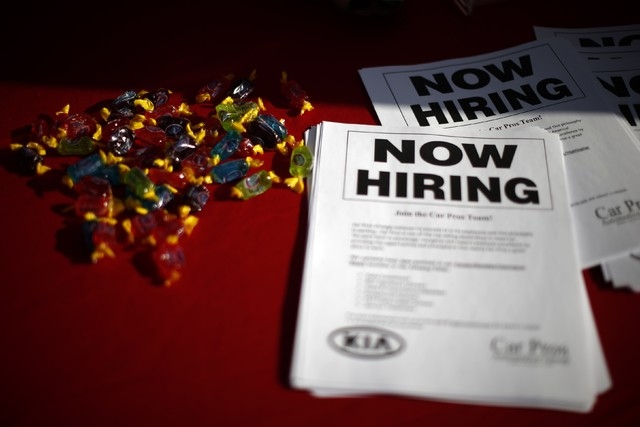 Nevada's labor markets ended 2014 on a strong note — a refrain that should continue through 2015, experts said.
Powered by thousands of new jobs, the state's unemployment rate ticked down to 6.8 percent in December, compared with 6.9 percent in November, the state Department of Employment, Training and Rehabilitation reported Tuesday. It was the lowest reading since June 2008.
Joblessness in Las Vegas came in at 6.9 percent, compared with 7.1 percent in November.
Unemployment dropped even as the labor pool grew, which means most of the decline came from new jobs. Private-sector employers added 2,500 positions statewide from November to December. What's more, they created 38,200 jobs in 2014, for the nation's third-fastest job-growth rate, behind North Dakota and Colorado.
The 2014 gain was up from 29,200 new jobs in 2013.
Las Vegas added 25,600 jobs in 2014, though comparisons to state job formation are difficult because local changes are not seasonally adjusted.
In all, Nevada has added 99,000 jobs since 2010, after losing roughly 170,000 jobs in the recession.
Economic improvements have been broad-based, with nine of Nevada's 10 "super sectors" adding jobs in 2014. The exception? Mining. The industry shed 600 jobs, or 3.9 percent of its work force, which stood at 14,600 at 2014's end.
Among growth industries, professional and business services led the way, with more than 10,000 new jobs. Leisure and hospitality added nearly 8,000 positions, while construction generated 5,500 jobs.
The biggest local gainers in December included construction, which added 10.5 percent, or 4,300 jobs, for a total of 45,200 positions, and education and health services, which grew by 5.2 percent, or 4,200 positions, to 85,600 jobs. Professional and business services, such as accounting firms and architecture studios, expanded 3.8 percent, or 4,300 jobs, to 117,300.
The city's biggest employment sector, leisure and hospitality, was relatively flat, growing by 0.9 percent, or 2,500 positions, to 268,300 jobs.
The new jobs helped Nevada slash its ranks of long-term unemployed. The number of residents out of work for at least 27 weeks peaked at 93,000 in late 2011, but averaged 40,400 in 2014. Also, Nevadans filed 18,100 initial claims for unemployment insurance, about 1.1 percent more than in December 2013, though first-time filings were down 8 percent for all of 2014.
Bill Anderson, chief economist of the employment department, said overall improvements in the state's labor market should continue for the foreseeable future. As Tesla and other businesses bring highly publicized manufacturing and tech-sector jobs to the state, expect job growth to hit about 50,000 a year by 2017, Anderson said.
The labor pool will likely grow as well. The state's work force ticked up by 0.3 percent, or 4,200 residents, to nearly 1.37 million in December. Las Vegas added 0.2 percent, or 2,100 people, to its labor pool, for 984,200 workers. Population growth should mean still more work-force gains. Census estimates show that Nevada ranked No. 2 in 2014 for population growth, with an expansion rate of 1.7 percent, Anderson noted.
A growing labor pool means the unemployment rate could bounce around in 2015, because more people looking for work can push up jobless numbers even as employers add positions, said Brian Gordon, a principal in local research firm Applied Analysis. Local and state rates in December still outpaced the national rate of 5.6 percent, and that trend will probably hold through 2015, Gordon said. Nevada leaned heavily on construction for economic growth in the boom, and lost roughly 100,000 building jobs in the recession. Some of those jobs are gone permanently, and replacing them will require diversification and growth in other fields over time.
"We may see the growth rate start to slip in 2015, but we do expect to continue to see positive gains in the overall job market," Gordon said.
Nevada ranked No. 4 in the nation in December for unemployment, tied with Rhode Island and behind Mississippi (7.2 percent), California (7 percent) and Georgia (6.9 percent).
Contact Jennifer Robison at jrobison@reviewjournal.com. Follow @J_Robison1 on Twitter.