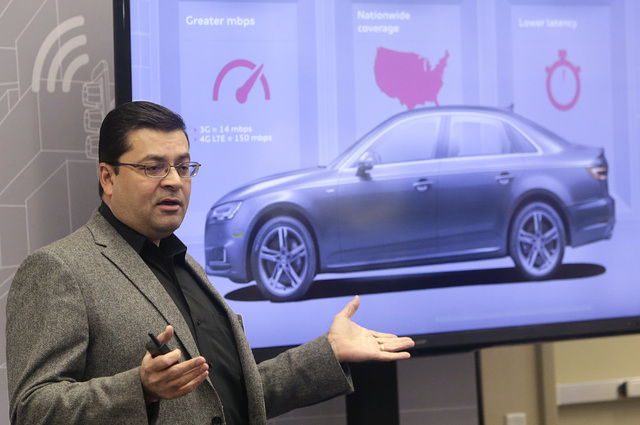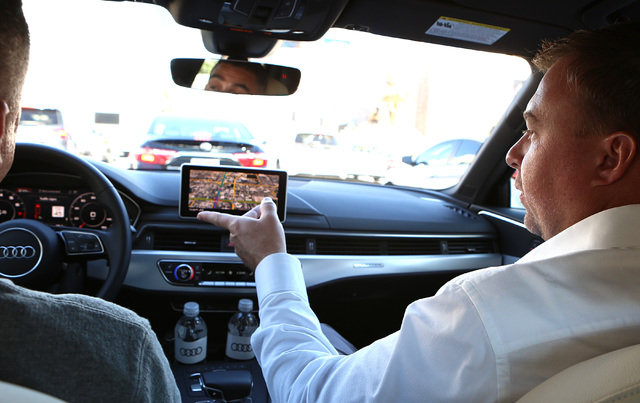 It's never fun to wait at a red light.
For what seems like an eternity, most drivers sit and wonder how long it will take for the signal to turn green.
Audi has the answer — at least in Las Vegas.
On Tuesday, the company rolled out a line of vehicles capable of counting down the seconds drivers will have to wait at a red light for most signals across the Las Vegas Valley, making it the first region in the U.S. to employ vehicle-to-infrastructure technology.
"A lot of the behavior in the car changes to a more relaxed form of driving," Anupam Malhotra, director of connected vehicles for Audi America, said while demonstrating the vehicles.
"There are a lot of things that you could be doing while knowing fully that you're not really taking your attention away from the road," Malhotra said. "That's because the display is counting down right in front of you, showing the seconds until you need to go."
Audi started developing vehicle-to-infrastructure in 2006 with a goal of providing real-time traffic signal information to motorists driving the company's Q7, A4 and Allroad models for 2017 and beyond. Although the newer model vehicles are equipped with the technology, it's available only through a subscription service ranging from $15 to $27 per month.
The vehicles are equipped with a communication system that takes in real-time data collected at the traffic management system operated by the Regional Transportation Commission of Southern Nevada. The link allowing the RTC to communicate with Audi was developed by Traffic Technology Services, an auto software company in Oregon.
The technology essentially allows the smart cars and traffic signals to "talk" to each other, relaying information about the length of time for red lights, Malhotra said. The dashboard display is equipped with a countdown clock that keeps track of the time until the next green light while also advising how fast a vehicle should travel to make it.
Audi officials said that Southern Nevada was an ideal area to launch the vehicle-to-infrastructure technology because traffic lights operated by Clark County and the cities of Las Vegas, North Las Vegas and Henderson are centrally controlled and monitored from the commission's traffic management center.
That's an advantage not seen in regions like Southern California, where too many government, transportation and law enforcement agencies cover a wider area, Audi spokesman Mark Dahncke said.
Audi is working with about 10 other cities nationwide to deploy the traffic signal countdown system.
"It's a first step but a very interesting first step when you start thinking about the information that the driver receives and what this could lead to," Dahncke said.
For commission General Manager Tina Quigley, the countdown clock is more than just a toy or a luxury item for drivers who have a little more cash to spend on their vehicles. It's part of a larger effort to introduce autonomous technology to Las Vegas.
It costs about $6 million to build one mile of street, but Quigley said the same amount may be better spent on building a "smart corridor" equipped with sensors that could help navigate driverless vehicles and smart cars through Southern Nevada.
"This is just a baby step toward making drivers feel more comfortable in their vehicles," Quigley said. "For the purpose of humanity, it's moving toward a much bigger step for mobility and for taxpayer dollars in infrastructure investment."
Contact Art Marroquin at amarroquin@reviewjournal.com or 702-383-0336. Find @AMarroquin_LV on Twitter.