New business filings in Nevada increase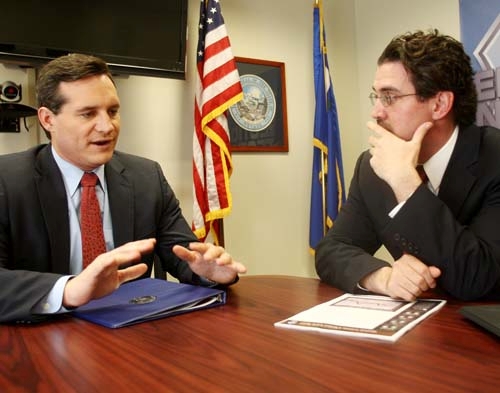 New-business-entity filings in Nevada rose for the first time since mid-2006, suggesting that the worst of the economic decline may be in the "rearview mirror," Secretary of State Ross Miller said Thursday.
A report prepared by Las Vegas-based business advisory firm Applied Analysis showed 13,801 filings during the fourth quarter, a 2.4 percent increase from the previous quarter and 2.8 percent rise over the year-ago period.
While the data are specks in a sea of information, they could portend better times ahead, Miller said during a conference at Sawyer Building.
"I think these are optimistic signs for a change in this report," the state official said. "The worst is in our rearview mirror. This indicates expansion in 2011 and corresponding employment."
Selected sectors of the economy are likely to continue to face challenges and weakness, he said. However, the aggregate business entity filing data are somewhat promising.
Filing fees to the secretary of state's office are the third-highest generator of revenue for Nevada and is the point of entry for new businesses in the state, Miller said.
The pace of foreign — or out-of-state — filings picked up during first quarter 2010 and remained ahead of 2009 throughout last year, finishing up 29.6 percent, the report noted.
"These are entities that are likely to create jobs and be associated with jobs," Miller said. "They're incorporated somewhere else and they file here because they're going to transact business. They come to Nevada to incorporate because we have favorable business statutes. It could be a California company."
Delaware, for example, is headquarters for about 80 percent of corporations, compared with 10 percent in Nevada, he said.
The increase in new foreign filers helped offset declines in domestic filers, which decreased 7.8 percent in 2010. Foreign filings accounted for 7.4 percent of total activity, a relatively modest share, yet a notable increase from 5.4 percent in 2009, the report said.
Applied Analysis principal Jeremy Aguero said leading indicators such as building permits and passenger traffic at McCarran International Airport provide some view into Southern Nevada's future, but this is the first time he's had access to information on business formation from the secretary of state's office.
"This is arguably one of the best indicators we have to show if the economy is getting better or worse," Aguero said. "Granted, we have to monitor it over time, but if history repeats itself, what the data tells us is that the economy has turned."
Had the data been available three or four years ago, Aguero said a regression-based analysis would have shown a flattening in 2005 and a decline in business formation 18 months later. Since late 2009, the trailing 12-month growth rate of business filings has trended upward, he noted.
"We can't say we're in recovery until we start to recover some of the jobs we lost," Aguero analyst said.
Small-business formation may not necessarily translate to huge job creation, particularly for family-type entrepreneurs, but the spirit of innovation can be a leading edge for "green shoots" in the economy, Aguero said.
The secretary of state's office reported 55,082 business entity filings for 2010, a 5.7 percent decrease from 58,432 in the previous year.
Miller said the analysis shows the value of information generated and stored by his office that was not previously realized.
"It's clearly a resource worthy of ongoing analysis and evaluation," he said. "Whether it's the private or public sector, economic data that proves to be indicative can provide insight into future trends, helping us to prepare for what lies ahead."
The report also showed businesses filed a total of 71,772 lists in the fourth quarter, a 0.3 percent decrease from the previous quarter. Existing filings include both new-entity filings, or initial lists, as well as those submitting annual or amended lists.
Contact reporter Hubble Smith at hsmith@reviewjournal.com or 702-383-0491.