New Henderson secondhand shop Lootique generates funds for SAFE House
September 15, 2016 - 5:00 am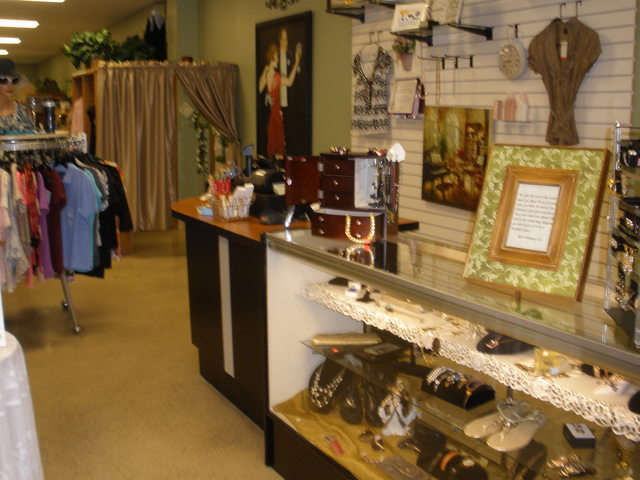 Walking into the Lootique, it looks like a typical boutique with a variety of women's, men's and children's clothes. But this store is a little different. The Henderson business was opened with the idea to raise funds for local domestic violence survivors.
"All our proceeds go to SAFE House," said Kathryn Fish, who created the store at 72 W. Horizon Ridge Parkway, Suite 125. "We are trying to do what we can to help and help our shelter in Henderson."
The store opened in August and specializes in resale items.
"These are donations we've gotten that still had the tags on," Fish said. "They are either new or look brand new."
This is actually Fish's second store designed to be a fundraiser. It all stemmed from her desire to give back.
A few years ago, Fish decided to become a foster parent with the hope of adopting. The child eventually went back to the birth parents.
"It just broke my heart, and I knew I could never (foster) again," she said.
She looked for other ways to volunteer and stumbled upon SAFE House, 921 American Pacific Drive, No. 300. During her time there, she helped out in the office and with donations.
Julie Proctor, founder and executive director of SAFE House, said the organization would get a lot of donations it couldn't use.
"I thought that I should open a store (to sell those items) and give them the proceeds," Fish added.
Fish set up a nonprofit, and in 2011, opened The Giving Store, 274 E. Lake Mead Parkway, which sells secondhand goods.
Since the beginning, she has given her proceeds to SAFE House.
"We split the proceeds and got about 45 percent," Proctor said.
The store also gives money to Heaven Can Wait Animal Society, a Henderson-based nonprofit that provides animal adoptions and spay/neuter programs; Intrepid Fallen Heroes Fund, which helps returning wounded soldiers; and Humanitarian Aid Fund, which provides disaster relief.
It has been able to give away about $770,500 over the years.
"This money is huge for us," Proctor added. "We receive grant money, but it's restricted. It tells you what you can or cannot pay for. This unrestricted money allows us to fill in gaps of services."
SAFE House clients can also visit the store if they need clothing.
In the last two years, Fish also started a music scholarship for students. "This will be our third year," she said. "The first year, we handed out three scholarships. Last year, it was eight. This year, it will be 12."
She has worked with music teachers in Henderson as well as allowing students to take lessons in instruments such as violin, flute and piano.
Since opening her stores, Fish said they have grown to include six employees at the two locations.
But The Giving Store was just the beginning. Fish always dreamed of going bigger and wanted to find more ways to give to SAFE House.
The Lootique was just an idea for about two years, she said, primarily because she couldn't find a space — either the rent was too high or landlords were uneasy about having a secondhand store in the location.
"We didn't want to have a place that was going to have a lot of overhead," she said.
For the Lootique, Fish collected items that are usually donated with tags still on. The store also uses better brands.
"It's not Louis Vuitton," she said. "We have brands ranging from (those found at) Kohl's and Nordstrom up to the department stores."
The store is always looking for donations, she added. Since it just opened, it hasn't yet sent any money to SAFE House.
"If I could raise $10,000 for them this year, that would be great," Fish said. "I would always love to raise a lot more."
The Lootique is open Tuesday through Saturday from 10 a.m. to 7 p.m. Call 702-478-5578 or visit facebook.com/Lootique.
For more information on The Giving Store, call 702-565-4483 or visit thegivingstorenevada.org.
To reach Henderson View reporter Michael Lyle, email mlyle@viewnews.com or call 702-387-5201. Find him on Twitter: @mjlyle.
The Lootique
Address: 72 W. Horizon Ridge Parkway, Suite 125
Hours: 10 a.m. to 7 p.m. Tuesday through Saturday
Information: Call 702-478-5578 or visit facebook.com/Lootique.