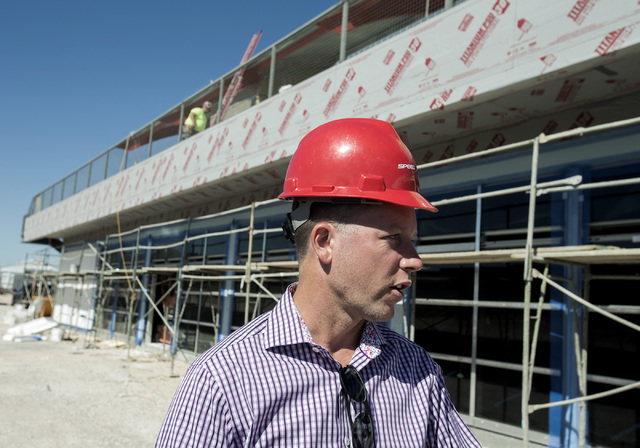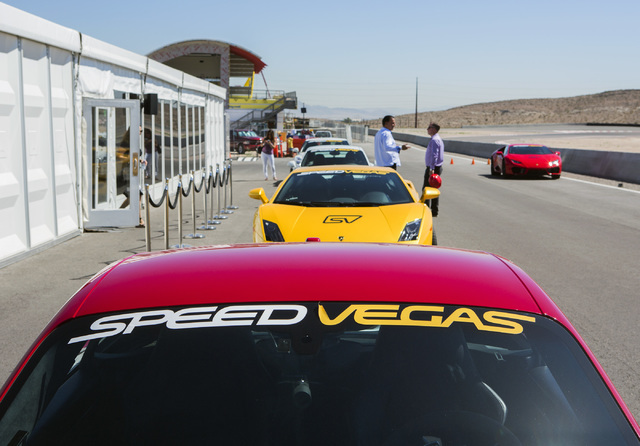 It won't be long before spectators will have a terrific view of their friends and family hurtling down a track in an exotic sports car going more than 150 mph.
The new 22,000-square-foot hospitality center at SpeedVegas, a racetrack experience south of Las Vegas at 14200 Las Vegas Blvd. South, will open its doors to the public in August.
"It's designed to give you that first emotional buzz when you get here," said Aaron Fessler, co-founder and CEO of SpeedVegas, which offered its first driving experiences and ride-alongs in mid-April.
When the new two-story center with a distinctive curved roof opens, it will get spectators close enough to the track to feel the whoosh of desert air as the cars whiz past on the 1.5-mile track that includes 12 turns and corners, 15-degree banked turns and a half-mile straightaway. The entire course has a 60-foot change in elevation.
The new center will have function rooms that can accommodate 50, 500 or 1,000 people, making them suitable for everything from bachelor and birthday parties to corporate events.
The company currently operates out of a temporary tent and once the new building is completed, the tent will be dismantled and the space will become a heliport for guest arrivals.
Fessler showed off some of the future center's amenities in a recent hard-hat tour.
The check-in area will enable drivers to get ready for their drive. There will be simulators to enable drivers to practice before they drive and a fitting area to check out a helmet. A ready room is available for a pre-drive safety briefing.
Meanwhile, there will be a kitchen for light cafe fare with hot and iced coffee drinks. An outdoor grill will provide barbecue and there's also a bar.
The center abuts pit road where drivers will be able to first connect with their cars and the Ferrari, Porsche, Lamborghini, Shelby, Mercedes and Audi brands.
Fessler said the value of getting observers up close is something he learned on a family vacation to a Disney theme park.
"They arrange the tracks on some of those roller coasters so that you can get right up close to them while you're standing in line," he said. "Getting that close gets your adrenaline going."
Fessler also made sure the center design had plenty of glass so that the cars are always the center of attention to spectators while indoors. When people aren't watching the track action, they can also watch video screens throughout the center.
There's also an outside deck and sitting areas on the ground floor as well as upstairs where viewers can see the entire track.
Customers are able to drive the cars or ride along with a professional driver in experience packages that start at $99. Five-lap exotic supercar packages start at $295 and the company offers an a la carte menu that allows guests to choose the number of laps they run and the cars of their choice.
The company is catering to tourists by providing transportation to and from the track and the track — the longest in the region — will be lit to provide evening as well as daytime experiences. Groups or individuals can participate and drivers must be at least 18 years old and have a valid driving license from their country of origin. Reservations are encouraged, but not required.
Fessler said the property has additional acreage that extends to the mountains east of the track so there are opportunities for expansion plans in the future.
Follow @RickVelotta on Twitter. Contact reporter Richard N. Velotta at rvelotta@reviewjournal.com or 702-477-3893.