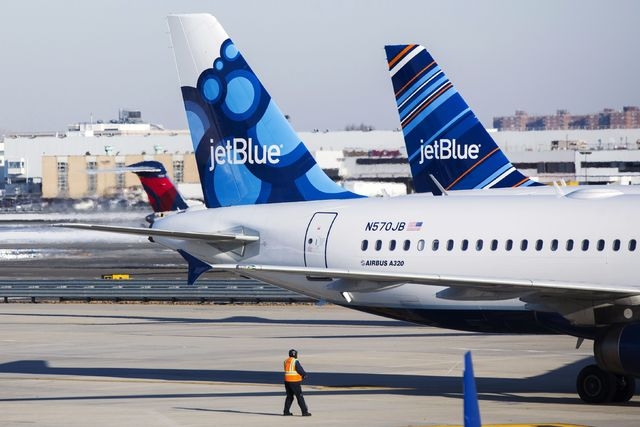 Most of the news airlines have made in aircraft cabin configurations lately has been about how they're going to squeeze more passengers on a plane and do it comfortably.
In 2012, for example, Southwest Airlines invested $60 million to install newly designed seats on the airline's 424 Boeing 737-700 jets.
The new seats enabled passengers to sit at a different angle, enabling them to stretch their legs more.
The seats reduced the seatback pitch to 31 inches from 32 — a minor adjustment that the average traveler wouldn't be able to discern, especially with the added leg room. But that one reduced inch of pitch multiplied by the number of rows of seats on the plane enabled Southwest to add a new row, or six seats to every aircraft.
The capacity on each plane grew from 137 seats to 143. The seats are also lighter than the previous version, reducing the weight of each aircraft by 635 pounds. The seat materials are more durable than the previous ones meaning there would be less frequent replacement cycles.
Southwest figured that with the increased revenue that would be generated on each flight in addition to the better sustainability of the product would result in the airline paying for its investment in one quarter.
The getting-more-for-less philosophy is what the airline industry has become. Airlines have gotten pretty good at discovering more avenues to profitability.
That's why this month's inauguration of a new premium air service by JetBlue Airways turned some heads.
For the Las Vegas business professional who appreciates the perks of business-class air travel, the launch of JetBlue Mint has to be an encouraging sign that there may be alternatives to what air travel has evolved.
JetBlue doesn't offer its Mint service on any flights to and from McCarran International Airport just yet, but the company says that if it becomes a hit on the routes on which it has been introduced, more Mint routes would be established.
One has to believe that with as much business travel that occurs for executives flying to Las Vegas for conventions and trade shows that New York-to-Las Vegas Mint flights could be around the corner.
For now, JetBlue only offers Mint service on transcontinental routes, New York to San Francisco and Los Angeles International.
JetBlue executives decided in 2011 that they were going to convert 30 of the airline's 52 Airbus A320 jet orders to the larger Airbus A321 model.
An A320 is 123 feet long while the A321 is 146 feet long. A typical single-class configuration of an A320 seats 164 passengers while an A321 would hold 199.
But JetBlue's Mint A321s are anything but typical, especially for a plane commonly viewed as a midrange workhorse jet that can be stretched into a transcontinental mission because of its fuel efficiency.
The plane is configured with four private suites, one off each side of the aisle, among the 16 Mint seats. Don't let your imagination run wild about the "suites." There's a small degree of privacy but there are still half-walls so flight attendants can look in on your suite seat.
The other 12 seats are three rows of two-by-two seating.
The Mint seats can be positioned as lie-flat beds and each seating area has a video screen, an AC electrical outlet, a USB port and earphone jacks. JetBlue's famed 100-channel satellite TV is available and the whole plane is a Wi-Fi hot spot.
There's a height-adjusted reading light in addition to the standard overhead light and the seats have a subtle massage functions.
Passengers are welcomed aboard with a signature Mint cocktail, with or without vodka.
JetBlue has collaborated with New York-based Saxon + Parole for its onboard menu of five "comfort food with a twist" items served tapas style.
The selections are: a portobello mushroom mousse with truffles, whiskey jelly and crostini; corn custard and poached lobster with corn salad and picked chili peppers; roasted Atlantic cod with white beans and fennel; ribeye and fingerling potatoes with a balsamic-ginger reduction; and fontina-stuffed gnocchi with creamed leeks and black truffles.
The dessert is a seasonal fruit salad with organic mint chip ice cream from Blue Marble of Manhattan.
JetBlue also teamed with Birchbox to provide each passenger personalized men's and women's amenity kits. The women get mascara, moisturizer, hand cream and dry deodorant swipes while the men get renewal cream, sun lotion, shave cream and lip balm.
JetBlue rolled out the service with $499 introductory fares that have since gone up to $599 — quite a deal, considering the legacy carriers that fly the transcontinental route charge $2,500 for business-class service.
Can JetBlue maintain the level of service? A number of airlines have tried and failed premium air service. It's a difficult market to sustain, but if Mint is successful on its transcontinental routes, look for JetBlue to give a look to its McCarran flights to and from John F. Kennedy International Airport and to and from Boston's Logan International.
Contact reporter Richard N. Velotta at rvelotta@reviewjournal.com or 702-477-3893. Follow him on Twitter @RickVelotta.