New report ranks Nevada 4th nationally in solar capacity
Updated June 8, 2017 - 12:25 pm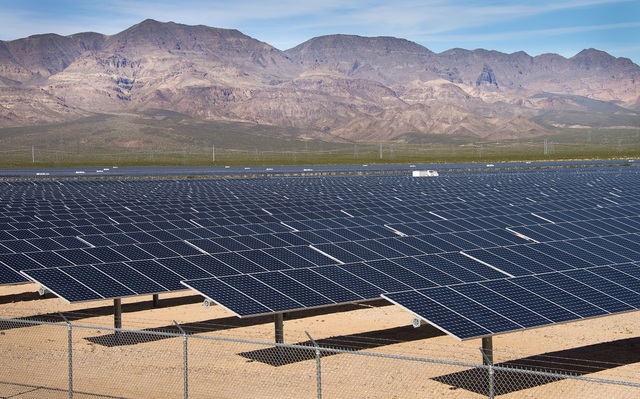 CARSON CITY — Solar energy production keeps expanding in Nevada, with the state ranking fourth nationally in cumulative capacity in the first quarter of 2017 compared to the same period the previous year, a national group reported Thursday.
Nevada added 67.7 megawatts of solar in the first three months of 2017, the 10th most of all states, according to GTM Research and the Solar Energy Industries Association's latest U.S. Solar Market Insight Report.
A big chunk of the growth came from the start up of NV Energy's Boulder Solar 2 in January, with 50 megawatts of capacity.
This brings Nevada's cumulative capacity to 2,268.7 megawatts. To compare, at the end of the first quarter of 2016, Nevada had 1,472.1 megawatts installed.
Nevada moved up one spot in the cumulative state rankings from fifth to fourth.
"The solar market clearly remains on a strong upward trajectory," said Abigail Ross Hopper, SEIA's president and CEO. "Solar is delivering more clean energy, adding jobs 17 times faster than the U.S. economy and creating tens of billions of dollars in investment. With its cost-competitiveness, we know solar will continue to play a growing role in America's energy portfolio."
The utility-scale segment continues to drive the market, representing more than half of all installations during the quarter. Much of the capacity comes from projects that were originally slated for completion in 2016, but ended up being pushed back due to the extension of the federal Investment Tax Credit.
But rooftop solar could soon return to Nevada in a big way after Gov. Brian Sandoval signs Assembly Bill 405, a net metering bill passed by the 2017 Legislature. The rooftop solar industry expects the measure to initiate a new boom as Nevada homeowners take advantage of incentives to install the systems.
Green-energy advocates and solar industry officials are awaiting Sandoval's action on that bill and two others.
Assembly Bill 206 would expand the state's renewable portfolio standard to 40 percent renewable energy by 2030. Senate Bill 392 would create a community solar program in the state.
Sean Gallagher, vice president of state affairs at the Solar Energy Industries Association, said the measures will encourage solar growth and let Nevada reclaim its title as a "clean energy powerhouse."
"The bills before the governor will help Nevada homeowners, small businesses, renters, low-income families and others more easily access and afford solar — all while bringing back thousands of solar jobs to the state," he said.
Contact Sean Whaley at swhaley@reviewjournal.com or 775-461-3820. Follow @seanw801 on Twitter.