New vodka that promises to be easier on your liver debuts in Las Vegas
August 31, 2016 - 4:08 pm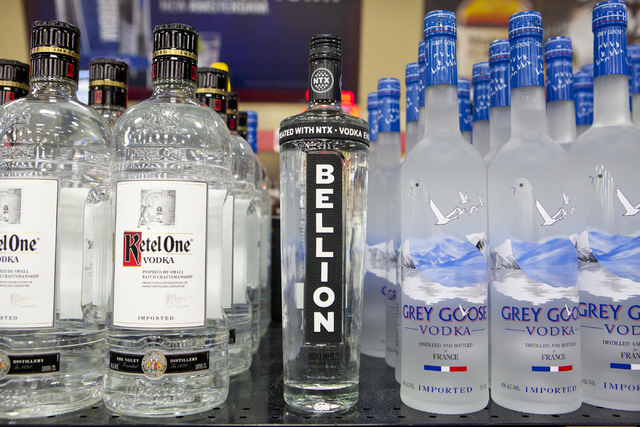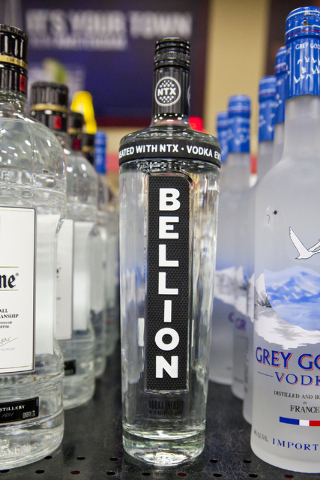 A new vodka is coming to the Las Vegas market Thursday — one that promises to be easier on your liver.
Bellion Vodka is the first commercially available vodka in the US market made with NTX technology, which is a blend of glycyrrhizin, mannitol and potassium sorbate — ingredients commonly found in food products and candy.
"It significantly reduces the damage that alcohol can cause to your DNA and your liver," said Harsha Chigurupati, founder of Chigurupati Technologies, in Telangana, India.
Chigurupati and his team spent the last 10 years developing and testing the NTX blend, mixing and matching the three ingredients in different proportions to result in liver protection when it is mixed with alcohol.
In human clinical trials of NTX, NTX reduced harmful effects on the liver by up to 93 percent and reduced harmful effects on DNA, he said.
"Nobody drinks alcohol because they want to damage their liver or their DNA, obviously. Everybody on this planet drinks alcohol because of the tipsy feeling and intoxication they get from it," Chigurupati said. "There's no reason why human beings still choose one or the other. (Now) they can drink alcohol, enjoy it and protect their liver and DNA at the same time."
Nevada marks the 15th state in which Bellion Vodka with NTX is commercially available.
"The Vegas market is great because we know that a significant population comes to Vegas to party and consume alcohol," Chigurupati said. "If they're going to drink anyway then why not do it in the safer manner? So, from that standpoint, Vegas is strategic to be able to get the word out."
But some in the Las Vegas medical community are concerned about consumers misunderstanding "safer" to mean "safe."
"How this new product might be construed by the public is that you can drink without damage, and that's not true," said Michael Levy, founder and medical director of the Las Vegas Center for Addiction Medicine.
Chigurupati countered that the same argument was used when seatbelts and helmets were introduced.
"We all know that driving has become safer because of seatbelts, and bikes and motorbikes have become safer because of helmets. At the end of the day, when you give a safer alternative to humanity, humanity does benefit," he said.
However, NTX does not address the other major body systems that are negatively impacted by alcohol, Levy said. He added that he would be more excited about a technology that prevents alcohol dependence, or alcohol-related violence, or driving under the influence.
"But I don't see that coming because this is a drug that's been around for thousands and thousands of years, and it's a fabric of society right now."
Bellion Vodka with NTX is available at Khourys Fine Wine, Lee's Liquors and Ben's Fine Wine and Spirits. The product is also available at Wynn Las Vegas and Tao Group bars. But you'll have a hard time finding details about NTX in stores or on the product itself.
The U.S. Treasury's Alcohol and Tobacco Tax and Trade Bureau only allows health statements to appear in the labeling of alcoholic beverages if the claim is "not misleading to the consumer, truthful, adequately substantiated, and balanced," said TBB spokesman Tom Hogue. A company can file a health-petition to make health statements on a label, and the TBB will review the claim on a case-by-case basis.
Bellion Spirits, Chigurupati Technologies and the Coalition for Safer Drinking and Ron Paul's Campaign for Liberty filed what they claim was the first-ever official health-claim petition to the TBB earlier this year.
.
The filed health petition is still under review.
Contact Nicole Raz at nraz@reviewjournal.com or 702-380-4512. Follow @JournalistNikki on Twitter.