New York company signs lease for major industrial building
December 17, 2014 - 3:40 pm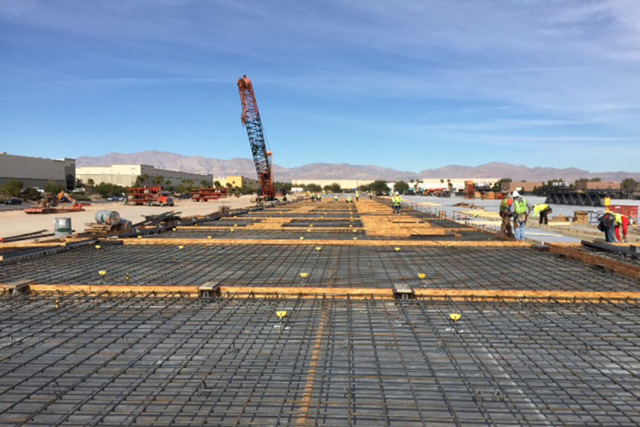 In a sign of a growing demand for space and a strengthening economy, a New York-based company has signed a lease for the largest industrial speculative industrial building constructed in Southern Nevada since the Great Recession.
Global Industrial Distribution, which distributes electronics and office furniture and other supplies, has signed a lease for 464,203 square feet under construction since September in North Las Vegas, said brokers with Commerce Real Estate Solutions, part of the Cushman & Wakefield Alliance.
The company, which has leased about 80,000 square feet in Southern Nevada since 2007, is expected to occupy the new space by July.
Neither the number of people the facility will employ nor the financial terms of the lease were disclosed.
The lease signing marks the largest industrial deal of the year in Southern Nevada. It is a project of national industrial developer Prologis and is on 20.5 acres at 3700 Bay Lake Trail near Pecos and Gowan roads.
"This activity of a large occupier is also indicative of a healthy and strengthening market. From what I understand, Prologis had two major tenants as backups," said Amy Ogden, industrial investments director at Commerce Real Estate Solutions. "It's proof that in our Southern Nevada industrial market if you can build it, you can fill it."
The large-scale speculative project the first of its kind constructed in nearly a decade and one of the largest industrial projects ever built in the region.
The TWC Construction project employs more than 300 people at various times.
RGC Economics principal John Restrepo, who tracks the industrial market in Southern Nevada, said there's long been a pent-up demand for large industrial space of more than 100,000 square feet. Many companies want to come to or expand their operations in Las Vegas but have been unable to do so because such space isn't available.
Restrepo said the shortage existed before the Great Recession and will likely continue to pose economic development and growth challenges that will need addressing.
"This shortage is dampening the rate of economic development in the region," Restrepo said, "because there is mounting evidence that Southern Nevada has lost a number of prospective businesses to other markets due to the shortage in these large industrial spaces."
Restrepo said that at the end of the third quarter, there were only four spaces available for lease of 100,000 or more square feet, less than half of what there were at the end of the second quarter.
By contrast, there were 1,411 of less than 25,000 square feet available.
Industrial-space vacancy in the valley stood at 8.6 percent at the end of the third quarter, the lowest rate since June 2008. That's because 1.1 million square feet of industrial space was absorbed in the third quarter and 3.7 million square feet for the year, Restrepo said.
"The valley's industrial market has seen a remarkable turnaround considering the depth and breadth of the Great Recession," Restrepo said. "What's happening with this project speaks well to our potential and remarkable turnaround speaks to the location of the market. We're not going to be a major distribution hub, but we could be a medium size regional one. "
Southern Nevada has struggled to attract distribution companies because it couldn't match the large industrial spaces markets like Phoenix and the Southern California's Inland Empire could offer, Restrepo said. Also, he said, land prices are too high to make industrial projects work financially.
Restrepo said Global Industrial Distribution's decision to lease reflects the company's need to grow in Southern Nevada and distribute products it receives from China and the Pacific Rim to West Coast clients. It would be easier for the company to expand in Las Vegas than choose Phoenix or Southern California for the project since it's already here, he said.
"It says something about Las Vegas as a medium-sized warehouse distribution hub in the Southwest because our linkages to Southern California and the Pacific Rim and linkage to the freeway system," Restrepo said. "And it speaks to tax advantage of Nevada since we have no inventory tax."
Restrepo said distributors don't employ large numbers of people, but they hire skilled workers because the logistics industry is getting more computerized. These workers have a high-tech background and the jobs pay decent wages, he said.