November 30, 2008 - 10:00 pm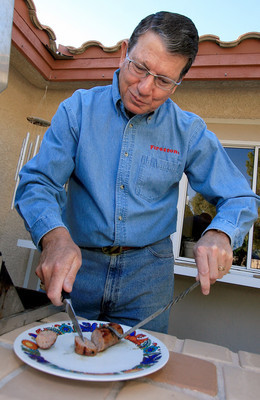 The holiday season used to be a time of year when many employees could count on a little extra money to help buy presents. Much-anticipated Christmas bonuses were a source of cheer for workers, but a bleak economy is forcing companies to be more creative in finding gifts other than cash.
From offering home-cooked meals to giving away unused inventory and extra paid time off, local businesses are working to show employees they care, even if the sentiment isn't being shared in the form of a check or currency.
The smell of smoked pig is replacing monetary bonuses for the salaried employees and executives at Ted Wiens Tire & Auto Center this year. Chris Publow, the company's general manager, is having his managers over to his house for a barbecue this year. The decision was made to cut out bonuses for the higher-ups, and forgo an expensive sit-down dinner at a restaurant so hourly employees could still get their holiday money, he said.
He estimated about $1,500 will be saved by not having the managers' holiday party at a restaurant and thousands of dollars more will be saved by cutting managerial bonuses.
"This will help offset the costs of employee bonuses so they will still get their bonuses," Publow said. "We will still give our (company) awards out at the dinner, so it will be our awards dinner. We will invite about 70 and most will come."
A tough economy has spawned innovation from employers who are trying to save on the bottom line without sacrificing company morale.
"We are trying to be more creative," said Ruby Routledge, bookkeeper and office manager for the public relations firm Consultants in Marketing.
VACATION, VACATION, VACATION
The gift of time — or time off with pay — has become an increasingly popular substitute for extra cash. The extra paid leave, often a suggestion of human resources and business consultants as a good trade-off, are being offered to workers at Consultants in Marketing as well as design consulting company Colours Inc.
More paid vacation days don't detract from the bottom line like writing a check or giving away cash, and they can make workers just as happy, Routledge said.
"We have been giving them more time off with pay. We gave them Nevada Day off, the day after Christmas and the day after New Year's," she said.
Extra days off, specifically during the holiday season when the normal pace of commerce slows, doesn't mean the company loses much business, either, Routledge said.
JVC Architects takes the paid vacation concept literally. Although the Las Vegas architectural firm is reducing the amount of its cash bonuses due to the economy, the firm is making it up to its small group of employees by taking them on an all-expense excursion instead.
This December, the company's staff will travel to Seattle to study architecture. Last year, workers flew to Albuquerque, N.M., to hone their skills.
"It used to be that we'd take everyone out to dinner, but we feel (the trips) strengthen our family atmosphere," JVC Architects principal Roy Burson said. "We actually substituted the holiday trip for the holiday party, and we pretty much broke even."
GHOSTS OF CHRISTMAS PAST
Having fewer bonuses seems logical now since 2008 looks like the start of a nationwide — or even global — recession. But holiday bonus giveaways dwindled long before the recent stock market correction. Surveys conducted by Hewitt Associates suggest that bonuses have been heading for extinction for about a decade now.
Of companies surveyed in 2007 that said they had canceled holiday bonus programs, 53 percent had done so between 2000 and 2007. Only 35 percent of the companies surveyed by Hewitt last year were planning to offer some sort of holiday bonuses, and only 41 percent of those generous companies were offering cash.
That doesn't bode well for valley workers hoping Santa will leave a holiday bonus for them this year. Hewitt projects 2008 may shape up as the worst year for the holiday bonus on record.
"I would expect to see a larger-than-normal dropoff in this category," said Ken Abosch, the compensation practice leader for Hewitt. "It goes hand in hand with salaries declining and lower payouts in performance-based bonuses."
At most, he predicted, a third of companies will give holiday bonuses this year. Hewitt defines holiday bonuses as small amounts of cash, gift certificates or gift cards for holiday food, such as turkeys.
Costs were cited as the primary reason companies canceled holiday bonus programs, according to the 2007 survey. Employers also said they were likelier to offer performance-based awards, which avoid "entitlement" attitudes among employees.
Glen Wassmuth, chief executive officer of statewide accounting firm Kafoury Armstrong & Co., echoed the survey's sentiments. He said his company now offers end-of-accounting-cycle bonuses, based on performance, to some of its 120 workers. He didn't know exactly how many bonuses he'll award this year, since the cycle, which happens to end right around Christmas and New Year's, is still in progress.
"Last year, we had given bonuses across the board," he said. "It was more that way because we had a tough time getting employees because the job market was so tight."
What a difference a year makes for worker supply and demand.
"We are making sure we are taking real good care of our good performers," he said.
"And the lower-end people," he said with a pause, "we can replace them."
GET YOUR HOLIDAY BONUSES
Some executives and companies are fighting the prevailing trend of not offering cash bonuses for the holidays. For example, Frank Gatski, founder of leasing company Gatski Commercial Real Estate Services, said he is giving bonuses.
"Yes, I am giving out bonuses," he said. "Can I afford it? Probably not. My company is having a tough time like everybody else."
In nearly 10 years owning Gatski Commercial, he has given cash bonuses without fail.
"I have done it since Day One," Gatski said. "It is my way of thanking employees. Even in my first year, I borrowed some money to complete the bonuses I wanted to give."
Gatski also gives Thanksgiving grocery store gift cards for smaller cash amounts so his employees can buy turkeys and other fixings. On top of that, he throws two Christmas parties.
All told, Gatski said he spends about "six figures" to make the holiday season happy for his employees. He knows some businesspeople would criticize his generosity.
"If I looked at the bottom line, it probably wouldn't make sense," Gatski said.
BannerView, formerly known as Cenicola-Helvin Enterprises, is trying to keep the holiday spirit alive by giving each employee a pair of free tickets to see the Blue Man Group in December. All the employees and their guests will attend the same showing.
"We have a client in the industry so we negotiated with them," company CEO Mark Cenicola said about acquiring the tickets.
IT'S THEIR PARTY
Some surveys have found an inverse relationship between Christmas parties and end-of-year bonuses: The less likely a bonus, the more likely a party.
In 2007, 70 percent of organizations were planning to hold a seasonal gathering, compared with 65 percent in 2006. Local company officials emphasized the symbolic importance of holiday parties, but at least one business consultant cautioned that bonus-deprived employees may take a "bah, humbug" attitude.
"They can hold a potluck," business consultant and author Robin Jay said. "But I wouldn't hold an expensive, catered party because workers would think, 'I would rather have the bonus.' "
BannerView opts for potlucks instead of parties. One was held for Halloween, and the next will take place around Christmas, Cenicola said. Other companies range in preferences from workday present giveaways to all-out catered affairs.
The year-old Bank of George has an office gift exchange that almost all of the institution's 27 employees, from the CEO to the tellers, participate in, bank President and CEO Diane Fearson said. Workers who have their numbers drawn can choose a new, unwrapped gift or snag someone's already-opened present. The gifts are valued at around $25 or less.
"We are a new bank, and we wouldn't be giving bonuses until the bank is profitable," she said. "We are also hosting a Christmas party for employees and their spouses at the JW Marriott. We have an open bar."
Bank of George's approach is consistent with the national trend. Previous down cycles, notably the one after the Sept. 11, 2001, terrorist attacks, featured increases in holiday parties. Therefore, Abosch expects the same trend this year.
"It has been a longtime trend, in years like this, that companies will get more leverage out of a party," Abosch said.
However, he said, this year's economic meltdown has so far defied all predictions. So, he wouldn't be surprised to see businesses cut out holiday parties as a result.
As he grills sausages in his backyard, Publow can see some upside to the current financial mess.
"There's always a feeling about really great things or really bad things that happen," he said. "Everybody will always remember, 'That year we went to Chris' house and had a great time.'"
Contact reporter Valerie Miller at vmiller@lvbusiness press.com or 702-387-5286.