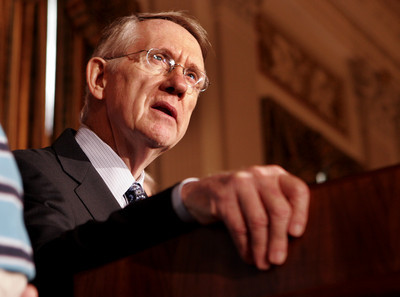 Defense Secretary Robert Gates has informed Senate Majority Leader Harry Reid that the military will not object to wind farms in an area of eastern Nevada, moving a $1 billion project closer to reality.
Tim Carlson, a renewable energy developer, plans to build a 450-megawatt wind farm in the Wilson Creek Range area 40 miles north of Pioche.
The Defense Department's agreement is "another step forward" to developing what would be Nevada's first utility-size wind farm, Carlson said. Carlson's company, Nevada Wind, is in talks with a partner for the project. He declined to identify the partner.
Hill Air Force Base in Utah has been concerned about wind-power projects in the area because wind turbines can interfere with radar. But Reid received assurances from Gates that the department will not object to wind farms in the Wilson Creek area, spokesman Jon Summers said Tuesday.
Reid has been arguing that Nevada should cancel plans for coal-fired power projects that emit massive quantities of carbon dioxide, which causes global warming. This announcement shows that Reid also is working to support renewable energy projects, Carlson said.
Carlson, a former head of the Nevada Development Authority and long-time friend of Reid, previously tried to develop a $130 million wind farm on the Nevada Test Site, but Nellis Air Force Base objected and the project died in 2002.
The developer said he enjoyed working with Air Force representatives on concerns about the Wilson Creek project and noted that the Air Force uses more renewable energy than any other part of the federal government. Carlson said the project could provide the Air Force with information about flying in areas where wind turbines interfere with radar signals.
While the Defense Department said it would not oppose wind turbines at Wilson Creek, Gates is believed to oppose wind projects near Goldfield.
"The Department of Defense plays a very important role in this state," Carlson said. "You've got to work with them. You can't fight them."
Reid, D-Nev., has been talking with military officials in an effort to find ways that the state can tap wind power, a form of renewable energy. In February, for example, Reid met with area base commanders and members of the Nevada Renewable Energy Task Force about finding ways to build wind farms that do not cause problem for Navy and Air Force pilots.
Nevada Wind has been monitoring the wind in the Wilson Creek area for four years. The site is close to a transmission line that Sierra Pacific Resources proposes to build connecting utilities to a planned coal-fired project near Ely and also to a transmission line that LS Power Group wants to build to its proposed coal-fired power project near Ely.
Carlson said he also has been talking with the Southern Nevada Water Authority about connecting the Wilson Creek project to a power line that the water authority will use to supply electricity to pumps for a water pipeline linking Northern and Southern Nevada.
"I think it's a great location," Carlson said. The wind power facility's first priority, Carlson said, would be to sell power to Nevada users, including Nevada Power Co., electric cooperatives or the water authority.
The Wilson Creek project, Carlson said, could be completed within two years if given regulatory approval.
Contact reporter John G. Edwards at jedwards@reviewjournal.com or (702) 383-0420.