No Southern Nevada buildings appear to meet Faraday's needs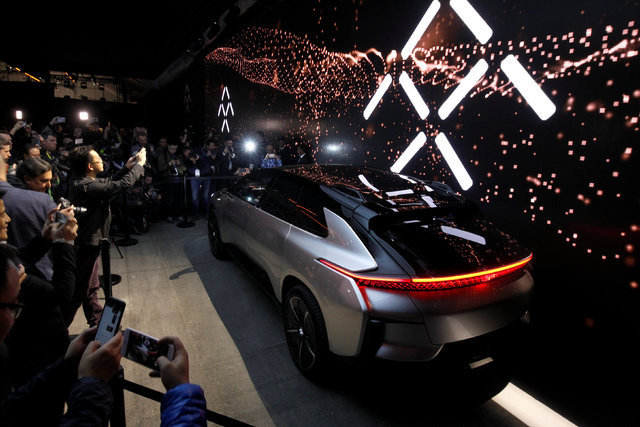 With Faraday Future scrapping plans to build an auto factory in North Las Vegas, it's looking to set up shop in an existing 1 million-square-foot building instead.
But according to industrial real estate pros, nothing that large is currently available in Southern Nevada.
"I know of nothing" that big, MDL Group broker Jarrad Katz said.
Jones Lang LaSalle broker Rob Lujan figures the biggest buildings up for grabs are around 200,000 to 250,000 square feet. CBRE Group broker Greg Tassi said he's never had a listing above 1 million square feet, and the largest he's got now is 208,000.
Faraday announced Monday that it was bailing on its planned factory in Apex Industrial Park. The Chinese-backed startup had laid out plans for a 3.4 million-square-foot electric-car plant and broke ground last year, but construction had stalled amid reports of financial troubles.
It now wants to find a facility in Nevada or California that spans at least 1 million square feet, letting the company start production faster and at a lower cost than building a factory from scratch, the Review-Journal reported.
Southern Nevada has been undergoing an industrial construction boom, but perhaps the biggest stand-alone building in the pipeline is still smaller than what Faraday is looking for.
San Francisco developer Prologis has drawn up plans for a 927,440-square-foot building at Ann Road and Sloan Lane in North Las Vegas, a marketing brochure shows. Prologis officials did not respond to requests for comment.
Faraday spokesman Mike Cooperman did not provide any details on the company's real estate plans, instead emailing its statement about the Apex factory, in which Faraday said it "decided to put a hold" on the project and remained "committed to the buildout of the Apex site for long-term vehicle manufacturing."
"The idea behind the new facility is to identify an existing structure that will allow us a quicker path to production," Cooperman said.
The valley's industrial construction boom has been heavy on speculative buildings, or facilities planned without users in place first. VanTrust Real Estate, for instance, announced last month that it broke ground on "the largest speculative building ever constructed in Southern Nevada" — a 731,000-square-foot facility in its Northgate Distribution Center.
Landlords have been finding tenants, including for big facilities. But most developers here don't have the capital or risk-tolerance to build something on spec as large as 1 million square feet, "especially in a market where it's never been done," MDL's Katz said.
Contact Eli Segall at esegall@reviewjournal.com or 702-383-0342. Follow @eli_segall on Twitter.
Related
Key dates in Faraday events in Nevada
Faraday's exit from Apex plans won't hamper US 93 widening
Court freezes assets tied to Faraday Future backer
Consulting contract awarded for Garnet interchange project
Southern Nevada contractor buys Apex land for $2.6M