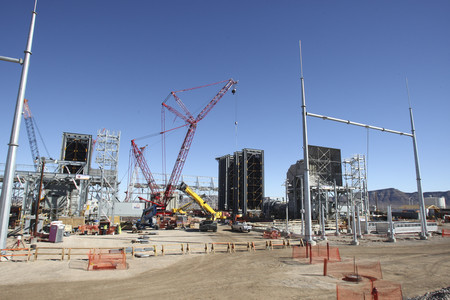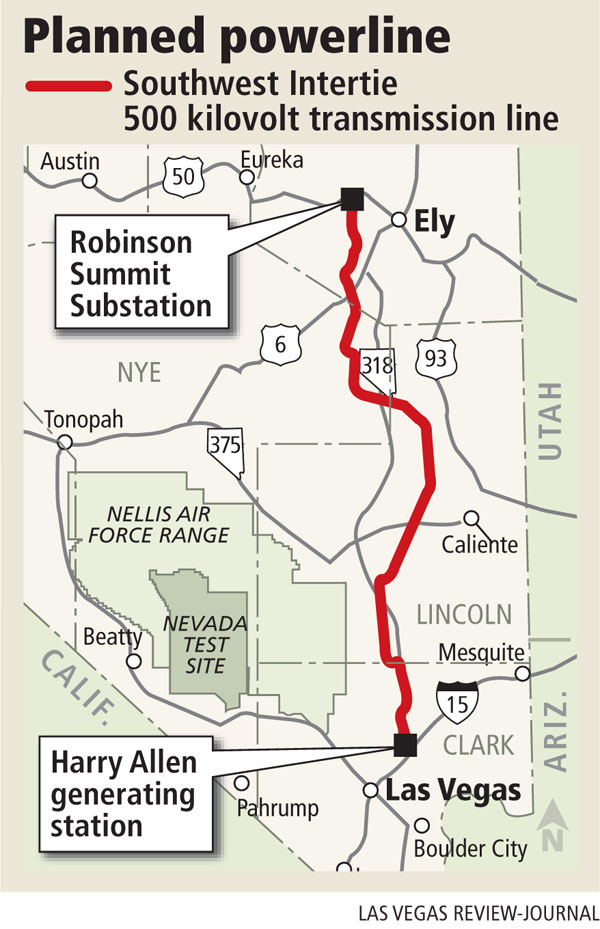 NV Energy's Plan A has become its Plan B.
The local electric utility hopes to swap out a proposal for its One Nevada transmission line (ONLine) and go instead with LS Power's Southwest Intertie Project, a competing transmission line following the same 235-mile route from Ely to NV Energy's Harry Allen Generating Station in Apex. At a press conference Monday morning at Harry Allen, Senate Majority Leader Harry Reid, D-Nev., and executives with NV Energy and LS Power announced an agreement to give NV Energy co-ownership of the 500-kilovolt line and full access to its distribution capacity.
The intertie will allow NV Energy to transmit renewable power from the state's rural areas to its cities, and it will link the utility's northern and southern operations for efficiency's sake.
"Today is the beginning of a great new wave of power generation in our country, and it's all started right here at the Harry Allen plant, just a few miles from Las Vegas," Reid said. "This is something a lot of people have only dreamed about. We hear about a smart grid, we hear about a super-highway to transmit electricity. This is it. To have renewable energy created, and to have a place it can go and move, that's what we're doing here."
NV Energy will continue to pursue federal permits for ONLine, and it will submit plans for both the ONLine and the LS intertie projects when it files its integrated-resource plan with the state Public Utilities Commission on Feb. 1. The commission will then decide within six months which proposal would better serve the state's electric ratepayers. But Michael Yackira, president and chief executive officer of NV Energy, said he already believes the LS proposal would be the best deal for consumers.
That's because the federal government will fund the intertie's construction. The line, set to cost around $550 million, will come out of the ground using stimulus funds distributed through the Western Area Power Administration, a government agency that markets and delivers energy throughout 15 states. The bureau can borrow up to $3.25 billion in stimulus funds for transmission lines and other projects related to green energy. Tapping into federal funds should translate into lower borrowing costs than NV Energy could secure if it turned to private markets to finance ONLine. The difference in interest expenses could save ratepayers more than $10 million a year, Yackira said.
In addition to the state Public Utilities Commission, the Federal Energy Regulatory Commission must approve the agreement before construction can begin. If the agencies sign off on the project, work could begin immediately, said Mike Segal, chairman and chief executive officer of New York-based LS Power. Construction would wrap up by late 2012.
The building process would yield about 400 jobs. Upon completion, the intertie would create thousands of indirect jobs, Segal said, because it would create transmission capabilities for green-energy projects statewide. With the ability to distribute power, developers would at last have the incentive to build far-flung desert projects deploying solar, wind and geothermal power, he said.
The intertie would also complete NV Energy's half-decade effort to bring energy independence to the Silver State, Yackira said.
Once the utility finishes Harry Allen in 2011, and once the intertie comes online a year later, NV Energy will no longer rely on power purchases from other states or from expensive wholesale markets for its electric supply. That should mean more stable rates for consumers.
Environmental groups praised the agreement Monday.
The Nevada Clean Energy Campaign, whose members include the Sierra Club and the Nevada Conservation League, said the agreement would "literally serve as the backbone for developing Nevada's vast clean-energy resources."
"This is the kind of major infrastructure project needed to push the clean-energy revolution in our state," Robert Disney, Sierra Club's senior regional representative in Las Vegas, said in a statement. "This is a victory for ratepayers and renewable energy alike in Nevada. We thank Sen. Reid for bringing home the best kind of work out there — green jobs."
The group's statement also noted that the agreement signals a big shift in economic possibilities for White Pine County, home to two shelved coal-fired power plants. NV Energy indefinitely delayed its $5 billion, 1,500-megawatt Ely Energy Center in February, and a year ago, LS Power and Dynegy dissolved a partnership to build the 1,600-megawatt White Pine Energy Station near Ely.
The Nevada Wilderness Project announced its "strong support" for the intertie, with group Director John Wallin lauding the plan for the progress it would bring in reducing emissions and saving ratepayers money.
Contact reporter Jennifer Robison at jrobison@ reviewjournal.com or 702-380-4512.