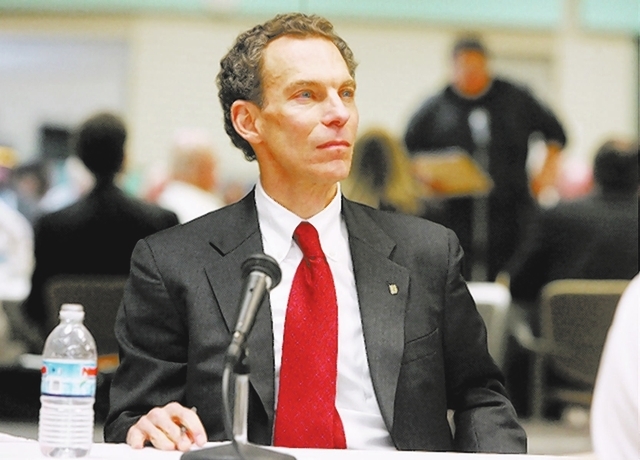 NV Energy CEO Michael Yackira will retire in June. He will be replaced by Paul Caudill, former president of MidAmerican Solar. Caudill joins the electrical utility immediately.
The announcement followed the $5.6 billion sale of NV Energy to Mid­American Energy Holdings Co., owned by Warren Buffett, which was finalized Thursday.
"The intention was for Michael to stay on and continue, but he decided that he wanted to retire," said Greg Abel, CEO of MidAmerican Energy. "We're going to miss him."
Yackira, 62, will remain a member of the NV Energy board of directors. He said he will continue living in Nevada and will spend time with his grandchildren.
"I've been here almost 11 years and have seen the company through a lot of change," Yackira said. "This is the culmination of that change. The premier investor in the world, Warren Buffett, recognizes what this company has done. We get to the next level of performance and investments with MidAmerican."
Caudill said he plans to boost renewable energy offerings in the state.
"We see a great opportunity to build up the vast amount of renewables in Nevada," he said.
In addition to Caudill, Abel said three other MidAmerican executives will join NV Energy: the head of customer satisfaction from Portland, Ore.; general counsel from Salt Lake City; and a junior executive from California.
Abel said no other personnel changes were planned.
The companies received approval on Thursday from the Federal Energy Regulatory Commission for the sale. The Public Utilities Commission of Nevada approved the merger Monday.
According to the settlement agreement proposed in November and accepted Monday by the PUC, NV Energy will improve its customer service going forward.
The company also promised to refund $20 million to consumers. One-time bill credits will be applied within 30 days, averaging about $13 for residential customers in Las Vegas, $7 for Northern Nevada electricity customers and $2 for gas customers in the north.
Yackira became NV Energy CEO on Aug. 1, 2007.
From 2003 to 2007 he worked at NV Energy as corporate executive vice president, chief financial officer and executive vice president of strategy and policy.
Before joining NV Energy, Yackira worked in several executive positions at Florida Power &Light Group.
The utility's headquarters will remain in Las Vegas.
Contact reporter Kristy Totten at ktotten@reviewjournal.com or 702-477-3809. Follow @kristy_tea on Twitter.