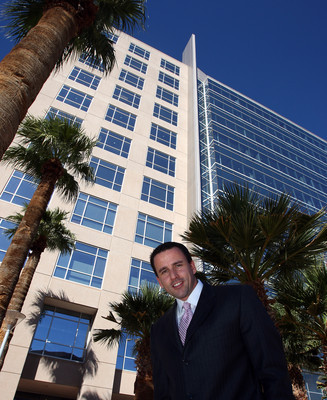 The newest office building at Hughes Center is leasing at $3.85 a square foot and the next one will probably top $4 a square foot, Colliers International office broker Dean Kaufman predicted.
"Four (dollars) is a number that's never been seen in Las Vegas, but if it's going to happen, obviously this is the place," he said of the 1.4 million-square-foot Class A office park that was recently purchased by Morgan Stanley.
The New York investment firm paid $6.5 billion for Crescent Realty, a real estate investment trust with a commercial portfolio of 23 million square feet, including Hughes Center.
"Morgan Stanley buys assets and value," Kaufman said during a tour sponsored by the local chapter of National Association of Industrial and Office Properties. "Morgan Stanley's theory is the market is undervalued."
Overall, the average asking rent for office space is $2.36 a square foot in Las Vegas, according to a third-quarter office market report from Applied Analysis research firm. It's up from $2.35 in the second quarter and $2.23 a year ago.
Vacancy is running at 12.4 percent for 44.1 million square feet of inventory, compared with 11.9 percent in the previous quarter and 10.2 percent a year ago.
The valley's office market continues to expand at an above-average rate, Applied Analysis principal Brian Gordon said.
Through the first nine months, the market has added 3 million square feet of new space and demand has failed to keep pace. The ratio of absorption, or the amount of space taken, to new supply is 0.68, leaving 32 percent of the new product vacant.
Gordon said the quarterly report confirms his forecast of vacancies rising beyond 12 percent because of more normal absorption rates and higher development activity.
"We have above-average vacancy, but with the wave of economic activity under way, we'll see continued demand for office and other uses," he said, citing 40,000 hotel rooms in the pipeline and $30 billion in Strip development. "Certainly the market can't continue to sustain this level of development. We've seen a lot of product come online. Certainly the level of construction will have to slow."
Today's construction activity is based on economics of 24 months ago, Gordon said, when vacancy and interest rates were low and land prices and rental rates were escalating.
"Nothing's easy in Las Vegas any more," developer Jeff LaPour said. "It used to be easy and affordable."
LaPour said it took 17 months to get the building permit for his three-story, 70,000-square-foot LaPour Corporate Center near the Las Vegas Beltway and Russell Road.
The $19 million project will mix concrete, steel and glass elements with contemporary modern architecture. Upon completion, the building will be certified by the Leadership in Energy and Environment Design for "green" building, LaPour said.
Among the significant office completions in Las Vegas during the third quarter were the 16-story, 285,000-square-foot Molasky Corporate Center downtown; the six-story Pavilion (Business Bank of Nevada building) on west Charleston Boulevard near the beltway; and Station Casinos' new 150,000-square-foot corporate headquarters at Red Rock Resort.
Tom Naseef, president of Coldwell Banker Commercial ETN, reported office vacancy at 12.7 percent in the third quarter, with negative net absorption of 86,600 square feet. That means tenants are vacating more office space than taking it. Most of that (57,776 square feet) came in the Class C, or lowest, segment of the office market, he said.
The office market experienced significant changes during the third quarter, CB Richard Ellis office broker Randy Broadhead said. While the first and second quarters set a pace for record absorption, the third quarter was the exact opposite, with a low of 135,528 square feet.
"We feel the third quarter's lack of absorption and increased vacancy is a temporary problem," Broadhead said. "Once the capital markets solve their short-term problem, the housing market will rebound and demand will increase for office property to previous levels."
In the meantime, other sectors of the market are expanding, which will temper how the residential slowdown is affecting the market, he said.
Nonresidential construction has had a banner year so far with increased spending in nearly every segment compared to 2006, despite the plunge in home building, said Ken Simonson, chief economist for the Associated General Contractors.
"The housing meltdown and the more recent credit market turmoil do have some spillover effects on nonresidential construction," he said. "Retail, suburban office and local government construction are especially affected by the drop in home building, home sales and property values, respectively. Tighter lending standards and financial firm layoffs will trim construction of offices and other income-producing properties, such as hotels and warehouses."
Contact reporter Hubble Smith at hsmith@reviewjournal.com or (702) 383-0491.