Official gives Investor Roundtable a major face-lift
February 8, 2014 - 9:34 am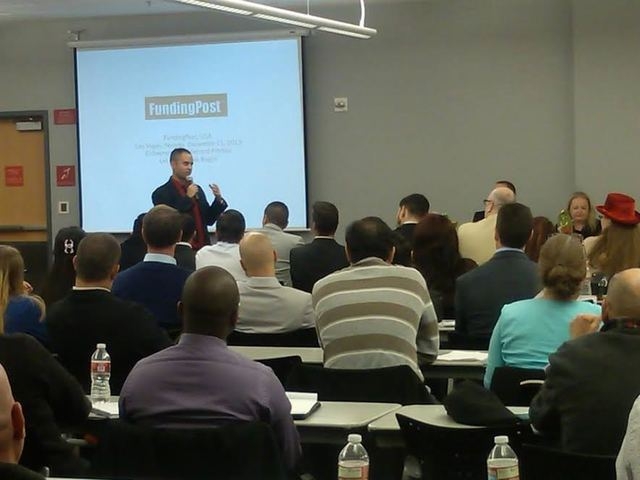 Starting a business might feel like swimming with sharks — especially if you're rubbing fins with accredited investors at FundingPost's Las Vegas Investor Roundtable.
Trepidation holds even if you're not an application-selling, Wi-Fi wielding, straightforward tech startup in Las Vegas' tech marketplace. Or even a tech startup at all.
FundingPost, a venture exchange working online and offline to introduce angel and venture capital investors to entrepreneurs, used to sponsor an event in Las Vegas every two years, said Aaron Sahagun, Southwest regional director.
When Sahagun got involved in early 2013, that changed.
He transformed the gathering into a "Shark Tank" panel, modeled after the business-themed reality TV show featuring multimillionaire and billionaire tycoons giving budding entrepreneurs a shot at dreams.
There's also an "American Idol"/"X-Factor" flavor, with an audience voting alongside of investor panelists, made possible by Tony Hsieh-funded wedgies.com.
The stakes are real, with business pitches flying, and winners getting face time with investors.
The event has unfolded every other month since starting in 2013 at the InNevation Center, Sahagun said. About 30 companies have attended each event, he said, and at least one company has received funding so far.
Sahagun, a software engineer, knows about being an entrepreneur and "living on ramen on a shoestring." In 2005, when he was a senior at the University of California, Berkeley, he and his brother Allan founded Alumwire.
The technology paid off, Sahagun said. UC Berkeley and Columbia University used it to help recruiters videochat with students who were searching for jobs.
"It was before Facebook could even do online or videochat," he recalled.
He said he raised $1.4 million in financing for Alumwire, bringing in an initial revenue of $100,000 by cold-calling and building relationships. Bloomberg Businessweek spotlighted Sahagun and his brother. He successfully exited the company, but not before learning the value of pitching to more than 20 venture capital firms and angel investors in Silicon Valley in 2007, and usually being rejected.
"I was rejected by the majority until someone said 'yes,' " he said. "It's a herd mentality. But it was educational. Every time they rejected me, they told me why. And I'd learn."
DOWNTOWN PROJECT'S LURE
The Downtown Project drew Sahagun to Las Vegas in 2011, with the promise of pioneering a startup tech movement. But as an adviser, mentor and coach to several local companies, he's found another purpose.
"Getting an investor is like dating, and many businesses in Las Vegas don't get that," he said. "They're not getting a jackpot. It's the same thing when it comes to money. Many entrepreneurs just want to get straight to the jackpot. That's a part of educating the community."
By coaching through FundingPost and charging only for attendance at Investor Roundtables Sahagun hopes to provide education and enable networking. He's tried to alternate the InNEVation Center and the University of Nevada, Las Vegas as event hosts, to show the value of practical life experience and the value of having a degree.
As Sahagun helps local software engineers communicate effectively to potential investors and partners, he'd like to reach beyond tech to help other businesses. Investor Roundtable businesses that have intrigued him include a barbecue restaurant; a Malaysian restaurant; a film company; and a guy from the Massachusetts Institute of Technology who's creating a digital storybook that lets users fill in words.
The round table, Sahagun said, is becoming a showcase of Las Vegas' innovative ideas.
"It's not just a gaming town. It's a technological town with culture and art," he said. "I started thinking, 'This city could turn into something great as long as we are motivating the entrepreneurs to collaborate with one another.'"
Angie Douglas, associate director at the Center for Entrepreneurship, at the UNLV Lee Business School, said, "We oftentimes forget about the other businesses that make a city great."
The center sponsored the December round table, where auto drifting school Drift Asylum Las Vegas — à la "Fast &Furious" — caught Douglas' eye.
It also caught the eye of angel investor Don Sorenson, who took a chance in the fast lane with an investment.
James Jack, co-founder and co-CEO of the nonprofit Computers for a Cause, used the event to swim with the sharks. Jack's organization aims to take in unwanted electronics and refurbish old computers. The goal is to empower the underserved community with working computers, free of charge.
More than a month ago, the nonprofit organization moved here from Los Angeles after winning a contest for virtually free office space in downtown Las Vegas through the Glenn Group at the Holsum Design Center.
Jack said the nonprofit organization, which has four full-time employees, transforms anything too old or broken into something that can be sold on eBay or recycle its components.
Seeking corporate donors and Downtown Project partners, Jack made his pitch.
"Everyone loved us and offered to refer us to their contacts," he said. "It was good to get their input on our model and what we were doing."
VARIETY IN TURNOUT
Rey Dos Santos, a UNLV graduate student and chief operating officer of the student-run Rebel Venture Fund overseen by the Center for Entrepreneurship, was an investor panelist at December's round table.
He said he was impressed by attendees who ranged from students and 20-something professionals to inspired retirees. After hearing more than 30 pitches, he said, he spent three to four hours talking to entrepreneurs.
The university-run fund can consider a wide spectrum of deals beyond tech, Dos Santos said. The university cut its first investment check over the summer for WALLS 360, a maker of reusable custom wall graphics.
McVay estimates the center's approximately 120 clients, who aren't limited to UNLV students, are split about 50-50 between tech and nontech startups. The clients include clothing lines, food trucks and outdoor desert adventure companies.
Like FundingPost, the center brokers entrepreneur-investor relationships and fosters networking. It has also developed its own relationships, talking with Sahagun, offering support, and serving as a media sponsor for the December round table.
Sahagun hopes the efforts will help build a great city by optimizing small businesses.
"Tech is core," he said. "But in order to build a cultured city, you need to go beyond technology. Bars. Film. The arts. Restaurants. These are the heart of the city. These things create the culture, and a sustained advantage over other cities."
The next Investor RoundTable is at 7 p.m. Feb. 19 at UNLV. Victor Chaltiel is part of the investor panel. Chaltiel served as founder and chairman of HealthDataInsights Inc., which reportedly sold for $400 million in cash in 2011. He's also a member of the board of Las Vegas Sands Corp.
For more information, phone 626-824-0881 or visit http://www.fundingpost.com/breakfast/reg1.asp?event=271