Officials dedicate line connecting Northern, Southern Nevada electricity grids
January 24, 2014 - 8:21 am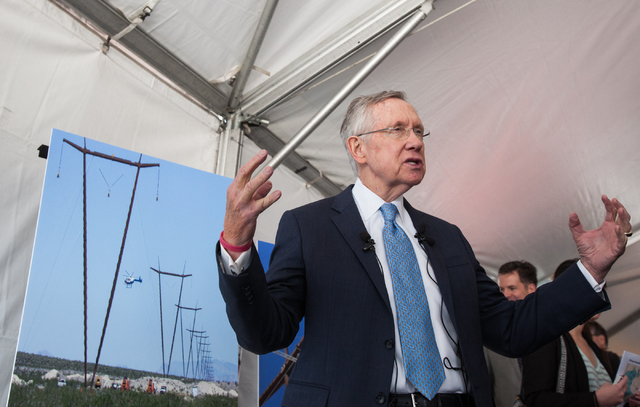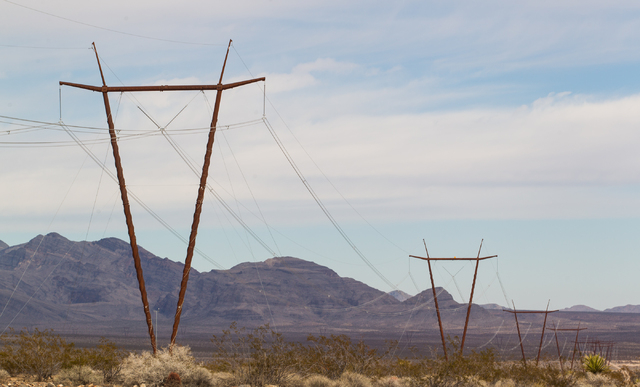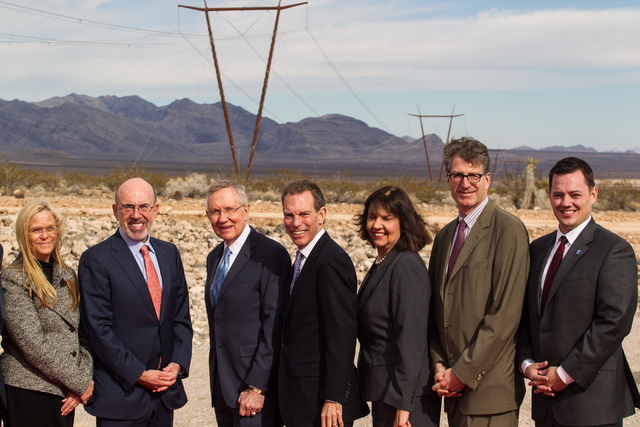 The 231-mile One Nevada transmission line, which connects Northern and Southern Nevada electricity grids, was dedicated in a ceremony Thursday.
The project, known as ON Line, connects the Harry Allen Generating Station, 30 miles north of Las Vegas, to the Robinson Summit Substation, 20 miles north of Ely. It is energized to 500,000 volts, with a capacity of 800 megawatts.
Construction began in 2010 and was completed in late 2013, one year late because of wind damage to the towers.
Cheryl LaFleur, acting chairwoman of the Federal Energy Regulatory Commission, said the project will enhance reliability of service, reduce costs for Nevada customers and connect to new sources of power.
NV Energy CEO Michael Yackira said the transmission line will allow development of renewable energy in remote parts of the state, noting that MidAmerican Energy Co., which purchased NV Energy in December, is building three of the largest solar projects in history — two in California and one in Arizona.
There are 13 renewable projects in Nevada.
"This one line will enable an array of just about every kind of clean power there is," LaFleur said. "Solar, molten salt storage, wind, geothermal and hydro, all enabled by this project."
LaFleur said the project was notable for its technologically advanced V-shaped tower design and its ownership structure. ON Line was created in partnership between Great Basin Transmission South, an affiliate of LS Power, which owns 75 percent, and NV Energy, which owns 25 percent.
"It's one of the first partnerships between an incumbent vertically integrated utility, NVE, and an independent transmission provider, LS power — something we're seeing more of right now," LaFleur said.
The project is partially financed by the U.S. Energy Department loan programs office. In February 2011, the ON Line project secured a loan guarantee from the department that covers $343 million of the $552.1 million budget for the project.
The department supports more than 30 projects, with a portfolio of more than $32 billion.
"All loans we give are for renewable power, and Nevada is one of the great states for renewable power," said Peter Davidson, director of Energy Department's loan program office. "You have solar and wind, but you also have geothermal. To have those three in one state is pretty singular. That's why it's a great state. A lot of our loans are here."
The Energy Department has given four loan guarantees in Nevada, totaling $1.5 billion. California holds the most department loan guarantees, with nine.
Other Nevada loans include Ormat Nevada Inc. in Tuscarora and Blue Mountain in Reno, both geothermal, and Crescent Dunes solar in Nye County. ON Line is the loan program office's only transmission project.
"You can create a lot of the generation power, but you really need the transmission lines, and the right type of transmission lines," Davidson said. "Transmission that can send power two ways, which this does. It's not only generating, which everyone pays attention to — solar plants, wind farms — you really need to do projects like this."
U.S. Senate Majority Leader Harry Reid, D-Nev., said the line's construction created several hundred jobs thanks to a public-private partnership created by the Recovery Act.
Contact reporter Kristy Totten at ktotten@reviewjournal.com or 702-477-3809. Follow @kristy_tea on Twitter.