Officials upbeat on chances for success from Australia trip
August 11, 2016 - 7:44 pm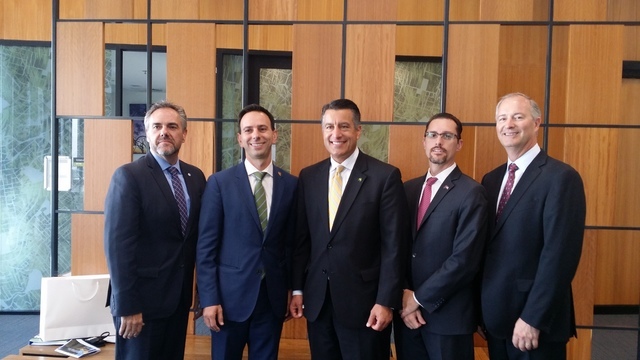 What Gov. Brian Sandoval has dubbed the "new Nevada economy" is likely to include a few contributions from Australia.
The state is working to create an economy that more heavily relies on advanced manufacturing, technology and health care, among other growing sectors. Part of that work involves traveling the world forming partnerships and recruiting companies to relocate.
The governor along with a 30-plus delegation returned Saturday from such a trip to Australia.
Nathan Allan, executive director of WaterStart, went to Australia as part of that delegation and met with 30 companies. The public private nonprofit founded in 2013 works with state agencies and organizations to create quality job growth and diversify the region's economy through supporting innovation in water technology.
"I expect we'll have a really high percentage of those companies that send us proposals (to bring a technology to Nevada that solves an issue identified by WaterStart's partners and relocate to Nevada)," Allan said.
Four of the companies they met with already submitted proposals and expressed interest in relocating to Nevada and the trade mission allowed an opportunity "to move those conversations forward," he said.
Allan identified three companies as having "very compelling technologies and interests in coming to the U.S.," one of which is a technology company that has developed a sensor that can detect leaks in reservoir lining.
"There's quite a few applications, not just within the state with our partners, but nationally I think this is a really big issue in a couple of different water-related sectors," he said.
For example, the sensor would add value to the mining sector and to wastewater utilities to prevent leaks of toxic materials from getting into the ground.
"One company that I was really excited to see was another company that digitizes blueprints and then has a software that will kind of stitch the blueprints together— if they're part of the same building—and identify where you have duplicate plans," he said, adding that the technology also has an augmented reality application allowing for an engineer to understand what the blueprint looks like in relation to where they are standing.
That type of technology could be useful for the Southern Nevada Water Authority, for example, in managing their piping and electrical infrastructure.
"That relates to a priority that the SNWA put on the list two years ago and we have never received a single proposal or found a single company that addresses that issue, so that alone is a great find," Allan said.
Jonas Peterson, president and CEO of the Las Vegas Global Economic Alliance, also went to Australia to support the governor's trade mission as well as to recruit businesses.
"We try and get companies that have a great upside, huge growth potential, but they're early enough on where they're not established already in other markets, where we can hopefully influence and add value in their location decisions and get them to be a real partner with Nevada," Peterson said.
Contact Nicole Raz at nraz@reviewjournal.com or 702-380-4512. Find @JournalistNikki on Twitter.