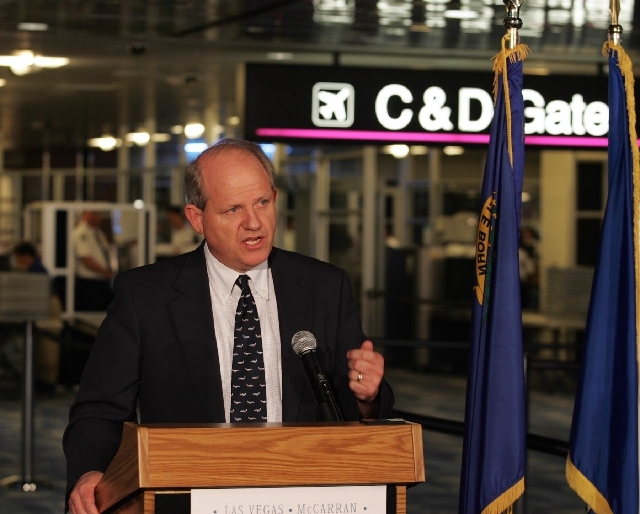 Expanding McCarran International Airport fast enough to feed customers to the Strip resorts during the industry's boom years always resembled running on a fast treadmill, but a breaking point came after the Sept. 11, 2001, terrorist attacks.
Clark County Aviation Director Randall Walker recalled that during the huge CES convention the following January, security lines ran close to three hours as a result of tightened inspection procedures.
"By the end of the week in the press, they were like eight hours long and in another two months they would have gone out to Tropicana," he said. "It got a little out of proportion but it was a very long line that peak day."
In the post-mortem, Transportation Security Administration officials told the McCarran staff the nine lanes at the time were too few for an airport that size.
"We sat down and said, 'Nobody is ever going to say that again. We're not going to let our facilities be the reason for poor customer service,' " the 59-year-old Walker said.
As he clears out his office today , Walker looks back at achieving that goal as the signature accomplishment of his 16-year tenure as McCarran's boss.
"We were never an impediment to the growth of the community as much we as worried we would be," he said.
But the world has changed dramatically in the past five years, contributing to his decision to retire now. Passenger counts that rose 57 percent from the start of his time as director to the 2007 peak of 47.7 million have since dropped 13 percent. Some gates have gone into mothballs, some shop spaces have remained empty and some security lanes — now 38 in Terminal 1 and 14 in Terminal 3 — are used only lightly. Rent increases imposed on concessionaires during the good times had to be reversed. Plans for a reliever airport at Ivanpah have been shelved.
The entire department, with its 1,500 employees and $355 million annual revenues, must be reoriented.
"It's a new environment for the airport," he said. "We've had to get a lot more discipline on the operating expense side. We just haven't focused as much on that as we have on the construction side."
Even before the $2.4 billion Terminal 3 opened last year, the airport had taken measures such as lowering thermostat settings in winter and raising them in summer to cut energy use.
In line with that, he saw the need to reshape the staff, a task that will fall to his successor Rosemary Vassiliadis, whose time as deputy director has nearly paralleled his as director. Walker said he would have stayed no longer than August of next year, when he would have hit the maximum of his county retirement benefits. But that was too short a span to complete reshaping the organization, and he didn't want to leave midway through the job.
Still, said former County Commissioner Rory Reid, Walker's lasting impact will be the billions of dollars spent on airport projects, notably Terminal 3 and Concourse D. When people would complain to him about government inefficiency, Reid said he would point to McCarran's string of facilities that came in on time and on budget.
"Randy ran an operation that was financially sound and the integrity was never in question. That was due to his leadership," Reid said. "Over the years, that has been a rare occurrence at the county."
Attorney Chris Kaempfer often faced off against Walker, appealing to the commission a contract or concession award where his client came up short.
"When he disagrees with you, he is a very tough and persuasive opponent," Kaempfer said. "He will tell you what he thinks without hesitation. But once he tells you something, you can take it to the bank."
Despite what is visible to passengers, Walker looks at the technology systems as his biggest tangible contribution. Not all of them, such as replacing bar-coded baggage tags with ones containing tiny transmitter call radio frequency identifications, have caught on in the industry. But others, such as boarding pass kiosks good for multiple airlines, some in remote locations, and free Wi-Fi throughout the airport have caught on.
Much as he promoted technology, he would also walk the floor and talk to passengers, answer questions at the information booth or hand out brochures at the opening of Terminal 3. While taking a shift as a janitor, he discovered the seats in the waiting areas were difficult to clean and talked the manufacturer into redesigning the cushions.
Although his retirement may include spending more time at his Southern Utah cabin, he said he has potential work offers that involve both construction and aviation. A native of Boulder City, he started with the aviation department as deputy director in 1990, after previous management stints with the county, the Metropolitan Police Department and the city.
An accountant by training, he never obtained a pilot's licence. But given the numerous business lines that comprise an airport, he said, "I am an airport guy."
Tim O'Reiley at can be reached at
toreiley@reviewjournal.com or 702-387-5290.