Out of the books, into the office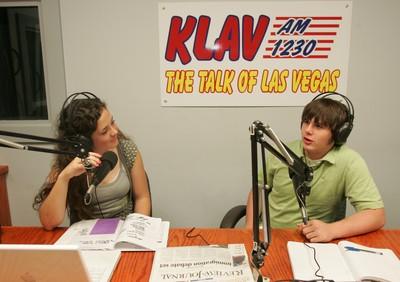 Casey Durkin might have the coolest summer job ever.
No more folding of shirts or ringing up clothing sales for the Green Valley High School junior. His postcollege career may be half a decade away, but this summer, Durkin is forgoing his traditional retail work to get a jump on his long-range professional plans: The public-speaking whiz and aspiring journalist is co-hosting a teen-oriented talk show on KLAV-AM, 1230.
"I couldn't stand one more second of doing a job that wasn't going to help me in the future," said Durkin, who competes in speech tournaments. "For me and my goals in life, this is a really great experience."
Durkin and co-host Ashley Artmann spend an hour every Thursday night at 9 hashing out issues, including free speech, school violence and the war on terror, all from a teenager's perspective.
"I want to make a name for myself, and this is a great opportunity to do that," Durkin said.
Durkin is among the millions of American high schoolers and college students streaming into the job market this summer to pocket some extra cash or bolster their résumés with fresh work experience.
But labor experts say younger workers will have a tough time finding openings in the entry-level posts teens typically favor, so they're advising kids to consider lesser-known positions in unusual fields.
A study from the Center for Labor Market Studies at Northeastern University in Boston found that the summertime employment rate among U.S. teens ages 16 and 19 will be 36.5 percent. That's down from 36.8 percent in 2005, but up from a 57-year low of 36.1 percent in 2004, said Joseph McLaughlin, a research associate at the center.
Teen employment has yet to return to job-formation levels in 2000, when 45 percent of all kids ages 16 and 19 found positions.
McLaughlin partly credited the 2001 recession for the dip in teen employment.
When job growth nationwide flags, teens in particular face fewer opportunities, he said. The economic downturn in the spring and summer of 2001, combined with the terrorist attacks of Sept. 11, 2001, reined in overall job creation and hit the teen-labor market hard, McLaughlin said.
The economic recovery that has created more than 7 million U.S. jobs since 2003 hasn't yet meant more work for high schoolers, however.
That's because teens looking for conventional summer work with retailers, restaurants, theme parks and hospitality must compete for positions with older college students, senior citizens and low-skilled immigrants.
"Employers have found these other sources of employees often already have some experience and soft skills (such as good etiquette and a sense of responsibility)," McLaughlin said.
"It's hard for teens who are 16 or 17 and looking for their first job. They don't necessarily have the résumé and experience to compete with other groups of job seekers."
Shawn Boyer, chief executive officer of work-search Web site SnagAJob.com, encourages students to seek out less-traditional summer work.
Merchandising companies love to hire students, Boyer said. Merchandisers contract with retail companies to send in workers who check store shelves for proper product stocking. Merchandising jobs have flexible hours, and because employees move from shop to shop, the positions also offer variety, Boyer said.
And at $12 to $15 an hour, the work also pays more than the standard summertime retail or restaurant job.
Teens should also consider checking in with their local bank for opportunities. Banks need additional help at the teller windows in the summer, when full-time employees take their vacations. Teller positions typically pay $10 an hour and up, based on experience.
And too few teenagers consider jobs in office administration, Boyer said. Office managers are scooping up students for their online savvy and technological literacy; office-based teens are helping businesses with research and search-engine placement, Boyer said. Administrative pay can start at $10 an hour and range up to $20 if writing is involved, he said.
Office-based work will keep Derek Schoen busy this summer.
Schoen, a public-relations student at the University of Nevada, Las Vegas, worked in the restaurant industry for two summers, most recently as a deliveryman for the Olive Garden.
Now, the summer before his senior year, Schoen is looking for a professional experience that dovetails with his college major.
"I was tired of the restaurant business," Schoen said. "I wanted to try something new and see what kind of career I was getting into."
So Schoen is working for The Firm Public Relations & Marketing, where he's tracking news mentions of the company's clients, conducting research and checking in media at special events.
Schoen said he's learned much in the three weeks he's been on the job.
"It's really solidified the fact that public relations is what I want to do," Schoen said. "It would be scary to finish college and not have ever been in the field. This way, I'm getting real-world experience before I leave school. If I don't like it, I have time to change things around and do something else. But so far, I love the agency side and the multitasking of working on a bunch of different projects."
Both Durkin and Schoen said finding a summer job that provides a head start on career goals requires some assertiveness.
Schoen is active in UNLV's Association of Students in Communication and the Public Relations Society of America, and networking through those groups has helped him track down opportunities. A UNLV professor recommended Schoen to The Firm in March, when the company was handling media relations for the Stardust implosion. The Firm's executives liked Schoen's performance at the event and asked him to come on as an intern.
"In Las Vegas, it seems everybody is willing to help students, especially students from UNLV," Schoen said. "Never be afraid to e-mail or call someone and ask them if they're looking for an intern. Everybody is always so nice and polite, and if they don't need an intern, they'll send you to someone who does."
To find his broadcasting gig, Durkin called every radio station in Las Vegas, looking for an open time slot. After two weeks and several meetings with executives at different stations, Durkin had his hour. Durkin won't receive any checks until the advertising pays for the programming, but once the revenue starts covering the show, Durkin and Artmann will collect the profits.
"I'm glad I took the initiative to start doing the things I enjoy doing," Durkin said.
"The job I have really accents what I want to do, and every moment I'm working on this, it will pay off in my future."
Students who find work in their future field of choice will reap rewards from the networking contacts they make, and they'll also get a better handle on what specific aspect of the business they enjoy most, Boyer said. They also earn an impressive early boost for their rèsumè.
For students who haven't chosen a career path, traditional summer jobs can still confer important benefits, McLaughlin said.
"Work begets more work experience," McLaughlin said. "Once teens get that first job at 16 or 17, they begin to build a track record, and they pick up the soft skills that will help them land jobs in the future."
GETTING A SUMMER JOB Paying a little extra attention to detail in each phase of the job hunt can help teens find a summer position. Here are some tips that will help teens stand out among their peers at hiring time and beyond: • Improve your résumé. A lack of extensive work experience needn't scuttle a teen's chances for employment. Where time on the job is scarce, list extracurricular activities on your employment application, suggested Shawn Boyer, chief executive officer of SnagAJob.com. Emphasize leadership positions, whether you were president of the Key Club or captain of a sports team. "You want to dispel any notion that you lack direction or are not professional and disciplined," Boyer said. • Double-check your paperwork. It's all too easy for teens to slip into the all-lower-case, shorthand writing style of text messaging. But peppering your résumé or your job application with grammatical errors and spelling foul-ups is a sure way to land your forms in the "round file," Boyer said. Read over your submissions carefully for mistakes. • Track down recommendations. If you're applying for your first job and you don't have former supervisors who can vouch for your work habits, consider including teachers or family friends among the references you cite on your application. Don't leave the references section of the application empty, and don't list your parents. • Meet the decision-makers. Students who rely on Internet applications miss out on the important face-to-face contacts that can help them get hired, said Joe McLaughlin, a senior research associate with the Center for Labor Market Studies at Northeastern University in Boston. Make the rounds at local stores and restaurants in person and ask to meet the manager. • Prepare for your interview. Fair or not, Boyer said, teens have a reputation for being less responsible than more mature workers. To fight that stereotype, show up early for your interview and overdress for the occasion, Boyer said. Men should wear a coat and tie, and women should don a pant suit, dress or skirt and top. If you're new to job interviews, enlist a guidance counselor, family friend or other adult to conduct a mock interview. To create the kind of high-pressure atmosphere you'll experience in a real interview, play the whole conversation out. Don't stop and start over if you slip up. Think of some insightful questions you can ask during your interview. Among the queries Boyer recommends: How do you stand out from your competition? What is your work environment like? What is your management style? Post-meeting, send your interviewer a handwritten note thanking him for his time and consideration. • Know the job's demands. Before you accept an offer, think through the hourly requirements of the position. A lot of summer jobs require teens to work at night and on the weekend. "You don't want to get three weeks into a job and say, 'This stinks — I can't go out with my friends,'" Boyer said. REVIEW-JOURNAL