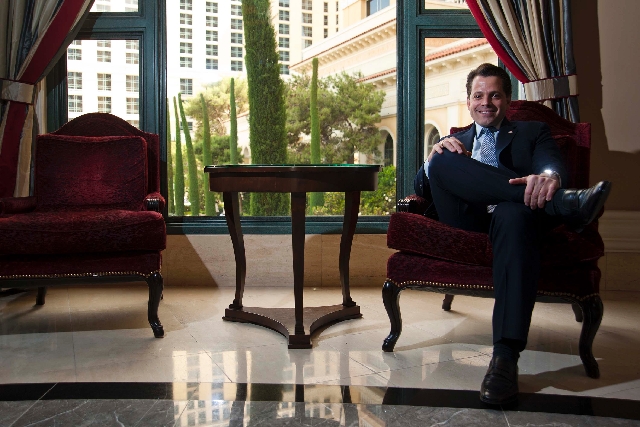 Hedge funds are traditionally the province of the super wealthy, but Anthony Scaramucci is taking SkyBridge Capital — a "fund of funds" that creates portfolios of hedge fund investments — in a different direction targeting the "mass affluent."
That is, investors with a net worth of $1 million outside of their real estate holdings.
"I like to say I want to be the hedge fund manager for every dentist out there in America," Scaramucci said Tuesday. "We have very large institutions, sovereign wealth funds and large corporate pension plans, but in addition to that we have something called a 'mass affluent' clientele."
By some estimates at least 60 percent of SkyBridge's investors are of that type.
"We work alongside Morgan Stanley, Merrill Lynch, UBS and Wells Fargo in the United States," he said. "Their financial consultants have our product … as part of their offerings."
Scaramucci is passionate about educating more investors about hedge funds. He's written two books, most recently "The Little Book of Hedge Funds in May 2012," which he describes as a "primer on the industry."
"I tried to explain how the industry really works," Scaramucci said. "I also wrote about some of the problems in the industry. I hoped it was a balanced look at what goes on in the industry."
Scaramucci said the best hedge fund managers are delivering on what is advertised.
"In this low interest rate environment they are delivering high single digit or low double digit returns without a third of the volatility of the S&P 500," he said. "They are the guys who are doing their jobs right and are focused on absolute returns."
These are the manager who when the economy isn't doing well, generate a return, or when the economy is doing well they can generate a return, he said. Scaramucci said knocks on the industry include fees that are too high.
"There are also a lot of people in the industry that are focused more on themselves making money instead of their clients, which I find disappointing," he said. "But I do think like in every industry … there are some rouge players. It's not just our industry, but there is more money in our industry."
Scaramucci discussed the state of the hedge fund industry as he prepared for the SkyBridge Alternatives Conference, a.k.a. SALT, his company's annual three-day gathering beginning Wednesday at Bellagio.
He secured Grammy-Award winning band TRAIN to perform along with a array of attractive speakers, including former French President Nicolas Sarkozy, actor Al Pacino, director Oliver Stone, Duke basketball coach Mike Krzyzewski, and Karl Rove, former deputy chief of staff to President George W. Bush.
"It's different from the other conferences," he said. "I try to bring people here who are exemplary in their business, whether they're actors, physicists or health care providers. The goal here is to create a human capital conference, not a capital management conference."
For him there are advantages to hosting SALT, including a large charity component
"The smartest people among us are able to have some level of humility and grace with their success," he said. "There is always a give back component. The smartest people are not only focused on how successful they are, but what they can do to improve the society."
Scaramucci, who describes himself as a capital artist who sees his business as a canvas, launched SALT in 2009 in defiance of President Obama's warning to Wall Street and large commercial banks to stay away from partying in Las Vegas while the rest of the country suffered.
"You have to recognize that in addition to a lot of fat cats, there are maids and bellhops … a whole middle class community that benefits from conferences," he said. "So my partner, Victor Oviedo, basically came into my office and said there is a void in the space, an opportunity to create a conference."
This year more than 2,000 industry insiders are expected to attend talks by Sarkozy and Rove, as well as hedge fund legends John Paulson and Dan Loeb.
Contact reporter Chris Sieroty at csieroty@reviewjournal.com or 702-477-3893. Follow @sierotyfeatures on Twitter.