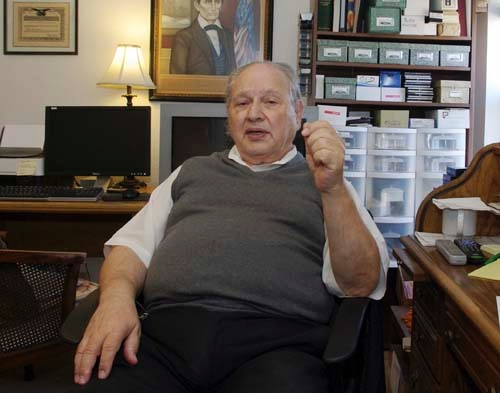 His is the fortune that isn't.
But Pahrump resident Ronald Wayne refuses to dwell on the billions he doesn't have. In fact, he calls his co-founding of one of the world's greatest companies a "small part" of his life.
He'd much rather chat about his obsession with slot machines or his new book on monetary policy, but this week that small part of his life has loomed large.
Wayne, now 77, started Apple Computers with Steve Jobs and Steve Wozniak 35 years ago. Jobs died Wednesday at 56, and Wayne found himself fielding calls from media worldwide.
Wayne reminisced from his Pahrump home Friday, sharing memories of Jobs and of his own brief but wild ride as fledgling Apple's "resident adult."
"It's not possible to exaggerate Steve's contributions. He was a giant, not only in the world of tele­communications and computers and tech development, but in his influence on sociological development around the world," Wayne said.
THE NEXT STEVE JOBS?
What lessons can a businessman who was there at the birth of a legend pass on to anyone hoping to follow in the footsteps of Steve Jobs?
Not much chance of that, Wayne said. Jobs was inimitable and irreplaceable.
"I don't think you could replicate his qualities in anyone else," Wayne said. "He had certain powerful qualities, but the important fact was, he had them all in one person. He had this unusual ability, as if he were out of a place in time, to stand above the crowd. He could see yesterday, today and what was to come."
What's more, Jobs recognized his limitations even as he could spot strengths in others. He knew how to gather people to complement his expertise, and to motivate them in a certain direction.
"It was like playing pieces on a chessboard. He could focus on the vision he had," Wayne said.
That vision started in 1976, when Wayne partnered with Jobs and Wozniak, who met when they worked for video-game maker Atari.
"Steve had some appreciation for my seniority and skills and abilities, and we got along well together," Wayne said. "We had long, philosophical conversations on every subject. He was a fun and fascinating person to be with."
Still, the partners took wildly divergent paths after Apple's debut. Wayne quit the company within two weeks, taking just $2,300 to cash out his 10 percent ownership.
NO REGRETS
After Apple, he moved around, working in Las Vegas for now-defunct slot maker TGM Corp., then in California for Lawrence Livermore National Laboratory, where he created model-building facilities. He also was chief engineer for cable and connector maker Thor Electronics in Salinas, Calif.
Wayne holds a dozen patents but says he "never made a dime" on any of them.
Meanwhile, Jobs stuck with Apple until 1985, got fired, then returned in 1996. He developed world-changing technologies, from laptops to smartphones, and amassed the world's 110th largest personal fortune at more than $8 billion.
Yet Wayne, whose 10 percent share of the company would be worth about $35 billion today, never begrudged Jobs his success. Nor does he look at Apple as the billion-dollar business that got away. He emphatically says he knew even back then that Apple would succeed. He just didn't want to endure its roller coaster ride to the top. His epiphany came after Jobs established a $15,000 line-of-credit to fulfill a contract with a computer retailer that had a bad rep for not paying its bills.
Jobs and Wozniak were just kids with nothing to lose. Nearly twice their age, Wayne had assets to protect.
"If they live up to their negative reputation, I'm the adult in the room. I'm the obvious target for that $15,000," he said. "I'm as enamored with money as anyone else, but these kids were whirlwinds. It was like having a tiger by the tail. I had a sense at the back of my mind that if I had stayed with Apple, I would probably have wound up the richest man in the cemetery."
FUR AND FEATHERS
Wayne, like Jobs, never earned a college degree. He learned engineering on the job. He grew up in Cleveland, enthralled with the illegal slot machines in neighborhood drugstores. He moved to New York City as a teenager, and to Los Angeles in 1956, stopping in Las Vegas on the way.
"Back then, it was a gambling town. It was fun and interesting and much lighter," he said.
Wayne relocated to Nevada in 2004, settling in Pahrump because it's quiet. He rarely makes it into Las Vegas.
"You can sleep at night in Pahrump, and there's nothing I could do in Las Vegas that I couldn't do in Pahrump."
Things haven't stayed quiet, though. It's been "fur and feathers" since Wednesday. He has fielded calls from media across the world.
"That's characteristic. For 30 years, I was the unknown founder of Apple. Once someone found me, that was the end of that," he said.
The interviewers all ask the same questions: Why did he back out of Apple? Does he regret missing out on the billions his share of the company would be worth today? The tone of the queries, and the tack most of the stories take, bother him.
"I sometimes have to fend off the accusation that I was diddled out of something. It's totally untrue. There was no antagonism. Nobody diddled me out of anything. They knew exactly why I was backing out. It didn't take me long to realize I had no business being in business. I'm a better engineer than I am a businessman."
LOSING A FRIEND
Today, Wayne is semi-retired, offering consulting services to small companies that need product-development help and living a "comfortable life" on an acre and a half of land. He started buying gold when it was worth $200 an ounce, and recently published "Insolence of Office," a book — available on iTunes — that details "the effects of monetary corruption on our governmental system, and how that corruption bears directly upon the personal lives of each of us."
It took Wayne 30 years to write his book, which advises investors to put their faith in metals, not in paper currency.
"I actually believe the writing of this book justifies my existence on this planet," he said. "It is profoundly important not only to businesspeople but to people in their private lives."
His other piece of advice to businesses, and to people who invest in them?
"Years ago, I had a boss who had been a stockbroker. He told me, 'In the stock market, a bull can make money, a bear can make money, but a pig can't make money.' "
Apple is most assuredly not a pig. The company, which jump-started markets for the tablet computer and smartphone, in August eclipsed Exxon as the world's most valuable business.
For Wayne, the ultimate sadness is not that he no longer is vested in the company. Rather, it's the loss of his friend and former partner.
"Unfortunately, the fates are perverse and unkind and unjust. I drew very lucky in my genetic pool, and am sitting here at 77, while we ask what Steve, who was a monumental contributor to human society, could have achieved in the extra 20 years I got out of life," he said. "It's profoundly unfair."
Contact reporter Jennifer Robison at
jrobison@reviewjournal.com or 702-380-4512.