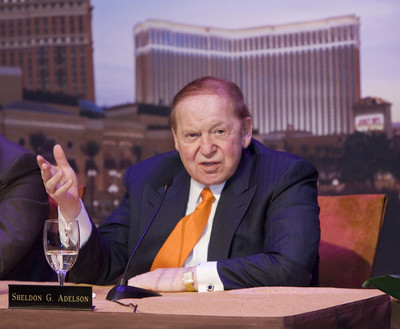 Las Vegas Sands Corp. executives took what amounted to a victory lap Friday afternoon, a little less than 24 hours after flipping a switch to launch a fireworks spectacular that kicked off the grand opening weekend of the $1.9 billion Palazzo.
The 3,068-room hotel-casino, which opened in early January, was immediately dubbed a success by company executives, even before the first revenues had been counted.
"A lot of folks said to us last night that this is the most beautiful hotel in Las Vegas," company Chairman Sheldon Adelson said during an hour-long news conference in The Venetian Showroom. "That's the kind of congratulations we like to hear."
Adelson, the 74-year-old billionaire who is considered the third-richest American by Forbes magazine, said the Palazzo's opening completed a dream of creating the world's largest integrated resort complex.
The Palazzo is part of an 11.5 million-square-foot development along the Strip that includes The Venetian and the Sands Expo Center. The Venetian-Palazzo complex totals 7,128 hotel rooms, two casinos making up almost 200,000 square feet, 1 million square feet of retail and 2.3 million square feet of convention and meeting space.
"This is not just the world's largest building," Las Vegas Sands President Bill Weidner said. "It's another step in the development of Las Vegas and it's part of where we see the next development of Las Vegas going."
Weidner said Las Vegas Sands deserves credit for mixing convention business with traditional casino business. Everything — gaming, dining, meeting space, shopping, spas — are all under one roof attached to luxury hotel towers.
The company has been developing the complex for more than 10 years and during that time, Mandalay Bay opened with a large convention center and the MGM Grand increased its meeting and convention space.
"That kind of cutting-edge design trickles down," Weidner said. "Copy is the sincerest form of flattery."
Adelson, the majority shareholder in Las Vegas Sands who controls more than 70 percent of the company, rarely speaks with local media. He participated in the news conference with Weidner, company Executive President Brad Stone and Rob Goldstein, who serves as president of The Venetian and Palazzo. The news conference was attended by local, national and international media.
Las Vegas Sands is spending more than $12 billion on casino development in Macau, where the company already operates two casinos. Las Vegas Sands is building nearly a dozen hotel-casinos on the Chinese region's Cotai Strip.
It is spending $4.6 billion on a casino development in Singapore and $637 million on a casino and entertainment development in Bethlehem, Pa.
The company considers all its projects integrated resorts.
Adelson said that factor might deter future Las Vegas Sands development in Las Vegas. The company plans to add another convention center on 18 acres off Sands Avenue, but Adelson doesn't see any current opportunities for hotel-casino projects.
"Our basic fundamental marketing strategy is convention-based," Adelson said. "If we see an opportunity to do our convention-based strategy, we would. But, there would have to be a reasonable cost for the land. If we could put up another 4,000 to 5,000 rooms and make it convention based, we would look at it. But I don't see anything that big at a good location here right now."
Adelson said Las Vegas Sands might look at other parts of the world for hotel-casino development, especially places where a Cotai Strip-like development could be established. One place he ruled out, however, was Dubai in the Persian Gulf. Rival casino operator MGM Mirage is partners with the investment arm of the Dubai government, but that wasn't Adelson's reason for rejecting Dubai as a development site.
"I don't believe Dubai is an ideal destination for entertainment simply because they do," Adelson said. "Do you know how hot 120 degrees is without humidity? Think of it with humidity."
Contact reporter Howard Stutz at hstutz@reviewjournal.com or (702) 477-3871.