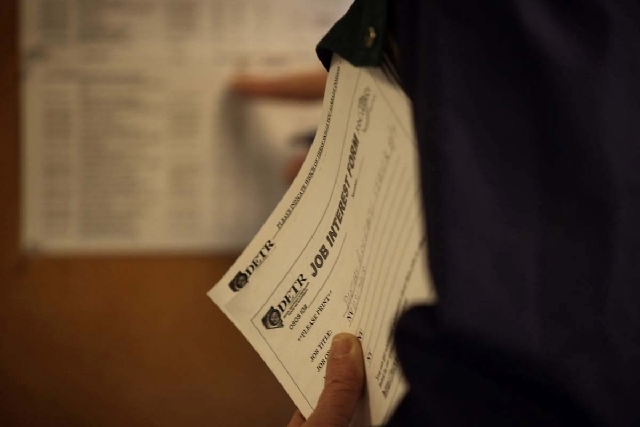 CARSON CITY — The Nevada Employment Security Council on Thursday recommended a slight dip in the state unemployment insurance tax rate that businesses pay to cover jobless claims.
The proposed rate for 2016 would fall to 1.95 percent from 2 percent on average. But employers would still pay slightly more because of an increase in the wage base used to calculate the tax. The annual taxable wage base will rise to $28,200 year, up from $27,800.
Combined with other minor assessments attached to the state rate, the overall average rate will be 2.62 percent. Employers on average will pay roughly $739 per employee, up about $13 from the current rate. About 62,400 Nevada employers pay the unemployment insurance tax.
Renee Olson, administrator of Employment Security Division, will hold hearings and workshops on the proposal before finalizing a regulation before year's end.
Rates paid by businesses vary widely based on previous experience with unemployment.
The 1.95 percent rate is projected to generate about $546 million for the Unemployment Compensation Trust Fund during the 2016 calendar year. The system paid out about $353 million in benefits this year and has a current balance of $409 million.
Besides shoring up the trust fund, employers are also paying off bonds that were sold to repay the federal government for money borrowed to pay jobless benefits during the worst years of the Great Recession. Another 0.05 percent assessment is tacked on to help fund a career enhancement program. Those three levies combined amount to an average overall tax rate of 2.62 percent.
Nevada had an $800 million cushion in its unemployment trust fund when the recession hit and more than 150,000 jobs were lost. After the state trust fund ran dry, Nevada and many other states borrowed money from the federal government to pay benefits to jobless workers.
In 2013, Nevada issued bonds to settle the federal debt and reduce its interest rate. Officials on Thursday estimated the state will be able to retire the bonds by December 2017.
Contact Sandra Chereb at schereb@reviewjournal.com or 7750687-3901. On Twitter: @SandraChereb