Perfect storm has shoppers, retailers wary
November 28, 2008 - 10:00 pm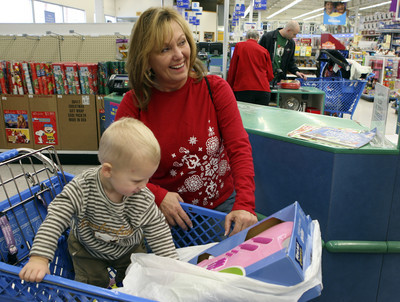 The winter storm that rolled into Las Vegas for Thanksgiving wasn't the only source of dark clouds for the holiday shopping season.
A steady downpour of mortgage failures, tourism declines, casino layoffs and other forms of bad economic news has tightened consumer spending and lowered whatever hopes many retailers had for a strong ending for 2008.
That means many shoppers who head to the malls today for Black Friday sales are likely to trade down to cheaper stores and head home as soon as they snag the best doorbuster specials.
"The consumer is underwater, that is the bottom line," said Howard Davidowitz, chairman of Davidowitz & Associates Inc., a retail consultant and investment banking firm in New York.
Davidowitz says there's very little hope for much of the retail economy as consumers collectively face $14 trillion in debt and the loss of $8 trillion in housing wealth.
He said about 8,000 retailers nationwide have already closed shop for good in 2008 and expects 12,000 more to shut down in 2009.
People who are shopping are either spending less or seeking more for the same amount of money.
"The consumer is in massive trade-down mode," Davidowitz said.
Marybeth Miller of Las Vegas said she typically spends much of her holiday budget at Stein Mart, a store that's often described as a hybrid of a department store and a discounter.
But this year Miller, a grocery store manager, says she did her shopping at Target to get more for her money.
Much of her shopping was for her five grandchildren, one of whom she brought into Toys R Us in Henderson to return some toy guitars.
"Instead of giving them a lot for Christmas, I am going to take them on vacation," Miller said while grandson Zane Stensrud, 15 months, played in a shopping cart.
She's also preparing scrapbooks for the kids to pore over on Christmas.
"This year I didn't want to go overboard, I will just create memories," Miller said. "They have to open something that will make them excited."
The spending slowdown means retailers will be even more cutthroat when it comes to markdowns.
They've already abandoned the practice of waiting until after Thanksgiving to start the sales, and it will get even more competitive as the season wears on.
Consumer Reports says electronics store Best Buy and discounter Kmart each will be selling 50-inch plasma televisions for $900 this holiday season.
It's just one example of steep discounts extending even to the hottest items.
"There's no reason to believe that the wheeling and dealing will stop anytime soon," according to Consumer Reports blogger Tod Marks. "So, if you miss out on one blockbuster, another will surely come along."
Although retailer desperation may mean great prices, relatively speaking, there may not be many consumers who are willing or able to take advantage.
David Jones of the Association of Independent Consumer Credit Counseling Agencies said the number of people seeking credit counseling in the past four months is up 21 percent.
There are also increases in the number of counseling requests from households earning more than $50,000 annually and more people are abandoning burdensome car loans.
All that, Jones said, will affect how people spend this season.
"I would suggest to you is that what we have is a very stratified situation," Jones said, describing the outlook.
People who lost jobs or significant amounts of money in the stock market "will change their views considerably" when it comes to spending.
"Other families that are not so affected will probably come out on the other side with the same kind of spending habits, the same kind of behaviors," he said.
Contact reporter Benjamin Spillman at bspillman@reviewjournal.com or 702-477-3861.