Philipp Plein brings Vegas vibe to The Shops at Crystals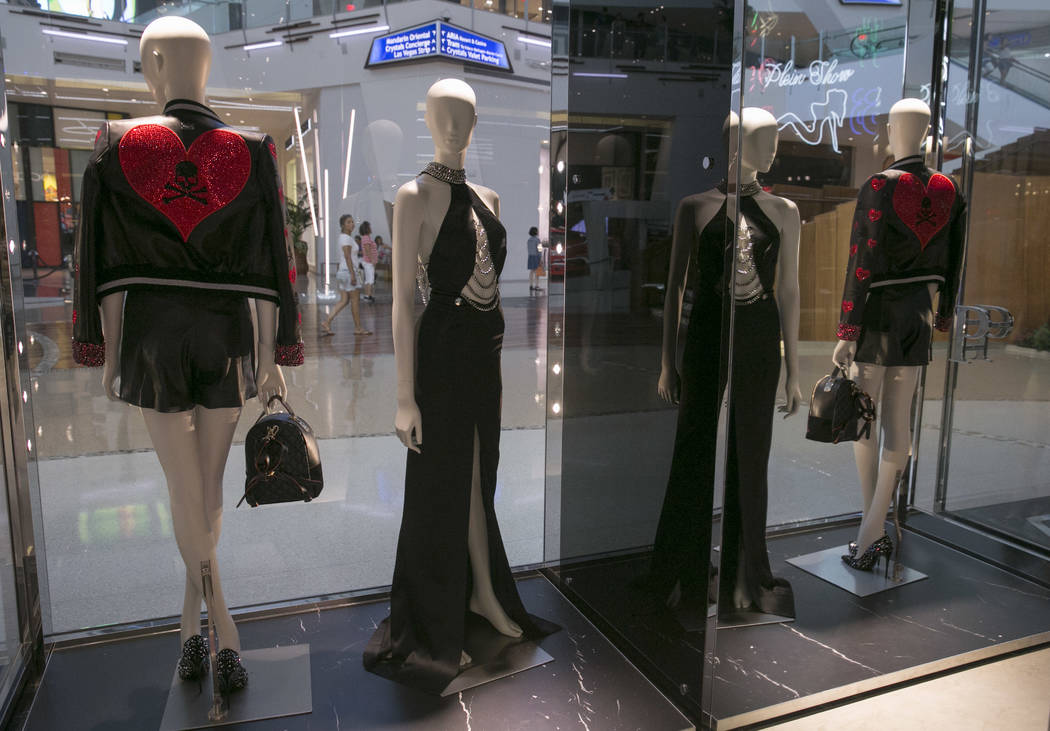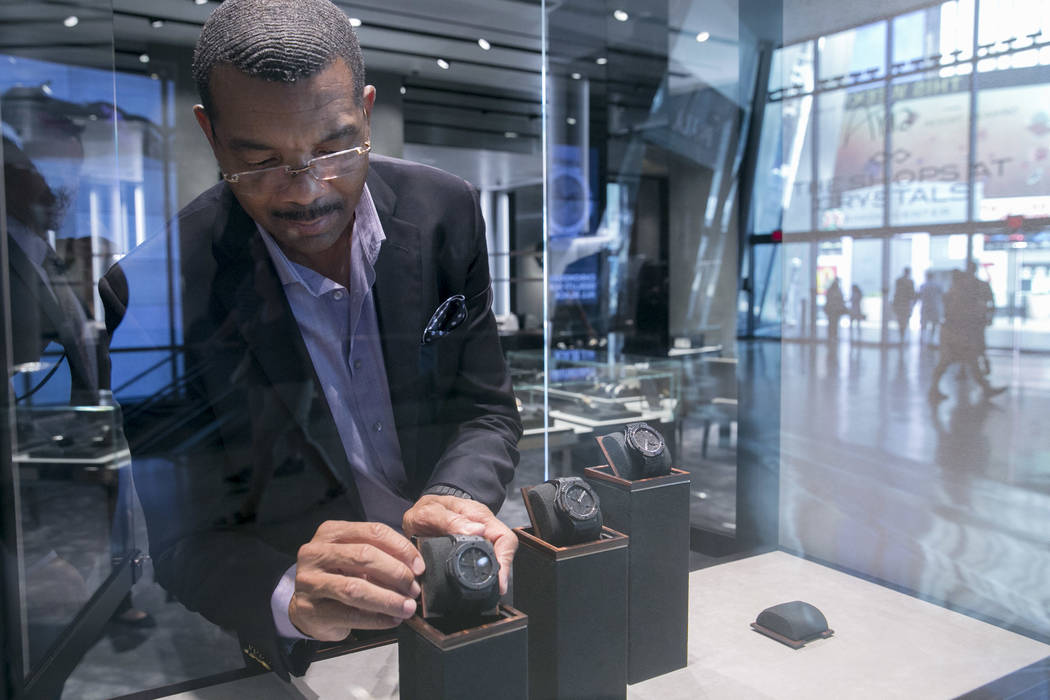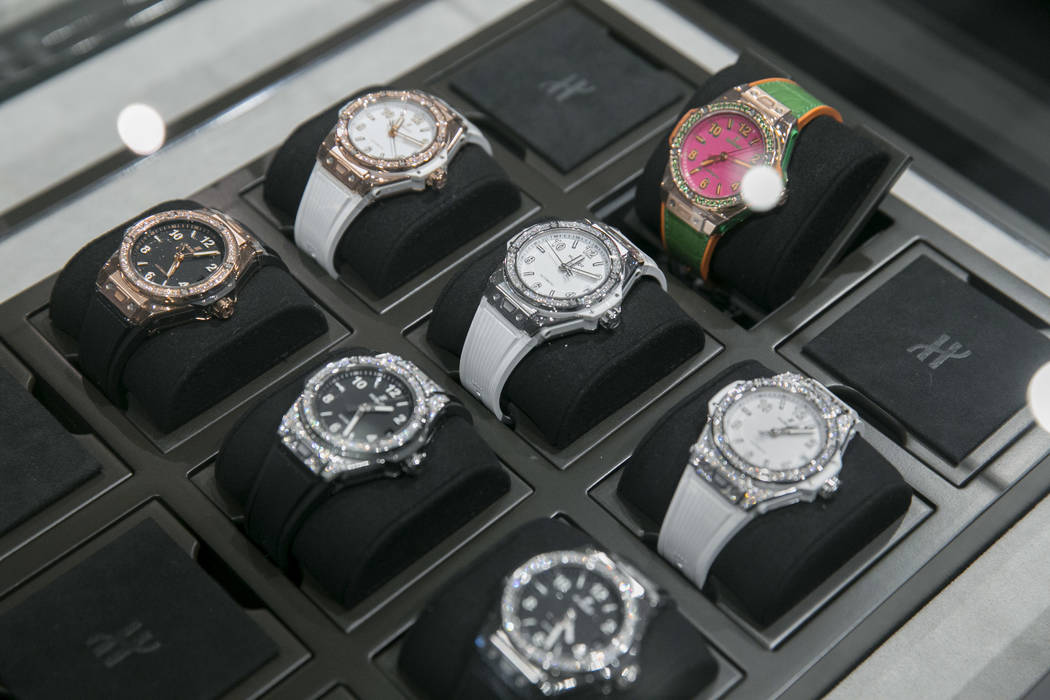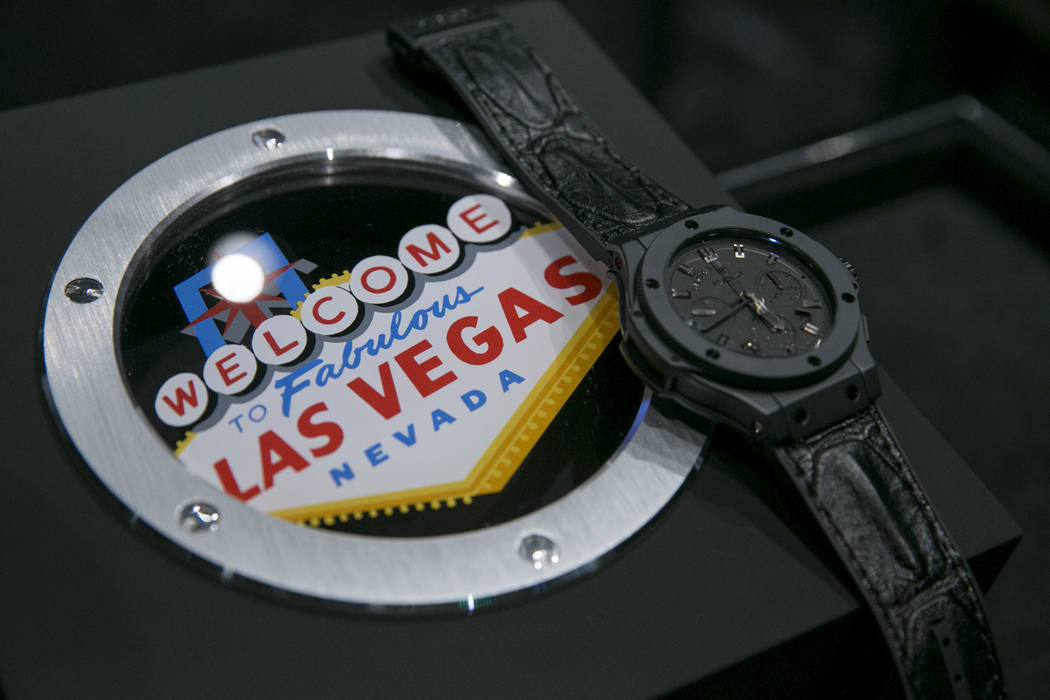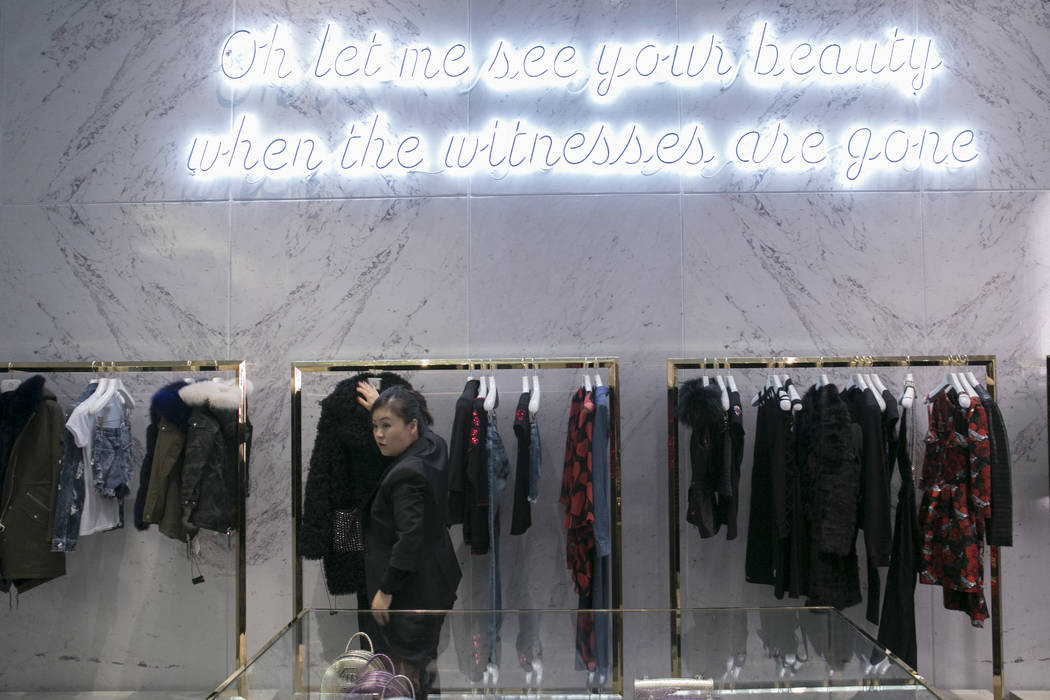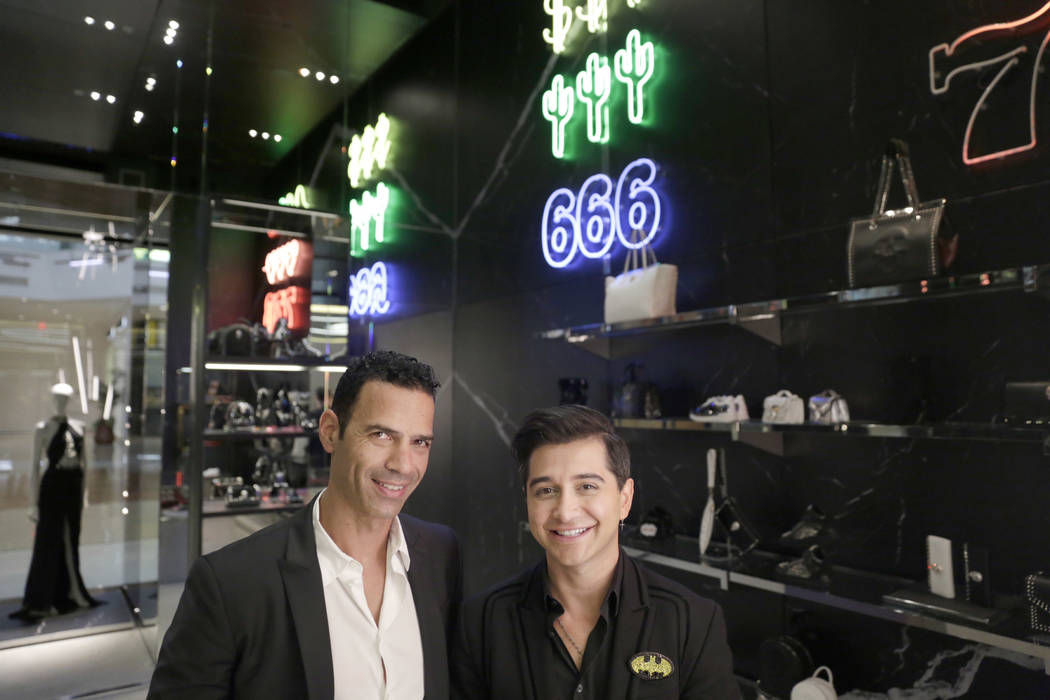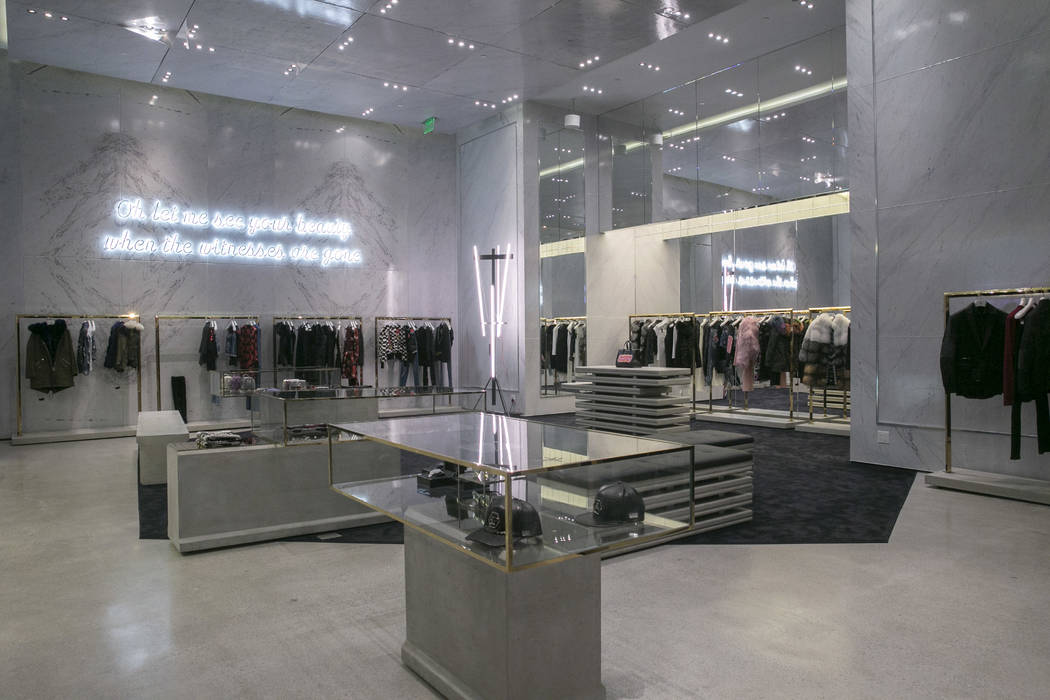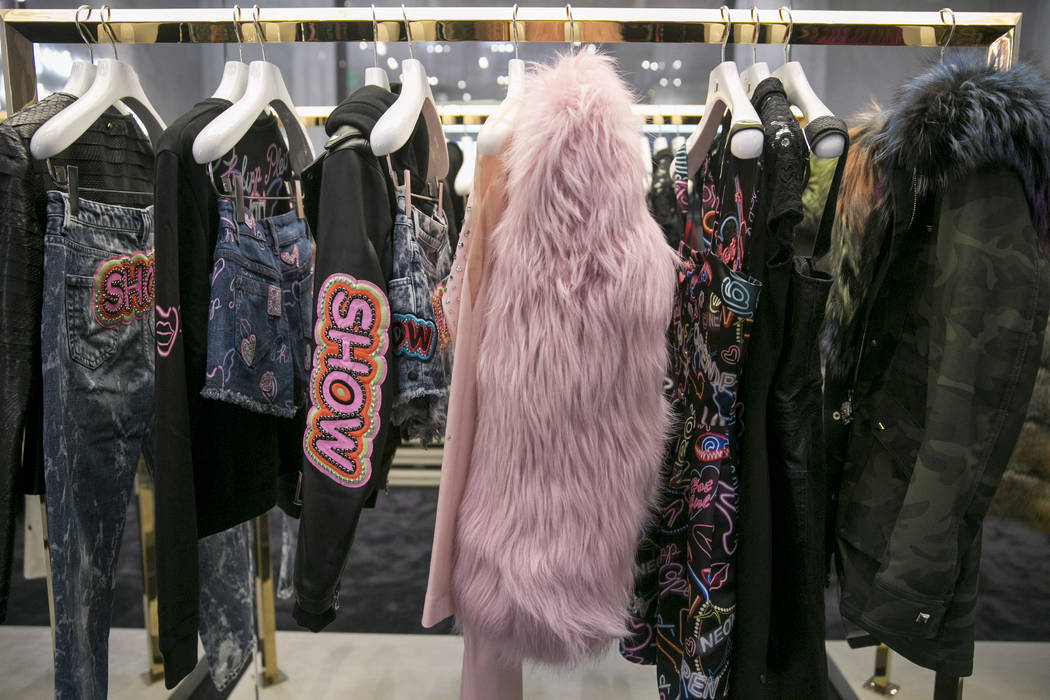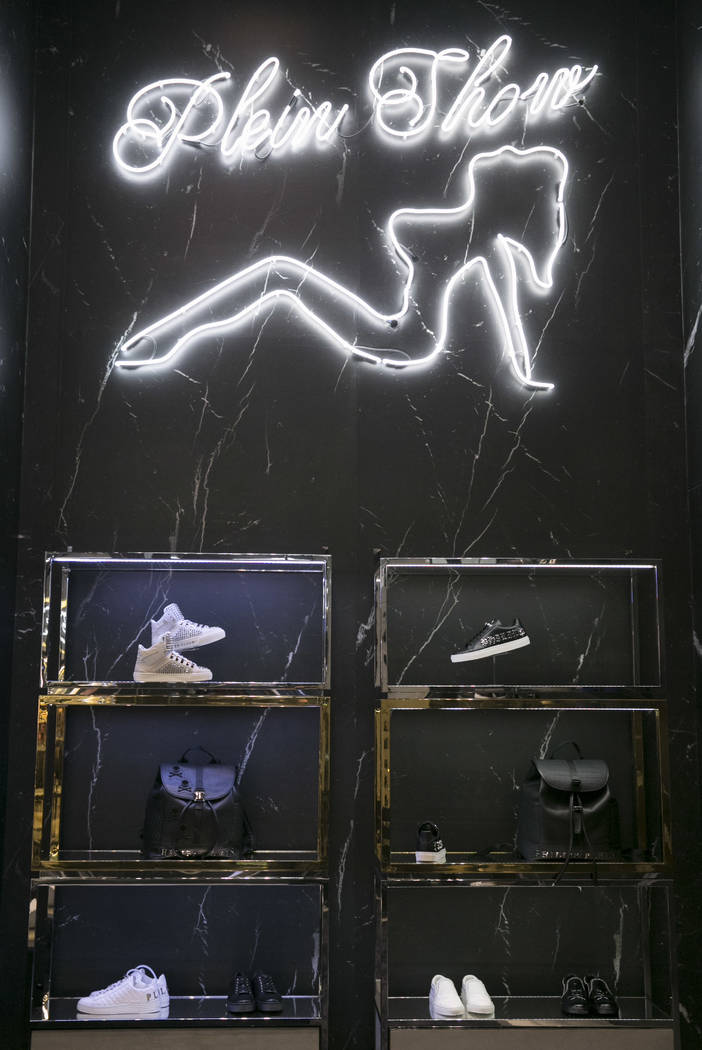 Walking into the new Philipp Plein at The Shops at Crystals feels like a midnight walk along the Strip.
Two mannequins posed near the front windows look ready for a night out. One is showing off a glittering jacket and miniskirt. The other is draped in a low-cut dress. A neon light in the shape of a woman sits above a rack of athletic shoes decorated with studs and skulls. Toward the back, embroidered jeans hang next to a bright pink fur coat.
According to the Philipp Plein staff, these pieces are just a few of the reasons why the brand is a perfect fit for Las Vegas.
Opening
The new Philipp Plein opened July 10, one of five new stores to open at The Shops at Crystals within the last year.
Monique Clements, marketing director at the all-luxury shopping center, said the previous stores' lease expirations made way for the new brands, including Aquazzura, Berluti, DSquared2 and Hublot.
Dan Layton, the assistant boutique director at the new Hublot, said there are very few places where the luxury watch store is able to sell its product. Prices start at about $7,000 and go up to $10 million.
"You've got to be someplace where the clientele can afford it, where there's traffic enough that supports it," Layton said. "So Crystals just made sense. It's one of those few places that can accommodate everything."
Clements said the luxury shopping center noticed a lack of "fun brands," leading to the addition of Philipp Plein.
"(We needed more) brands that go a little more with the Vegas mantra and vibe," Clements said. "There aren't a lot of jeans sold here. And so we were just happy to have a brand that was a little more casual and relaxed."
The Philipp Plein store is the brand's sixth and largest location in the United States, and the first to also feature the newly launched Plein Sport, a line of luxury active wear.
Vegas Appeal
Shaul Eden, the store manager, said the Philipp Plein brand is best-described as the bad boy in the good neighborhood.
Assistant general manager Jack Bedirian said that image is a perfect match for Las Vegas.
"It's very big for Las Vegas because we have lot of sequins and crystals happening and a lot of bling," he said, a Batman pin glittering on his jacket. "I think anything that's blinged-out and out there in your face is very Vegas."
The store offers a mix of athletic wear and casual attire Bedirian described as "performing pieces." He said the clothing can be a mix of conservative and scandalous, and can be worn at bars, clubs and high-end events.
Because of this variety, Eden said the store has a wide range of customer demographics.
"Our brand talks to attorneys, litigators, doctors," he said. "It also talks to strippers and whoever wants to be sexy. There's no discrimination here."
Selling the outfit
While the brand may have a Las Vegas vibe, Eden said about 90 percent of their clients are tourists, many of which are visiting abroad from China or Latin American countries.
Even with such a large number of tourists, Eden said the store sees a lot of returning customers.
"Most of our customers always come back," he said. "They come back, they bring their friends, which is not typical for a high-end store here in the mall."
Contact Bailey Schulz at bschulz@reviewjournal.com or (702)383-0256. Follow @Bailey_Schulz on Twitter.
Sales add up
Eden said the store usually sells between four and five items per person, and those purchases can add up fast.
— Philipp Plein T-shirts average between $500 and $800, depending on how many crystals are used.
— Jeans are between $700 and $3,000.
— Furs can reach up to $14,000.
Within the first five weeks of opening, Bedirian said the store had already made $500,000 in sales. Eden said part of the store's success can be attributed to the brand's fit with Las Vegas.
"Vegas is the capital of fun, edge. It's a playground," Eden said. "It think Philipp Plein represents everything Vegas is."