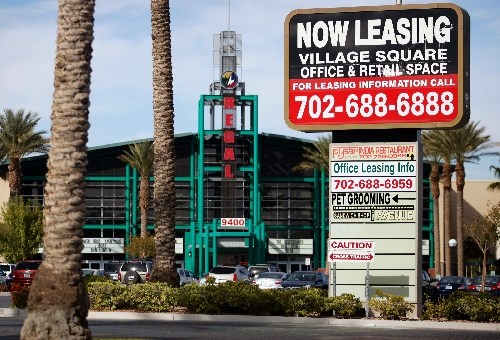 After four years of decline, the Las Vegas commercial real estate market appears to be entering the "great reset" and is slowly climbing out of its deep recessionary hole, the latest indicators from RCG Economics show.
"I think we're at the bottom," RCG principal John Restrepo said Wednesday. "If you look at rents and absorption, it's not the rate of decline we saw in 2009 and 2010. Those years were pretty severe."
The speculative office market is bumping along the bottom, a trend that will persist through the end of the year. Downward pressure on rents is expected to remain for the next 12 to 18 months as high vacancies and lease incentives continue to drive the market, he said.
The challenge is the lack of robust hiring by either local or outside firms.
Private sector jobs have been on the rise for several months, even in the construction industry, while government agencies continue to shed jobs, Restrepo said.
Any stability in RCG's employment index is largely the result of reductions in the local labor force, rather than increases in employment.
"The job market at the end of the day is not growing," the economic consultant said. "If the job market remains anemic, commercial real estate is anemic. Every day gets a little bit better, but it's going to be a long, slow, prodding recovery."
Brendan Keating, principal of The Equity Group in Las Vegas, said he saw market activity begin to pick in first quarter 2010 after a difficult 2009. Equity Group recently closed its 29th distressed real estate transaction, raising its sales total to more than $41 million since first quarter 2010.
The increase in activity was mostly caused by banks lowering the price on their assets and buyers feeling like they were getting a good deal, Keating said. Commercial real estate in Las Vegas is trading anywhere from 60 percent to 80 percent off peak values of six years ago, he said.
"What we've seen lately is stabilized projects with their 5-year loan being called," the commercial broker said. "They cannot refinance their current loan balance because values have dropped so much. Their options are to add cash to a new refinance, pay off the loan or give the asset back to the bank."
VALUES VARY
There is good velocity in owner-user purchases, Keating said. They're able to get a Small Business Administration loan with 10 percent down, which allows them to pay more for a property.
Keating said he was able to purchase his office building at 6018 S. Durango Road for $69 a square foot. With much of the building in grey-shell condition, or unfinished interiors, an investor would probably only pay $40 to $45 for the same asset, he said.
Two high-profile distressed shopping centers — Village Square and The District at Green Valley Ranch — were recently acquired through bankruptcy.
Those are examples of properties in a better situation than most in Las Vegas, commercial appraiser Charles Jack said. Maybe they declined 30 percent to 50 percent in value, but they have marketing power and staying power, he said.
"Everybody's getting taken to the woodshed. It's just a matter of how bad of a beating you're going to take," Jack said
At least cash-flow properties provide an income, even though it has declined over the last few years, he said. The sector that took the hardest hit is vacant land.
People who paid $1 million for land in the extreme edges of Las Vegas Valley can legitimately claim a 90 percent loss in property value, he said. Strip centers that were getting $2 a square foot for rent are now down to 70 cents. Sales prices have dropped from $200 a foot to $50 a foot.
There's a wide variance in the market between low values of distressed properties and strategic acquisitions of properties that are not in distress, that are close to hospitals and downtown employment centers, the appraiser said.
"What I'm seeing right now is choppiness in the market. You may go down from quarter to quarter or month to month, and then back up. I look at it more as bouncing along the bottom," Jack said.
RETAIL MARKET
The retail market has experienced 16 straight quarters of rising vacancy, RCG reported. It fell slightly in the third quarter to 12.8 percent for 43.9 million square feet, but is still up from 11.2 percent a year ago. Average asking rent declined to $1.35 a square foot, compared with $1.52 a year ago.
Industrial vacancy was unchanged at 16.2 percent for 107.2 million square feet, although rents fell 4 cents from last year to 52 cents a square foot in the third quarter.
The valley's industrial recession is slowly fading away, with vacancy showing signs of stability over the past three quarters, Restrepo said. However, landlords and sellers continue to face fierce competition for renters and buyers.
Investors are coming from all over the world to purchase distressed assets in Las Vegas, Keating said. Most want to see at least a 12 percent to 15 percent unleveraged return on investments with no debt.
"We just closed a single-tenant asset with an investor out of Canada," he said. "They came to Las Vegas because of all the distress. They felt they could have better buying power in Las Vegas than in a stronger Canadian economy."
Contact reporter Hubble Smith at hsmith@reviewjournal.com or 702-383-0491.