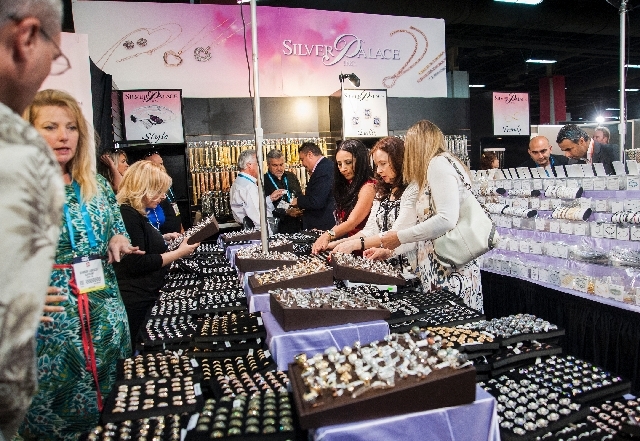 The Ocean ring by Cornelia Goldsmith sparkles, its tourmaline and marquise diamonds catching the harsh convention lights. The piece's 18-karat gold reflects oceanlike wave forms, something that's very special to the designer.
You see, Goldsmith grew up in Kiel, on the shores of the Baltic Sea in Germany. Her high-karat gold pieces bear portions of her background, from tree shapes to bird symbols inlaid on her designs.
But she's not in Las Vegas to talk about the ocean.
Jewelry industry convention JCK is in the city through Monday , with an estimated 22,000 attendees, a number on par with previous year registrations. The convention attracts retailers, distributors and manufacturers of costume, bridal and fine jewelry. The show is in its third year at Mandalay Bay and features 2,500 exhibitors from 22 countries.
In her 20 years as a designer, Goldsmith has never done a major wholesale show, instead working directly with clients out of her San Francisco-based design studio. In her first time at JCK, Goldsmith was named a rising star. "We've gotten a very good response," she said.
JCK spokeswoman Rebecca Moskal said there is more new product on the floor this year than in recent times .
"It's great to hear that lines are starting to design new again," Moskal said.
Overall, sales in the jewelry sector are gaining traction, and the industry is starting to see an upward trend in buying, she said.
"It's a new normal. People are adjusting to what the economy is today," Moskal said.
Among the attendees at JCK 2013 was gifting website RedEnvelope, with a brand new merchandising team. The company is doubling its jewelry offerings.
"I'm really excited to take the whole show in," Kevin Rooney, merchandising vice president, said. "It's the place to be from a jewelry perspective ."
The site tends to do really well in the customization and personalization jewelry categories, and artisan and independent designers are trending. As such, Rooney said his eye will be on exhibitors that fall into those categories.
"This is a big show for us. Jewelry is a really large part of Red, and it's one of our fastest-growing categories," Rooney said.
As for overall industry trends, Moskal said sterling silver jewelry continues to be popular, primarily because it meets an affordable price point but is still a luxury purchase.
She said she also has noticed watch bands getting slimmer again, a break from the chunky bands of recent years.
Jordy Cobelens, 30, is CEO of the watch brand TW Steel, which can be found in more than 100 stores worldwide. In Las Vegas, TW Steel is sold in Wynn Las Vegas, The Mirage, Venetian and at the Fashion Show mall. The brand is exhibiting at JCK.
"Everywhere where a lot of tourists are coming and spending money, it's an ideal place to be located as a brand," Cobelens said.
He added that because Las Vegas is an international destination , it helps affect brand awareness all over the world by having TW Steel in Strip-based retailers. At JCK, Cobelens is using the show to alert jewelers that he is taking back distribution from his distributor.
"In key markets, what a distributor can do and what a brand wants and deserves are two different things," Cobelens said.
The 7-year-old brand is experiencing growth and is on track to sell "several hundred thousand units" this year, up from the 100,000 pieces it sold in its second year of operation. It's also in the process of opening TW Steel boutiques in Asian countries where the brand is strongest, and the company recently signed a licensing deal with Yamaha Racing.
The show floor was a sea of diamonds, gemstones, brushed metal, delicate pieces and chunky designs. Fine-jewelry designer Nayna Mehta was showing her collection, Naturally Pink, which has a focus on pink diamonds. Collection pieces are priced for retail from $500 to $5,000.
Elsewhere, the Nikki Lissoni brand was showing its interchangeable pendant line for the first time in the United States, although it has been available in Europe for 18 months.
Contact reporter Laura Carroll at lcarroll@reviewjournal.com or 702-380-4588. Follow @lscvegas on Twitter.