Portion of Showcase mall sold for $93.5 million
September 30, 2011 - 4:16 pm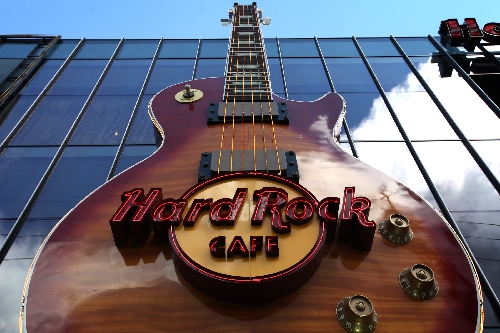 A portion of the tourist-oriented Showcase mall on the Strip has been sold for $93.5 million, or about $960 a square foot, to Beverly Hills, Calif.-based Unilev Capital Corp. in a deal that closed in August, according to the Clark County Recorder's office.
The mall's 97,400-square-foot third phase, built in 2009 on the former Denny's restaurant site, is anchored by Hard Rock Cafe, Denny's, Ross Dress for Less and ABC Stores.
It's affiliated with the 190,000-square-foot Showcase mall developed jointly in 1996 by Makena Development Corp. of Las Vegas and Cleveland-based Forest City Enterprises. Developers added a 43,000-square-foot second phase in 2000.
Showcase mall, next to the MGM Grand, is distinguished by the 100-foot Coca-Cola bottle and M&M's World. Steven Spielberg, DreamWorks SKG, Sega Enterprises and Universal Studios teamed up to open the multimillion-dollar GameWorks arcade in the basement.
The seller was City Center Retail AG Showcase Phase III, a Delaware-based company controlled by Angelo, Gordon & Co. of New York.
Unilev Capital, founded in 1992, is a privately held real estate firm that partners with a select group of affiliated entities to acquire income-producing commercial properties with long-term investment potential.
The company's portfolio includes high-end office buildings in Houston, Los Angeles and St. Paul, Minn., along with a shopping plaza in Houston. Unilev Capital bought three office buildings at the Houston Galleria in March for $176 million.
Calls to Unilev's management headquarters in Houston and to Angelo, Gordon & Co. in New York were not returned Friday.
Phase three of Showcase mall now has 9,500 square feet of retail space available for lease at $135 a square foot per year, said Frank Volk, a retail broker with RKF Associates in Las Vegas working on Unilev's behalf.
He expects to close a deal on the vacant space within the next couple of months, either with a restaurant or middle-market retail store.
Although suburban retail has struggled during the recession, Strip retail has held its own, Volk said. Sales per square foot at Planet Hollywood Resort's Miracle Mile Shops are higher than they were in 2006, when the economy was steaming along, he said.
"The market in general has been pretty strong," Volk said. "At the end of the day, as long as you deliver a good product and the pricing is right, people will buy it. Look at Ross (Dress for Less). They've been very successful here and at the north end of the Strip."
About 45,000 people walk past the Showcase mall each day, Volk said.
The third phase features the three-story Hard Rock Cafe retail store, restaurant and concert venue with its signature neon guitar.
"It's a fantastic property," Volk said. "That's why this group bought it."
George Connor, vice president of retail at Colliers International in Las Vegas, said Showcase is a "jewel" on the Strip and a good buy for Unilev. Unlike the Forum Shops at Caesars, which has eight entrances for daily foot traffic of 40,000, Showcase gets a high concentration of tourists on the sidewalk in front of the shops and the merchandise for sale is more affordable, he said.
"There's not much out there like that," Connor said. "They've got solid retailers with good credit."
Development has been halted on projects such as Fontainebleau, Echelon and the New Frontier, and it could be 10 years before anything starts happening again on the Strip, he said.
Los Angeles-based Holliday Fenoglio Fowler placed a $57.8 million construction loan for the third phase of Showcase mall in 2007. Working on behalf of City Center Retail and institutional investor Angelo, Gordon & Co., HFF arranged a two-year construction loan with a 75 percent loan-to-cost through KeyBank National Association. HFF also secured $106 million in financing for the first two phases of the Showcase mall.
Contact reporter Hubble Smith at hsmith@reviewjournal.com or 702-383-0491.