PR, marketing firms use new technologies to deliver messages
August 24, 2014 - 7:07 pm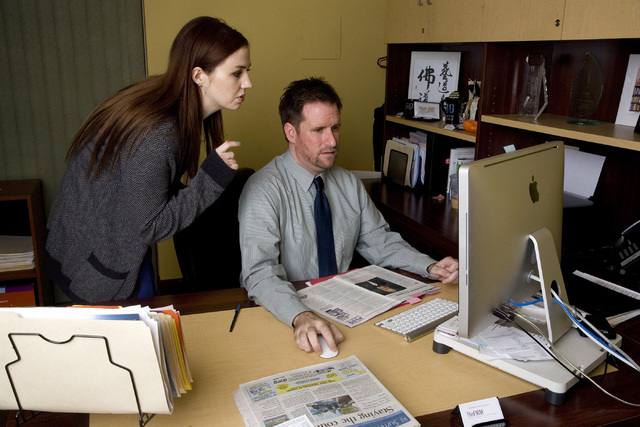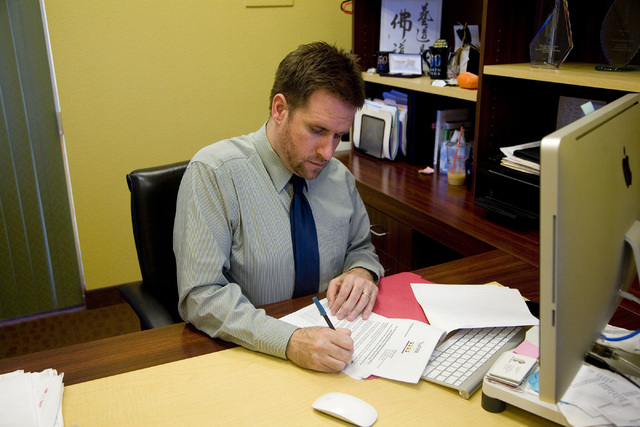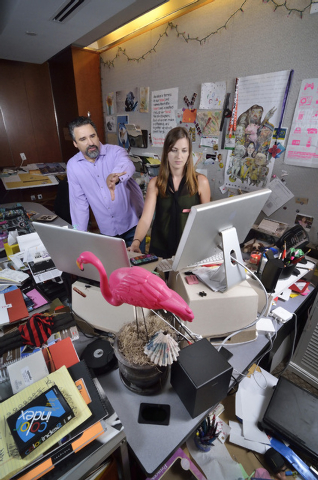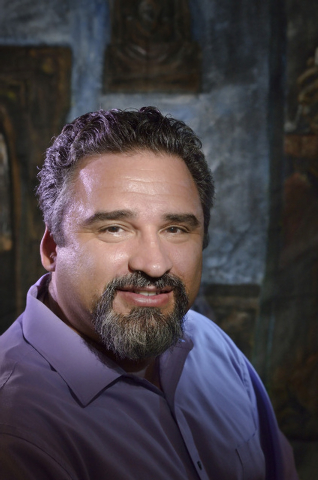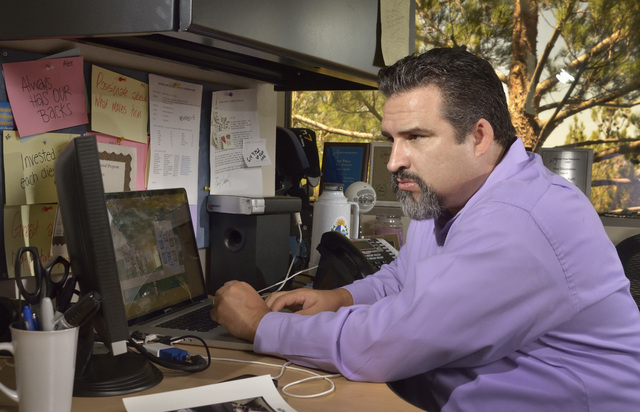 When it comes to building its client base, Anthem-based public relations and marketing firm Imagine Communications seeks to represent those who inspire, Partner and Creative Director Alex Raffi said.
"That's more important to us than anything," he said. "I want my staff to be proud to be associated with a client."
When Raffi and Managing Partner Brian Rouff opened Imagine Communications 13 years ago, the pair worked together to expand the company into what it is today. The marketing firm now has 12 staff members and 60 clients, which include the Henderson Chamber of Commerce and Sheet Metal Union.
"Everyone here contributes and helps the needs of the client," Raffi said. "I look for people who are willing to share ideas and willing to second-guess the ideas of others in a polite way, which is the most important thing about the culture we have here."
In 2013, Clark County was home to 714 jobs in marketing consulting services and 2,684 jobs in advertising and public relations, according to the Nevada Department of Employment, Training and Rehabilitation's quarterly census of employment and wages.
USING 'ANY MEDIUM' POSSIBLE
Kelly Estrella, vice president of Allied Integrated Marketing, a global marketing and advertising agency with offices at downtown Las Vegas' Holsum Lofts, said after the firm creates a plan or concept to reach its client's goal, it uses every medium possible to spread the word.
"We use print, media, television, radio and online, as well as social media platforms, street teaming and billboards," she said. "We use any medium that's out there as long as it makes sense for our target audience and message."
Estrella said Allied Integrated Marketing's clients are primarily entertainment-based and the firm, like many others, adds to its client base by word-of-mouth.
Digital media is an increasingly important tool for MassMedia in Henderson.
"We attract clients by doing really great work and showing results," said MassMedia Managing Partner Paula Yakubik, who opened the firm in 1997 by herself. "Our mission is to return on our client's investment and continuously prove that to them so they'll refer us to other clients."
The fast-paced agency, Yakubik said, is consistently creating new digital and advertising campaigns and social media pages for its diverse client base, which includes Southwest Gas Corp. and McDonald's in Southern Nevada.
"The industry is pretty competitive," she said. "We go up against some really great firms every day but I think it's healthy competition and there are great firms here in Nevada."
FEELING THE REAL ESTATE SETBACK
Though the marketing and public relations industry is known to be competitive, many firms experienced setbacks when the recession hit in 2008.
Nearly 90 percent of MassMedia's clients, Yakubik said, were in real estate.
"We lost about 60 percent of our clients and it was very painful," she said.
Despite the hitch, Yakubik said her firm was able to survive the recession and broaden its areas of expertise by expanding its client roster.
"We started our health care division in 2009 and hired health care specialists, which now makes up more than 50 percent of what we do," she said. "We used that time as a way to diversify our client base."
Imagine Communications also began to lose clients and Raffi knew he had to act fast to survive.
"People couldn't afford marketing, so it was the first to go and one of our strategies was to offer free seminars for people to help their businesses," he said. "It was about giving back and giving businesses ideas that would make us memorable and also show the value and importance of marketing to them.
"We hoped they would turn to us when they needed marketing when things got better and it worked."
Now, as the economy has started to improve, Raffi said unity is important when doing business.
"People want to do business with those they trust," he said. "It takes longer for people to pull the trigger on things but it's so much better now than it was because we learned what our limitations were during that time. If you didn't take risks, you wouldn't have made it."
MORE SOPHISTICATED TRACKING
The advancement of technology also affected the marketing and public relations industry, 87AM CEO Adam Cunningham said.
"We're able to track things that were never trackable before," he said. "We can track the number of hotel rooms and show tickets booked to see if our campaigns deliver any business. We always have the same goal — to put butts in seats and heads in beds."
Cunningham's firm has created its own software system to track digital data. The most important thing when it comes to digital marketing, he said, is understanding how to analyze data and draw conclusions from it.
"Tracking success is the most important thing," Cunningham said. "If you can't track it, it doesn't mean anything."
Before digital, Yakubik said, it was nearly impossible to track how a print advertising campaign affected a client's ultimate goal.
"The greatest thing about digital is that we can track everything we do and know what banner ads are being clicked on, what videos are being watched and who's responding to targeted messaging," she said. "All of our clients are wanting to incorporate digital components into their campaign from adding videos to their site and engaging in social media and those are really the things that clients are asking for now."
Cunningham said digital-campaign budgets have been increasing.
"Digital used to be 5 percent of budgets and now it makes up 20 to 25 percent of advertising dollars and it's predicted that it could triple in the next five years," he said. "There will definitely be a shift away from traditional marketing."
UNSWERVING PRINCIPLES
Jasen Woehrle, senior vice president of The Firm Public Relations and Marketing, has been in Las Vegas for the past eight years. Though he's seen peaks and valleys in the city's economy, he knows that whatever the future brings for the public relations and marketing industry, the principles will never change.
"The core values for a public relations and marketing profession will always stay the same — crafting a message and being ethical," he said. "We want to make sure the pitches, placements and outreach we do are positively affecting our clients and that we're not spinning a story and are always looking for truth."
How news is being told, Woehrle said, will change in the future.
"We have to be up to speed on those ways to make sure our clients can tell their stories on new channels," he said. "How the media industry changes effects how public relations changes."
Raffi agreed that staying up to date on the ways people communicate is crucial for the industry.
"We have to understand the shift and if you don't know that, anticipate that or have a business model that will accommodate that then you probably aren't in a good place," he said. "We need to be able to be a problem solver as things change."
Social media, Raffi added, are a powerful tool that will continue to affect communication.
"It's so strong; literally within an hour of Robin Williams being found, people were sharing that news and it's incredibly fast how things get communicated," he said. "It's out there at our fingertips to … surf on and though you can't control the wave, you can learn how to ride it."
Contact Ann Friedman at afriedman@reviewjournal.com or 702-383-0391. Find her on Twitter: @AnnFriedmanRJ
CONVEYING A MESSAGE THAT STANDS OUT
As the constant flood of email never seems to dwindle, it's important for marketing and public relations professionals to convey a message in a way that stands out among the rest.
The Firm's Jasen Woehrle said even though we're in the midst of the digital age, establishing connections is essential.
"Genuine relationships are still key," he said. "As are identifying the ways the person wants to receive the information and ensuring that you're sending the information to the right people."
Woehrle said he doesn't want to clog up an email inbox so he sometimes retreats to sending a text, a Tweet or shout out on social media to get someone's attention.
"It's also important to follow-up because sometimes there could be a breeze by," he said. "It could be a matter of resending the email or following-up with a phone call."
Alex Raffi of iMAGiNE Communications said there isn't a resource the marketing and public relations firm hasn't used to get their message out there.
"Budgetary restraints dictate what we can and can't afford," he said. "The new trend is to find unique ways to go viral and draw attention to web campaigns, which is the lowest fruit and where everyone lives."
Raffi said his firm is always keeping an eye on new digital advancements.
"We're always finding unique ways to use the Internet," he said. "But none of it matters unless it's compelling."