Primm success renews state interest in lottery legalization
February 23, 2008 - 10:00 pm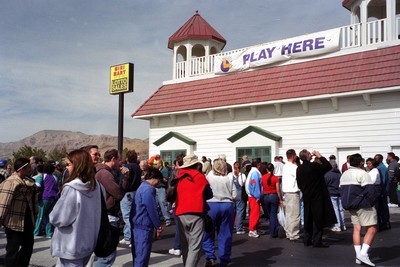 Nevada lawmakers said they have no concrete plans to legalize a state lottery.
However, sales figures reported by the closest site to Las Vegas where California lottery tickets are sold does raise some interest.
A convenience store operated by Las Vegas-based Herbst Gaming, located just across the California side of the Nevada border at Primm, averages $214,000 a week in lottery ticket sales, almost 67 times what the typical lottery retailer sells in California.
"Holy moly, that much?" said Assemblyman Harry Mortenson, D-Las Vegas, who supported a Nevada lottery proposal during the 2007 session in Carson City. "This would be my eighth session next year. I'm sure a lottery bill has come up in every session I've been there. I would imagine a lottery will be put forth in the next session as well."
State Sen. Steven Horsford, D-North Las Vegas, who also supports Nevada adding a lottery, was not as shocked by the sales figures produced at Primm.
"I think a lottery is something that would do well here," Horsford said.
Nevada is facing a $500 million budget shortfall and Gov. Jim Gibbons has asked state agencies to make cutbacks. Meanwhile, two proposals have been floated that would raise the gaming tax above the 6.75 percent paid on gambling revenues earned by the state's largest casinos.
In the last two legislative sessions, lottery bills have been introduced. Both bills subsequently died. Gibbons opposed the creation of a lottery in the 2007 session.
Mortenson, who is a co-chairman of the Assembly Elections, Procedures, Ethics and Constitutional Amendments Committee, where a lottery bill would be heard, has said a Nevada lottery could generate between $50 million and $200 million a year for public education.
"My constituents want it and the state needs the money," said Mortenson, who represents a portion of southwest Las Vegas.
Horsford said he wouldn't introduce the bill unless the makeup of the state Senate changes after the November election. Republicans, who control the Senate by one vote, usually move to kill any lottery bill, Horsford said.
"It doesn't make sense to introduce a bill just to see it get killed," Horsford said.
Earlier this month, the California Lottery named the Primm Valley Lotto Store as the statewide retailer of the month. Herbst Gaming acquired the convenience store when the company spent $400 million nearly a year ago to purchase three Primm Valley casinos from MGM Mirage.
Since taking over the store, the location's total lottery ticket sales have been more than $8.9 million, according to California Lottery officials.
Herbst Gaming officials said they don't advertise or publicize the lottery sales aspect of the convenience store. An average of 40,000 vehicles a day pass through Primm on Interstate 15, giving the store a built-in audience, Herbst executives said.
"I really don't know where all the customers originate," Herbst Gaming general counsel Sean Higgins said. "We don't market the lottery store. It's just kind of like this; we throw open the doors and the customers come in. We've never done a study or a survey of where the customers come from."
California Lottery officials said sales at the store have been good for state schools, contributing $3 million to the public education system. Statewide, nearly 34 percent of the revenues from all lottery tickets are funneled to California's public education system. A minimum of 50 percent of the revenues are returned to winners in the form of lottery prizes. In fiscal 2006, lottery sales topped $3.5 billion statewide.
Herbst, like all lottery retailers, receives a sales commission of roughly 7 percent for all lottery tickets sold at a particular location. If the store were to sell the winning ticket for a jackpot, the lottery retailer would earn one-half of 1 percent of the prize amount.
"It's something to which we haven't given much thought," Higgins said of the California lottery sales.
In Nevada, in addition to the Primm casinos, Herbst operates Terrible's, an off-Strip casino on East Flamingo Road, the Sands Regent in Reno, several smaller casinos in the northern and southern parts of the state and a statewide slot machine route operation with more than 7,000 machines in 700 locations.
Because of the statewide casino operations, Herbst Gaming is opposed to Nevada instituting a state lottery, despite the company's success at operating lottery ticket sales at its California site.
When the lottery bill reached the state Senate 2007, Higgins testified against the measure. His opinion hasn't changed. Higgins believes a Nevada lottery would put the state into competition with gaming companies. Extra dollars that might be wagered on a slot machine would be spent on lottery tickets instead.
"That money would go right to the state and away from private businesses," Higgins said. "If a lottery was proposed again, I would testify against it again."
Herbst Gaming is not alone. Executives from the major casino operators in the locals market, such as Station Casinos and Boyd Gaming Corp., have all previously opposed the implementation of Nevada lottery.
Contact reporter Howard Stutz at hstutz@reviewjournal.com or (702) 477-3871.