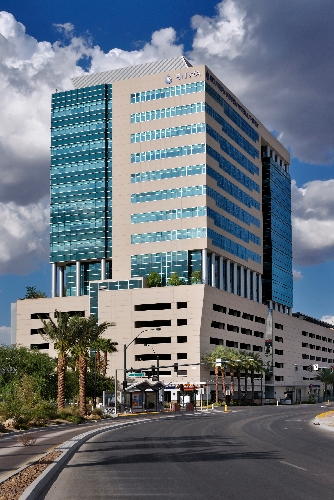 Doing more with less is the new mantra in today's economy.
Necessity is fueling more creative problem-solving and out-of-the-box thinking. Cash-strapped municipalities, for example, are increasingly partnering with private sector partners to build critical infrastructure. Deals can be packaged in a variety of ways.
"Public private partnerships are growing because of severe financial constraints," Las Vegas-based economic analyst John Restrepo said. "It's a very effective way to get projects started. These are the wave of the future."
Depending upon the deal, municipalities can get a new building with little initial capital outlay, while minimizing the chance of construction cost overruns, delays and lawsuits. The private partner assumes those risks. Municipalities essentially pay for the project by layaway; the arrangements often come with a long-term lease and balloon payment.
"A private party can sometimes do it at a lower cost," Las Vegas chief urban redevelopment officer Scott Adams said. "We can use exactly what we need. There are some strategic advantages."
Those advantages include circumventing prevailing-wage rates, or the pay required on public projects. Public pay rules don't apply on private projects, even if the tenant is a government entity. The Nevada Labor Commissioner determines public construction pay annually based on statewide surveys. Prevailing wages are higher than private-sector pay. Reduced labor costs can lower a project's total tab.
"At the end of the day, our eye is on balancing the city budget and trying to maintain a high service level, which is a real challenge in this day and age," Adams said. "The taxpayer will get an equal benefit at lower cost, which is what we are trying to achieve."
Private builders like partnering, too. It's much easier getting project financing in a hypersensitive, recession-racked credit environment when the tenant is a public agency. Banks know the city or government department won't skip town without paying. Deals usually have 10-year to 20-year commitments, which means private builders don't have to scramble to find new tenants every few years. It means less expense when fixing up the space for a new occupant. It also creates a steady, predictable income source.
"People have many different places to build," Molasky Group of Cos. President Rich Worthington said. "But public-private partnerships create an incentive that attracts those people."
Molasky was attracted by the city of Las Vegas' offer to develop two downtown parcels. It built the four-story, 93,846-square-foot Internal Revenue Service building at Grand Central Parkway, between F Street and U.S. Highway 95 that opened in early 2005. The city owned the five-acre lot valued at $2 million. Molasky spent about $15 million for the development, known as Molasky Corporate Center I. The city, in exchange, provided tax increment financing. Molasky's investment produced an improved property with a higher taxable value; the company received a portion of the property taxes for a while as reimbursement. Molasky also agreed to develop the adjoining parcel as part of the pact.
The 2.3-acre property became the $107 million Molasky Corporate Center II. The center, like its neighbor, used tax increment financing. The 17-story, 852,000-square-foot tower at Grand Central and City parkways opened in 2007. The Southern Nevada Water Authority signed a 20-year, $63.3 million lease to occupy the building's first seven floors. The agency has an option to buy the building at the end of the lease.
The two buildings bring an estimated 1,100 employees and 200 visitors daily to downtown.
The city is hoping for a similar reception with its latest public-private venture — City Hall. Cleveland-based Forest City Enterprises broke ground on the $146.2 million development earlier this year at the northeast corner of First Street and Clark Avenue. The eight-story, 308,990-square-foot complex, on 2.71 acres, will have 250,000 square feet of office space and a 500-seat chamber council.
"The new City Hall is the linchpin in a downtown redevelopment plan that will create thousands of jobs, bringing billions in private investment and millions in new tax revenue to the city," said Las Vegas Mayor Oscar Goodman in a statement. "(It's a) catalyst for four major mixed-use redevelopment projects that will bring 13,441 new permanent jobs to the city of Las Vegas, $4.1 billion in private investment and $16 million to $20 million in new tax revenue."
Forest City is developing City Hall for a 5 percent fee; it also assumes the risk of construction cost overruns, building defects and litigation. The city is using lease-purchase financing, borrowing $188.3 million from investors, and repaying the debt starting in fiscal year 2013; it will eventually own the building. City Hall is expected to finish construction in 2012. Forest City has committed to building other projects downtown as part of its arrangement with the city.
"The main challenge in these projects can be financing," said Restrepo, who serves as chairman of the Nevada Economic Forum. "Most banks don't lend when you can't get a long-term lease, but they look at it a little differently with a public agency."
Not all public-private pacts are instant successes. Clark County, which has numerous partnerships with private builders on airport land, recently hit a snag with the Bali-Hai Golf Club. The 18-hole golf course along Las Vegas Boulevard, just south of Mandalay Bay, is losing money. The Walters Group wants to build a 2 million-square-foot industrial complex on the county-owned land. Per the lease arrangement, Walters used the property rent-free during the last decade because no golf course profits ever materialized. The proposed industrial park would pay a portion of profits to Clark County under a deal that already received a preliminary OK in July.
"We're not just turning the keys over to the private sector," Adams said. "We're looking at public-private partnership very strategically. We don't just build to build."
Contact reporter Tony Illia at tonyillia@aol.com or 702-303-5699.
PUBLIC-PRIVATE PACTS
IRS headquarters
(Molasky Corporate Center I)
Address: 110 City Parkway
Partners: City of Las Vegas, Molasky Group of Cos.
Completion: 2005
SNWA headquarters
(Molasky Corporate Center II)
Address: 100 City Parkway
Partners: City of Las Vegas, Molasky Group of Cos.
Completion: 2007
Las Vegas City Hall
Address: Northeast corner of First Street and Clark Avenue
Partners: City of Las Vegas, Forest City Enterprises
Completion: 2012