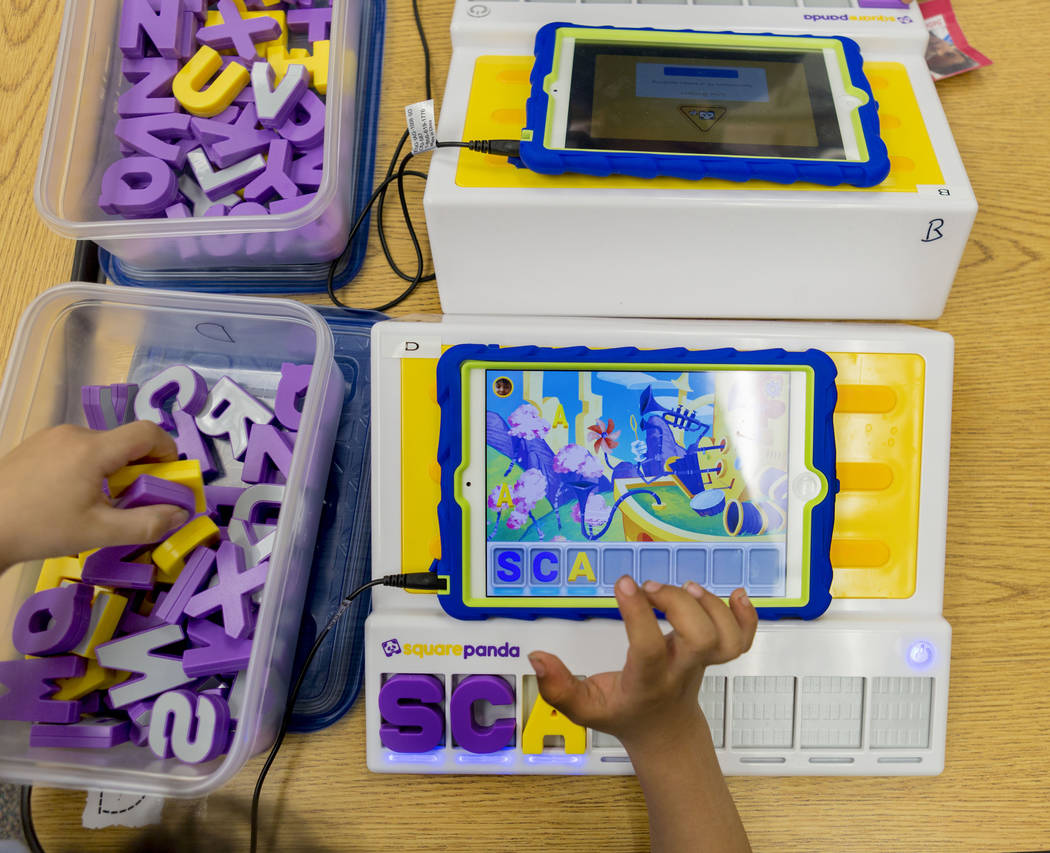 The cash-strapped Clark County School District is getting a boost from private pilot programs.
Right now about 44 Gene Ward Elementary preschool students are learning how to read using Square Panda, a phonics learning system, that the school did not pay for.
"It actually helps (students) recall letters or sounds, or even connect words with the letters," said Bianca Palacios, a teacher's aide at Gene Ward, as students. "I have seen progress."
Students interact with iPads, donated by Bank of Nevada, that have the Square Panda app installed. The tablets lie atop a Square Panda play set, which is a flat surface with eight indented spaces to fit letters.
Students interact with one of Square Panda's 10 learning games, in which students are prompted to place letters onto the play set to be sounded out by characters in the game. The games reward students for spelling actual words.
Tight budgets
Gene Ward Principal Lea Chua said this type of technology-based pilot program is a relief.
It is becoming increasingly important to expose children to technology-driven learning in order for students to be tech savvy as they move forward, Chua said. But, that technology strains school budgets.
"The budget is very tight lately," she said.
Partnering with organizations or companies that can provide the materials students need eases the burden of having to purchase that equipment.
Clark County Superintendent Pat Skorkowsky said businesses and organizations will only become more important to the school district.
"We have to look to outside partners to come in and help our students have access to the skills necessary (to succeed)," Skorkowsky said.
Andy Butler, CEO of Square Panda, said the Square Panda pilot program requires close collaboration with school administrators.
"When we donate, we require participation. Not just in owning and using the equipment but working within our randomized trial and setting up a control group, setting up and following a certain regime," he said.
He said he appreciates the school district's "willingness to try new things."
CCSD gets first public school dibs
Las Vegas resident Tom Boeckle founded Square Panda in 2014.
It's because of those "deep roots" in the community that all of Square Panda's pilot programs are in Clark County, Butler said.
Square Panda's first six-week pilot program was implemented in first-grade classrooms at Andre Agassi College Preparatory Academy last November.
Butler said students who were the weakest readers in the class saw a 60 percent to 70 percent improvement with just 25 minutes of play per day.
The Square Panda pilot launched at Gene Ward mid-March, and the program is slated to launch at Crestwood Elementary in preschool and kindergarten classes this fall.
Andre Agassi, who is also an investor in Square Panda, said he'd like to see the play set in the hands of as many children as possible "from districts to one-on-one with parents. You build a brand, and if it does what we know it does, people are going to want it."
Butler said the next series of research-based pilot programs will likely be in special needs classrooms.
Contact Nicole Raz at nraz@reviewjournal.com or 702-380-4512. Follow @JournalistNikki on Twitter.
Other technology and pilot programs within CCSD include:
— #GirlsinTech #GirlsinSTEM, encouraging young women to explore non-traditional careers. Over the last two years, the district has had 10 events with nearly 1,400 middle school girls participating from 20 middle schools. The district plans to expand programming in the fall.
— Advanced Manufacturing Technology. Three schools have started Advanced Manufacturing Technology pathways: Cimarron-Memorial, Centennial and the Southwest Career and Technical Academy. CCSD is hoping to expand the program to six schools "in the next few years."
— Healthcare Information Management. The first Career and Technical Education pathway opens at the East Career & Technical Academy in the fall. A CCSD spokesman said the district hopes to add up to six comprehensive high schools "in the following years."
— Nevada Ready 21. Currently in nine middle schools, this program provides infrastructure, devices and professional development to support the integration of one-to-one devices (in this case Chromebooks) as a way to create an educational experience that equips students with 21st century skills such as communication, collaboration, creativity and critical thinking. This is a project that is funded through a grant provided by the Nevada Legislature, and this is the second year in what is anticipated to be a six-year program.