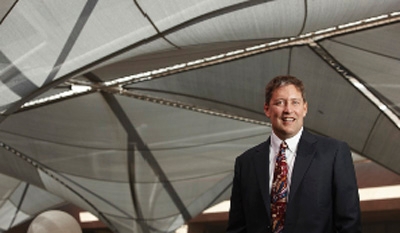 Thursday's Wall Street plunge sent some local stocks skidding. A University of Nevada, Las Vegas professor said the drop is characteristic of a two-month market period thick with fear.
Michael Sullivan, who teaches in the university's finance department, said the stock market volatility of the past few weeks probably is historically significant, if only for its panic.
"To get this level of fear in the market, you probably have to go back to the '70s, when we had the oil crisis and the Iran hostage situation," Sullivan said. "Or, back to the '30s, although this isn't quite that bad."
Europe is a particular source of worry now, he said, because of the debt crises in Greece and the other economically challenged "PIIGS" — Portugal, Italy, Ireland and Spain. The credit crunch probably will stifle economic growth there much as it has in the United States, Sullivan said. If companies can't borrow, they can't buy, or produce as much.
Thursday's Wall Street plunge sent four major gambling industry stocks down at least 4 percent. On the New York Stock Exchange, MGM Resorts International fell 53 cents, 4.9 percent, to close at $10.28; Las Vegas Sands Corp. fell $3.40, 7.05 percent, to $44.82; and International Game Technology fell 92 cents, 6.31 percent, to $13.66.
On the Nasdaq Global Select Market, shares of Wynn Resorts Ltd. fell $8.19, 5.56 percent, to $139.02.
The Bloomberg Supercomposite Casino & Gaming Index fell 5.275, to 282.83.
Local utility stocks fell, too, though less steeply. NV Energy fell 36 cents, 2.52 percent, to $13.91, and Southwest Gas Corp. shares fell 56 cents, 1.55 percent, to $35.64. Both stocks trade on the New York Stock Exchange.
Sullivan, who teaches aspiring traders in some of his UNLV classes, said he expects stock market uncertainty to continue through year's end, but he said he couldn't predict where the indexes will finish.
Long-term, the drop in stock prices could signal that it's a good time to buy, he reasoned. He echoed Warren Buffett, who famously said, "Be fearful when others are greedy, and be greedy when others are fearful."
However, given the fear and uncertainty, Sullivan said, he would be careful until it's known whether Thursday's dip was a blip or whether indexes kept falling. He also is wary of investing in gold. Given the hordes of people who seem to be feverishly investing in the metal, he detects a bubble forming.
"Gold now seems kind of like real estate here in 2005," he said. "If you talked to people, they'd say, 'You've got to buy real estate here. Just look at how the prices are going up.' "
Overall, Sullivan said, he would stress diversity, having a little of everything, even bonds. Although the yield on the 10-year bond was 1.71 percent Thursday, that's 1.71 percent of making some money and would beat losing money in a stock market index fund.
Sullivan said he expects market equilibrium and global economic growth to return, someday.
"I'm a believer that things will even out, that there will be regression to the mean," Sullivan said.
Contact reporter Matthew Crowley at mcrowley@ reviewjournal.com or 702-383-0304.